Free Airline Tickets Scam: How It Works

Did anybody say free airline tickets? One of the biggest scams around when it comes to flight coupons, free plane tickets and discounts on flights is the Free Airline Tickets scam. The latest is a fake that comes in three variations: a National Travel and Tourism Association (NTTA), United Travel and Adventure Affiliates (UTAA), or a National Association of Travel Centers (NATC) promotion.
It is similar to the Airline Ticket Credit scheme and the Airline Employee Tickets scam, but with a twist. In this article, you will learn how the scam works, how to detect a fake travel website, and how to report it. How does the scam work?
Watch How The Scam Works:
Watch the video below to see the Free Airline Tickets Scam exposed:
In a down economy with rising gas prices, many can't afford to take even vacations that involve air travel, let alone look for timeshares for sale or travel club memberships. For that reason, many people were pleasantly surprised when they received a letter from their national airline company offering two free flights worth almost $1300. Brand names used by the scammers are US Airways, Air Canada, British Airways, or Qantas.
The letter states that the company tried to contact the reader many times without success. They then advise him to call a toll-free number to claim the flight vouchers. When he does that, a high-pressured salesperson advises the reader of the necessity of attending a presentation about the company in order to claim the flight vouchers.


On the other hand, questionable travel agencies use this gimmick to get people to sign up for travel clubs, which offer "exclusive deals and packages" in the future. The only condition is that travelers would buy these memberships up front. In reality, the fees would cost the same if they would purchase the packages themselves.

In this case, to keep themselves out of any legal battles with the real airlines, the travel agencies would send the checks/invitations/vouchers with brands having a slight difference in name. For example, as you see in the picture above, the name on the voucher is American Airways, which doesn't exist as a company. There is American Airlines and US Airways, but no American Airways.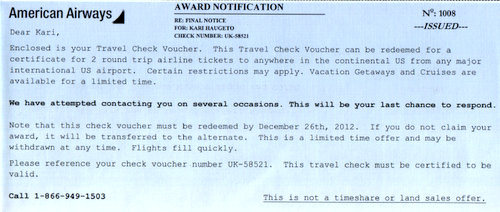 However, here is the exact content of the Free Airline Tickets letter that you may receive (if you live in Canada, UK, or Australia, replace USA with the country of your origin):
"Enclosed is your Travel Check Voucher. This Travel Check Voucher can be redeemed for a certificate for 2 round trip airline tickets to anywhere in the continental US from any major international US airport. Certain restrictions may apply. Vacation Getaways and Cruises are available for a limited time. We have attempted contacting you on several occasions. This will be your last chance to respond.
Note that this check voucher must be redeemed by [insert date, two weeks from today]. If you do not claim your award, it will be transferred to the alternate. This is a limited time offer and may be withdrawn at any time. Flights fill quickly.
Please reference your check voucher number 138-901-521. This travel check must be certified to be valid. Call 1-877-687-3217. This is not a timeshare or land sales offer."
How To Avoid The Free Airline Tickets And Vouchers Scam:
When receiving any correspondence promising something for nothing, beware. You will most likely be pressured into making a purchase that is often more expensive than the price of two legitimate airline tickets. The Better Business Bureau reports that these letters are on the upswing, so be on the lookout. If you receive one, your best bet is to throw it away.
Flight coupons, free airline tickets, and discounts on flights represent something that doesn't come in your mail box. Stick with legitimate travel services like Expedia, Kayak or Momondo.
But here are more good news.
How To Detect A Fraudulent Travel Site
However, the best way to avoid all the fake travel sites is to easily detect and block them. How to do that? Two ways – see below:
1. There is a powerful tool that notifies you if a website is real or not. You should install a browser extension called Guardio HERE (we tested it, it works and is worth every penny). It automatically blocks 100x more harmful websites than competitors and 10x more malicious downloads than any other security tool. Very effective not just for travel sites, but for all websites on the internet. A must-have.
2. If you feel a travel website might be suspicious, feel free to verify it using our unique Scam Detector website validator below: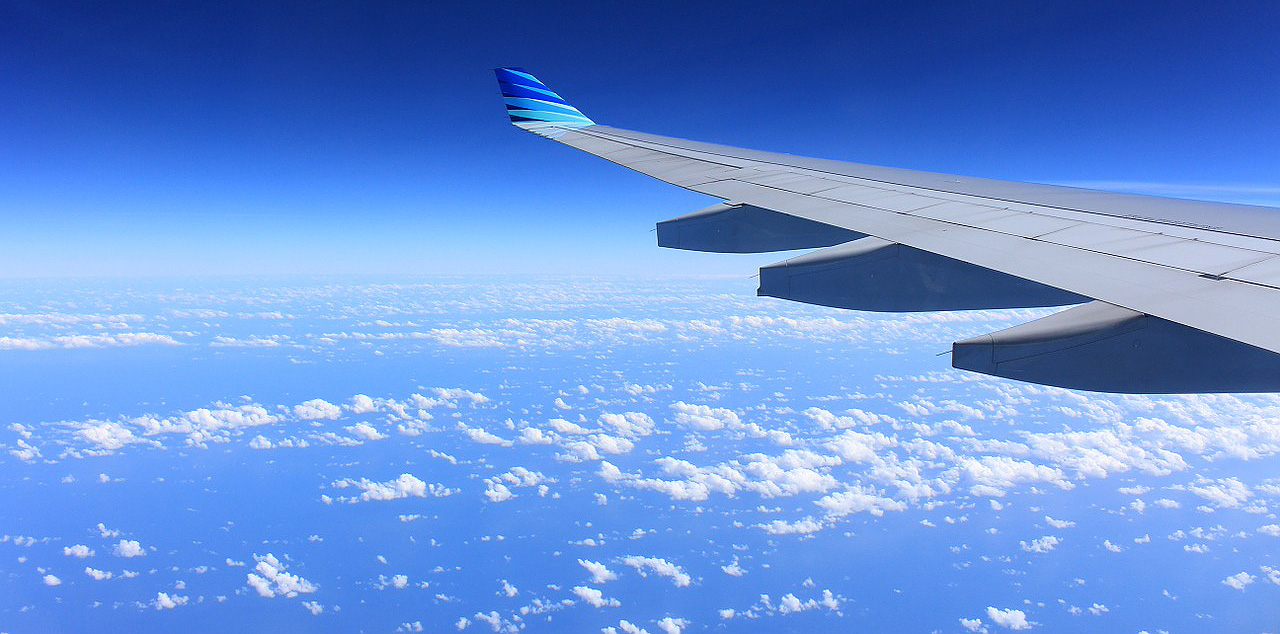 How To Report The Free Airline Tickets And Vouchers Scam:

Make your family and friends aware of this scam by sharing it on social media using the buttons provided. You can also officially report the scammers to the Federal Trade Commission using the link below:
Report Scammers To The FTC Here
How To Protect Yourself More:

If you want to be the first to find out the most notorious scams every week, feel free to subscribe to the Scam Detector newsletter here. You'll receive periodical emails and we promise not to spam. Last but not least, use the Comments section below to expose other scammers.
Suggested Reads:
Senior Final Expense Life Insurance Program
Airline Ticket Confirmation Scam
---
Verify a website below
Are you just about to make a purchase online? See if the website is legit with our validator:
vldtr®
Searching:

Domain age, Alexa rank, HTTPS valid, Blacklisting, SSL certificates, Source code, Location, IP address, WOT Trustworthiness, Spam reports, Advanced technology, Privacy Policy, Terms of Use, Contact options

TOP 3 MUST-WATCH FRAUD PREVENTION VIDEOS
1. Top 5 Amazon Scams in 2023
2. Top 5 PayPal Scams in 2023
3. How To Spot a Scam Email in 2023
Selma Hrynchuk
Selma is a fraud prevention specialist renowned for her expertise in private eye investigations and a remarkable partnership with law enforcement agencies. Beyond her investigative triumphs, her public speaking engagements and written works have empowered countless individuals to protect themselves and stay ahead of deceptive schemes. Selma's legacy shines as a tenacious agent of change, unyielding in her commitment to battling fraud and ensuring a safer world for all.