Skillfully Stopping Scammers: How to Detect Social Media Scams
Want to make sure that your browsing social media safely? Then check out our guide to spotting the scariest social media scams.
Fraud dates back to 300 B.C., so it is nothing new. As we have evolved, so have the methods that fraudsters use, and the creation of the Internet and social media have created brand new opportunities for fraud. 
Social media scams are some of the newest types of fraud out there. Between phishing, card cracking, online dating and catfishing, photo stealing, and investment scams, there are various ways you can be defrauded over social media. 
To learn more about social media scams and how to spot them, read on:
1. Phishing Scams
Email phishing scams have been around for as long as email has been a thing, but scammers have expanded to using social media for phishing scams. Phishing happens when scammers pretend to be legitimate companies or organizations to get victims to give their personal information, credit card numbers, or bank account information. 
On social media, scammers may use the real logo and name of a legitimate company to lure you to a website where they collect your information. Always check the website URL address. Many times these addresses will look just like the real URL but will be slightly different. 
If you ever suspect that it's not legit, type in the company address yourself and don't complete any online quizzes, questionnaires, etc. unless you can verify the request's authenticity.
2. Online Dating and Catfishing
Online dating is incredibly popular. Since online dating sites came on the scene two decades ago, nearly 30% of Americans report using an online dating website or app at some point (these numbers are even higher for specific age groups). 
Scammers can use online dating as a tool for catfishing. Catfishing is when someone creates a fake identity to start a relationship with someone online that they use to scam the victim out of money. 
There are ways to record you or capture your screens as well. If you are trying to catch your catfisher, you may want to know how to screen record on Mac to have proof of their fraudulent behavior. 
3. Free Gift Card Scam
Remember, if you see something online that seems too good to be true, it probably is. An ad on Facebook for a free $100 gift card to a grocery store, restaurant, or website is most likely not real. 
Unsuspecting people will often click on these ads and enter their information to receive an e-gift card. Then they receive an email asking for more personal information to collect their winnings.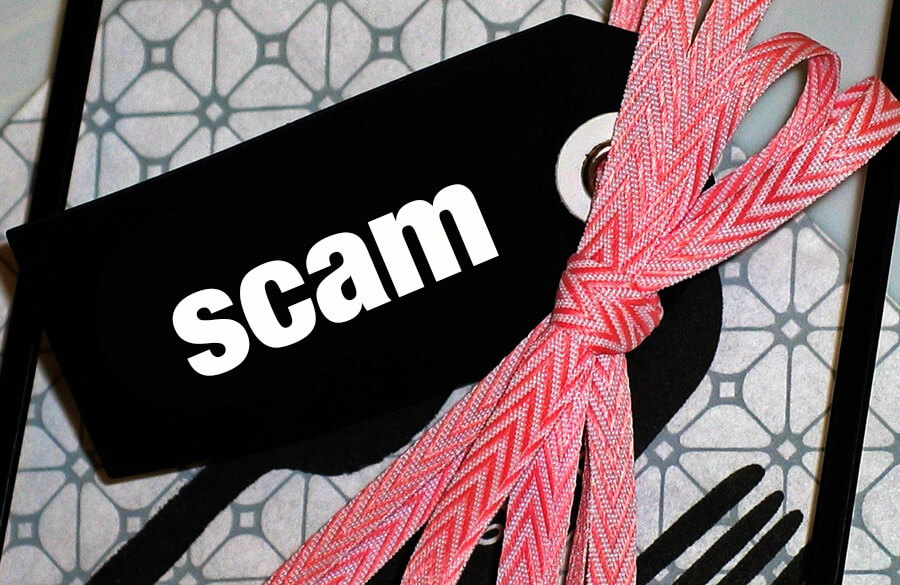 4. Identity Theft
There are different ways fraudsters steal your identity through social media. Some will steal pictures from your social media sites and use them as their own, to catfish people or create a fake social media account. 
There have also been stories of companies, often overseas, stealing photos of people and using them in their ad campaigns or people taking pictures of children who are sick and suffering and using those to create fake Gofundme or other fundraising accounts.
5. Card Cracking
Card crackers use social media posts to ask for your debit card or bank account information to deposit a fake check into your account. They then ask you to send them the money from the check while keeping some for yourself. 
Eventually, the bank realizes that the check is fake, but the money is already gone from your bank account, so you are out of the money. Like the fraudulent gift cards, if you think something seems too good to be true, it probably is.
How to Avoid Social Media Scams 
Be smart online, and don't let yourself become the victim of social media scams. Protect yourself, don't give out any personal information, and keep your social media profiles secure. Facebook allows you to limit who can see your information to just friends, and other sites, like Twitter and Instagram, will enable you to keep things private. 
If you found these tips helpful, check out some of our other posts before you leave.
Social Media: How To Report a Scammer
Warn your family and friends about these social media scams by sharing the article using the buttons provided. You can also officially report the scammers to the Federal Trade Commission using the link below:
How To Prevent Identity Theft and More

If you want to be the first to find out the most notorious scams every week, feel free to subscribe to the Scam Detector newsletter here. You'll receive periodic emails – we promise not to spam. Meanwhile, educate yourself with some other fraud-related articles right under this paragraph, so that you can protect yourself in many other aspects and niches. Last but not least, use the Comments section below to expose other scammers.
---
Verify a website below
Are you just about to make a purchase online? See if the website is legit with our validator:
vldtr®
Searching:

Domain age, Alexa rank, HTTPS valid, Blacklisting, SSL certificates, Source code, Location, IP address, WOT Trustworthiness, Spam reports, Advanced technology, Privacy Policy, Terms of Use, Contact options

TOP 3 MUST-WATCH FRAUD PREVENTION VIDEOS
1. Top 5 Amazon Scams in 2023
2. Top 5 PayPal Scams in 2023
3. How To Spot a Scam Email in 2023
Selma Hrynchuk
Selma is a fraud prevention specialist renowned for her expertise in private eye investigations and a remarkable partnership with law enforcement agencies. Beyond her investigative triumphs, her public speaking engagements and written works have empowered countless individuals to protect themselves and stay ahead of deceptive schemes. Selma's legacy shines as a tenacious agent of change, unyielding in her commitment to battling fraud and ensuring a safer world for all.