Social Distancing Does Not Protect You From Online Fraud
While governments and citizens alike are trying to protect themselves from the new COVID-19 virus by social distancing, cybercriminals are looking to take advantage of the situation by duping us with a wide range of scams, from fake penalties for breaking the quarantine to the air filter sales and service tricks.
Here are 13 COVID-19 scams to watch out for.
1. Support COVID-19 Research
Better treatment regimens or a new vaccine to protect us from COVID-19 is likely at the top of most people's minds. It's a great idea to donate money for funding and research, but make sure you do it directly through legitimate organizations, hospitals or fundraising institutions.
A series of emails are going around this week claiming to be from well-known organizations, some even including free Starbucks gift cards or Pepsi donations for the crisis. See a screenshot of such a fake message below.
Don't be fooled into giving your credit card details online or over the phone. If you're looking to donate, make sure you call them. They shouldn't be calling you. Also, get to know the COVID-19 health myths before believing anything.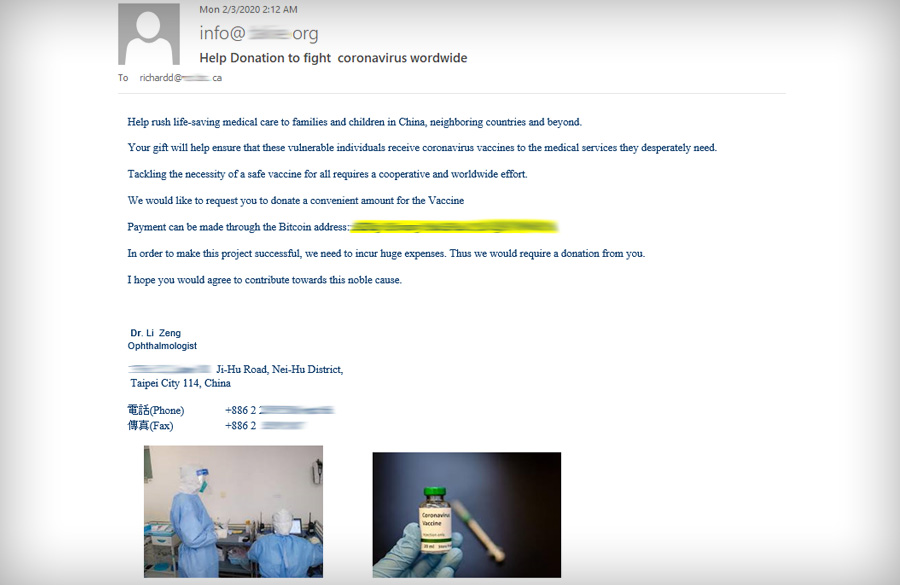 2. Suspend Your Mortgage Payments and Get a Tax Rebate
Criminals also take advantage of the situation and the concerns faced by households across the world in regards to how the authorities will help businesses and individuals during AND after the Coronavirus crisis. There are talks that some people can suspend their mortgage payments until everything calms down.
Cybercrooks also send false emails claiming to be from the Government and offer support in the form of a tax rebate (here is the OFFICIAL, real, full list with Government grants for individuals in the US, UK, Canada and Australia). The emails try to fool the people by appearing official, telling recipients how much they can expect to claim and urging them to click a link to receive it. Once the link is clicked, victims are asked to provide personal details, including sensitive banking information.
3. Advisory Emails with Latest Updates
Phishing emails often look to be from a legitimate sender but are in fact, spam. They'll often tell you that you need to check out the latest medical advices and updates and will tell you to click on the link provided.
Scammers are claiming to be from well-known authorities, including NATO, World Health Organization or your government.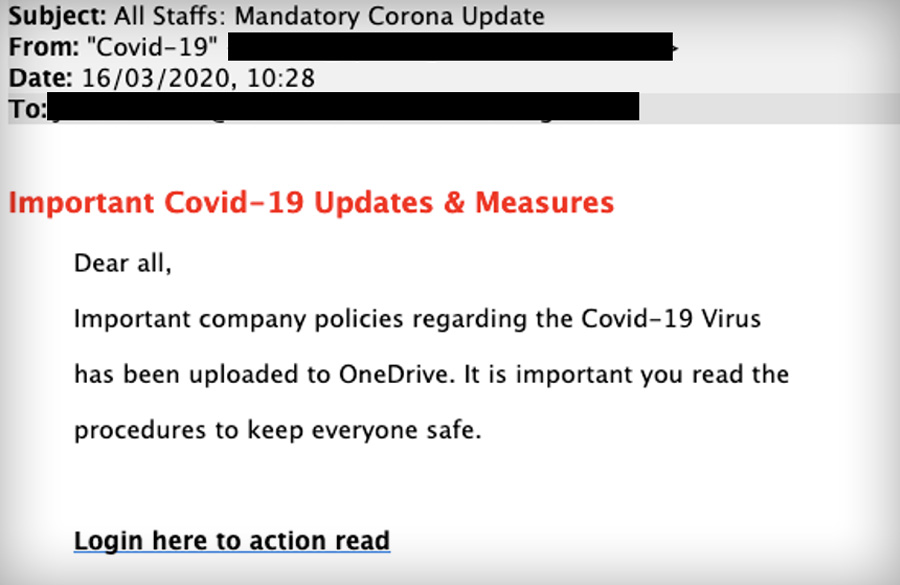 4. Official COVID-19 Forms to be Filled
One of the most vulnerable groups to scams are the elderly. Even if they don't use the Internet, this group may be at risk for receiving hard copies of official-looking forms at their place of residence. There are reports that "official COVID-19 forms" have been physically distributed to vulnerable groups at retirement villages.
These forms may have promises of government cheques or bonuses but are fake and should not be filled out with any personal information. Never attach any picture or photocopy of government ID to bogus paperwork. If it sounds too good to be true, it probably is.
5. Door-to-Door Coronavirus Testing
There have been reports that questionable characters walk into neighborhoods knocking on doors claiming to be testing/ preparing to test for Coronavirus (see image below). According to Police, they ask for personal information that could lead to identity theft.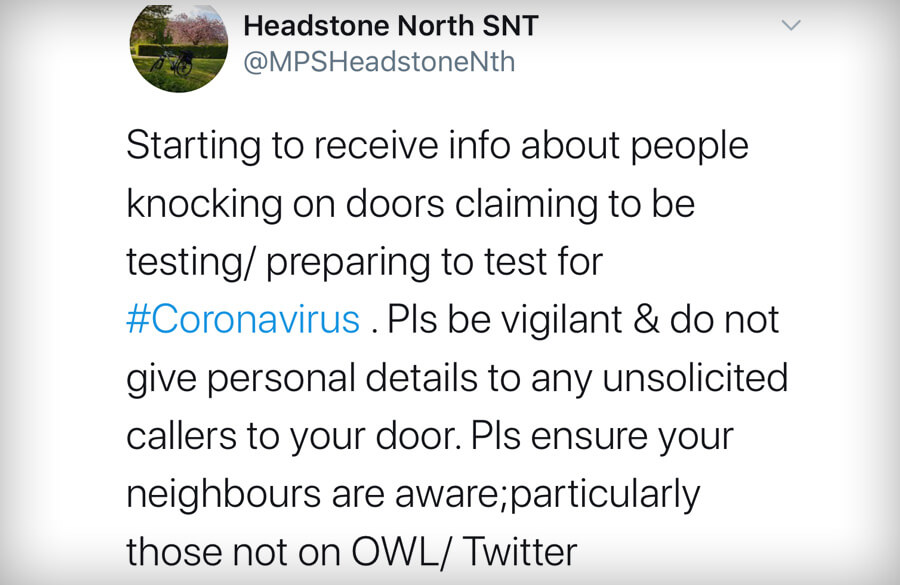 6. Text Message About Coronavirus Testing
There is a text message circulating these days inviting people to register for the COVID-19 testing. It goes like this: "You've received a new message regarding the COVID-19 safetyline symptoms and when to get tested in your geographical area. Visit https://covid19-info[.]online". Avoid and delete!
7. Your Bank Contacts You With Updates
While it's true that banks, post-offices, and other companies are tentatively shutting down certain locations, you will never have to sign up and register to use a different branch.
If you receive a note asking to download an app or a registration form, don't do it. You'll likely just be infecting your device with malware and find yourself at risk of losing your personal information to the spammers.
8. Your Relative Has Coronavirus
This is another telephone scam. Chances are, if someone you love becomes sick with COVID-19, you'll be hearing it from them directly. Hospitals and clinics should not be calling you or other family members looking for money.
Most governments, including Australia, Canada, and the United Kingdom will cover any related health-care costs directly.
Even the United States is getting on board with covering health care costs related to COVID-19, so make sure you check with your public health-care plan before you pay any bills.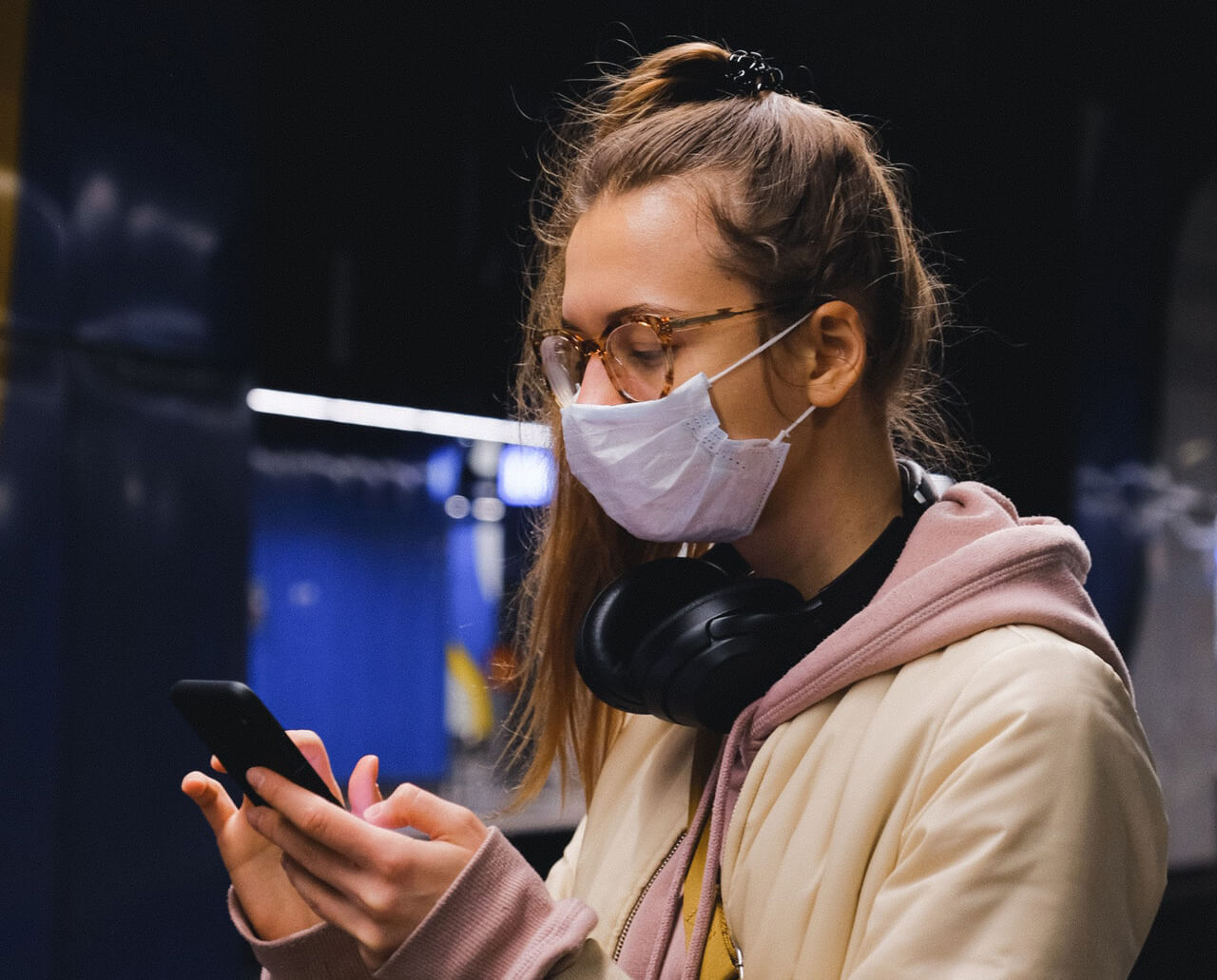 9. Receive Government Benefits
Public benefit packages are available to people who qualify through a legitimate application and screening process through government websites and phone numbers. They will never contact you asking for your personal information. It is the case of the Coronavirus Medical Benefits Scam.
If someone reaches out to you claiming to be from the government and requests your personal information, hang up immediately.
Nobody from the government should be calling you unless you've already initiated contact through legitimate means, and they will never ask for your credit card or other personal information.
10. Download the Official COVID-19 Map
We've exposed the Coronavirus Map Scam a few days ago, but new variants of it continue to pop-up. Watch out and do not download any software that may promise to keep you up to date with the newest numbers. According to a research done by Thomas Brewster, Associated Editor at Forbes, COVID-19 map malware can spy on you through your Android microphone and camera!
"Watch out for any links texted to your Android phone promising an app to track coronavirus. Downloading the application will let snoops, suspected to be operating in Lybia, watch you through your smartphone camera, listen to you through your microphone or pilfer all your text messages.", says Brewster.
"Underneath the disguise, is a customized version of SpyMax, commercial spyware that can be acquired online by anyone with an internet connection for free.", adds Brewster
One scam appears to have a link to the US Centre for Disease Control (CDC) and the ability to access a COVID-19 virus map by location. Beware!
11. Fake Masks For Sale
This is the first scam that hit the world after the pandemic expanded, so we exposed it back in January. However, for those who don't know it, the Coronavirus Face Masks Scam consists of a plethora of fake websites selling non-existent protective masks, for a very attractive price.
Similar to the face mask approach, criminals 'sell' other wonder products, such as hand sanitizers, cleaning supplies or air purfiers.
12. Bogus Testing Kits & Booking COVID-19 Vaccines
After U.S. Customs and Border Protection officers discovered what they believe to be bogus test kits this week un various airports, officials are warning Americans to be aware of purchasing any home testing kits for COVID-19.
You cannot buy home test kits anywhere online or in-store. Anyone who tries to tell you otherwise is scamming you.
On the other hand, there have been reports exposing fake calls inviting recipients to book Coronavirus vaccines. Hang up, there is no such a thing for the time being.
13. Breaking the Coronavirus Quarantine
Social distancing is very important today, but don't get fooled by this one. A new text message is circulating today informing the recipients that they have been seen breaking the quarantine. The message seems to come from the Government and even offers a link that starts with: www.gov.us. The content of the message is "We would like to inform you that you have been recorded as leaving your home on 3 occasions yesterday. A fine of $27 has been added to your gov.us account. For further information, please visit: https://www.gov.us/coronavirus/penalty-payment/tracking".
Well, you can rest assured this is a scam. The crookes hyperlinked their own website with the federal domain. Delete.
Here is additional information and types of fraud related to the crisis:
Stimulus Checks
This is the most common Coronavirus scam these days, and we sure you've heard about it in the news or social media. Just in case you didn't, scammers contact you via a text message email saying you are entitled to a new stimulus check.
The only thing you have to do is to provide all the personal information, from social security number to your date of birth and address. Scammers will even ask for your bank account to send you a "direct deposit of your stimulus check." Only apply or check the official status of your application through your Government's website.
Fake COVID-19 Apps
Hackers are taking advantage of the coronavirus pandemic by releasing dangerous malware disguised as COVID-19 tracking apps. The worse is CovidLock, which locks the phone and displays a message demanding that the user pay a sum of money to unlock it.. All apps should be downloaded directly from Google Play or the Apple Store.
Any apps that claim to track the outbreak from third-party websites are likely fake and full of malware.
Dangerous Facebook Links
As Facebook is the largest social media platform to spread the COVID-19 news, there is no surprise that cybercrooks use it to make victims as well. They send the readers to websites that look official and offer all kinds of products that are not, in any way, secure. According to Forbes, here is a list with domain names that were flagged as dangerous:
coronavirusstatus[.]space
coronavirus-map[.]com
blogcoronacl.canalcero[.]digital
coronavirus[.]zone
coronavirus-realtime[.]com
coronavirus[.]app
bgvfr.coronavirusaware[.]xyz
coronavirusaware[.]xyz
corona-virus[.]healthcare
survivecoronavirus[.]org
vaccine-coronavirus[.]com
coronavirus[.]cc
bestcoronavirusprotect[.]tk
coronavirusupdate[.]tk
On the other hand, don't fall for clickbait headlines such as "Famous Actor Dies of Coronavirus." If it sounds fake, it probably is. Don't click on any suspicious-looking links. It's probably malware.
Schools and Universities Off-site Learning Threat
In addition to all the above-mentioned scams, there is another one in the making. Most employers have already been instructed to send their teams home for work. Similar precautions are in place for most university and college students, who are now attending classes and completing assignments remotely.
If you receive any suspicious-looking information from an unfamiliar source, don't open any attachments. Contact your HR department or program coordinator to confirm. Otherwise, delete the email from your inbox immediately.
Coronavirus Scams: How to Avoid
We must be looking out for one another, especially our elderly relatives who may not be as familiar with the Internet or are looking for a few extra dollars from the government. Don't let them fall victim to any of the scams listed above.
Remember, NEVER give out your personal information to ANYONE, whether it's on the telephone, an unfamiliar website, or someone at the front door. Furthermore, never click on a link or download a file unless you are familiar with the product and its provider. Delete any email that includes generic greetings or obvious spelling and grammar mistakes, and be suspicious of emails that claim you have to "act now" or "act immediately."
If you're concerned about your devices being hacked or subject to malware, install an anti-virus/malware program with phishing protection.
Other COVID-19 Resources
Always check out and access legitimate sources of information on COVID-19 scams and resources.  Here are 3 organizations that you should keep an eye on:
World Health Organization. WHO provides a range of information, including how to protect yourself, travel advice, and answers to common questions.
Centre for Disease Control and Prevention. The CDC website includes the most current information about the coronavirus. Here's a partial list of topics covered: how the coronavirus spreads, symptoms, prevention and treatment, travel updates, global locations with COVID-19 as well as information for communities, schools, and businesses.
National Institutes of Health. NIH provides updated information and guidance about the coronavirus. It includes information from other government organizations.
What a Coronavirus Patient Goes Through
It is important these days to stay strong and help in any way we can. To understand what a person infected with Coronavirus goes through, watch the video below to see an on-camera interview with a patient who has been going through the COVID-19 ordeal:
Coronavirus Scams: How To Report Them
Warn your family and friends about these 13 COVID-19 scams by sharing this article on social media using the buttons provided. You can also officially report the scammers and other suspicious activity online to the Federal Trade Commission using the link below:
How To Protect Yourself More

If you want to be the first to find out the most notorious scams every week, feel free to subscribe to the Scam Detector newsletter here. You'll receive periodic emails and we promise not to spam. Last but not least, use the Comments section below to expose other scammers.
---
Verify a website below
Are you just about to make a purchase online? See if the website is legit with our validator:
vldtr®
Searching:

Domain age, Alexa rank, HTTPS valid, Blacklisting, SSL certificates, Source code, Location, IP address, WOT Trustworthiness, Spam reports, Advanced technology, Privacy Policy, Terms of Use, Contact options

TOP 3 MUST-WATCH FRAUD PREVENTION VIDEOS
1. Top 5 Amazon Scams in 2023
2. Top 5 PayPal Scams in 2023
3. How To Spot a Scam Email in 2023
Selma Hrynchuk
Selma is a fraud prevention specialist renowned for her expertise in private eye investigations and a remarkable partnership with law enforcement agencies. Beyond her investigative triumphs, her public speaking engagements and written works have empowered countless individuals to protect themselves and stay ahead of deceptive schemes. Selma's legacy shines as a tenacious agent of change, unyielding in her commitment to battling fraud and ensuring a safer world for all.