Winning Lottery Letter Scam: How It Works
(with video below) This is the most common scam email that people receive. It can also come through the regular mail as a letter. The recipients are informed that they have won millions of dollars at some lottery.
Some of the most used names are: International Postcode Lottery, People Postcode Lottery, Gmail Lottery, Microsoft Lottery, Coca-Cola Lottery, Spanish Lottery, Dream Lottery, Reader's Digest Lottery or Publishers Clearing House. The victims are given "confirmation" numbers, just so the winnings look official. How does the scam work
Watch the video below to see in action how the Lottery/Sweepstakes scam works.
Lottery Scam in the News Video
The letter starts with the classic: "We are delighted to inform you of the results of the lottery" then procedes to inform you that some winning names and numbers were released and yours is amongst them.
"Lottery Designed To Promote 2018 FIFA World Cup and 2020 Olympic Games"
The letter claims that the program was designed to promote the 2018 FIFA World Cup hosted by Russia and the 2020 Olympic Games in Tokyo. To claim your winnings you are invited to contact an agent (such as "Michael Dean" from Westpac Financial Consultants, but don't be fooled – the names could be changed in any letter), who will ask you for some "minor taxes" in order to release the money.
Here is a picture of the latest letter going around: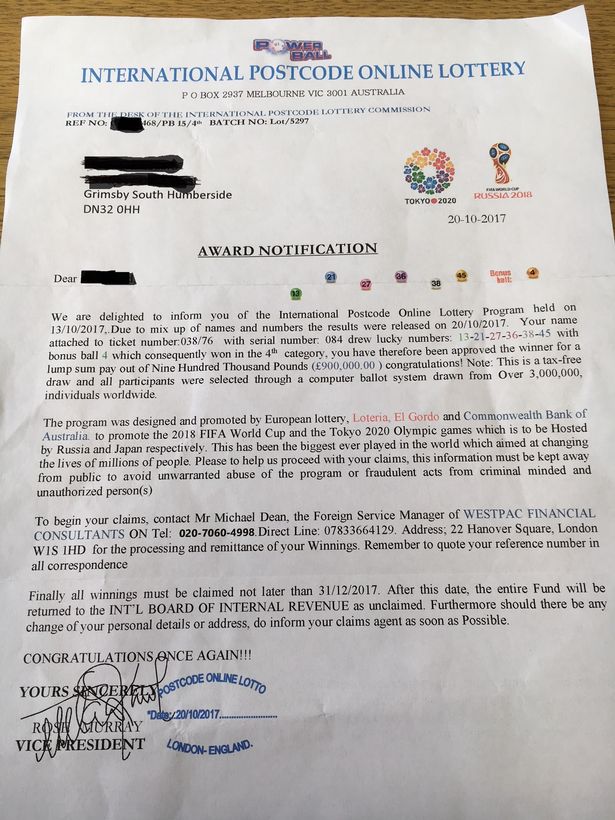 But that's not all.
Here Is A Different Variation of the Lottery Scam
In a different variation of the scam, crooks claim they are winners of the lottery and are looking to donate the proceeds.
The email going around looks like the one below, geographically targeted for where you are:
"This is a personal mail directed to you. My wife and I won 148.6 million Euro in the 2015 Euro Millions jackpot and have voluntarily decided to donate one million dollar to few credible people from our winnings to enable them start a charity project. This will be of great importance to the society.
You can verify our winnings by visiting the web pages below. (followed by fake links)
Yours Sincerely,
Gillian & Adrian Bayford"
The way the scam works is: in order to get your money, you are required to pay a certain fee, such as 5% from the whole amount. This is considered to be a processing fee or governmental fee that all the winners have to pay.
Winning Lottery Letter Scam: How It Works
You can never win a lottery without participating. Don't believe that somebody else might have put your name in the draw. You might also notice that the notifications always refer to you as "Dear Winner", but never "Dear John" (or whatever your name is).
If you really are into earning money online, use only legitimate companies, such as Swagbucks.com, which is the world's largest free online rewards program. You get paid by doing things online which you might do anyway, such as searching the web, discover products, take surveys, watch videos, or play games. You can also get free iTunes and Amazon cards. The company has an A+ rating with the Better Business Bureau. You can register for free HERE.
How to report:

Make your family and friends aware of this scam by sharing it on social media using the buttons provided. You can also officially report the scammers to the Federal Trade Commission using the link below:
---
Verify a website below
Are you just about to make a purchase online? See if the website is legit with our validator:
vldtr®
Searching:

Domain age, Alexa rank, HTTPS valid, Blacklisting, SSL certificates, Source code, Location, IP address, WOT Trustworthiness, Spam reports, Advanced technology, Privacy Policy, Terms of Use, Contact options

TOP 3 MUST-WATCH FRAUD PREVENTION VIDEOS
1. Top 5 Amazon Scams in 2023
2. Top 5 PayPal Scams in 2023
3. How To Spot a Scam Email in 2023
Selma Hrynchuk
Senior Editor at Scam Detector Media, Selma is a fraud prevention specialist with a wealth of experience in private investigations and collaborations with law enforcement. A captivating public speaker, Selma educates audiences about scams and personal safety. Through her insightful writing, she exposes criminals and shares essential tips for staying secure. Selma is a dedicated guardian against fraud, committed to unmasking deception and promoting integrity.