Top 7 Fake Government Text Messages You Should Avoid During COVID-19
Fake government text messages are being sent daily by scammers, whether they're about quarantine, federal grants, stimulus, jobs, parking fines, tax refunds, surplus auctions, or even random student loan forgiveness. They are all the same, whether you live in the United States, United Kingdom, Canada or Australia. Let's dive in.
Most of us interact with various levels of the government for many services and amenities. Unfortunately, many unscrupulous characters have taken advantage of the potential communication with the federal authorities to scam people of their hard-working money. There has been an increased number of fake government text message scams that have threatened people lately.
Let's take a look at some examples of these text message scams:
1. Quarantine Penalty
This type of text message should seem bogus to anyone, but due to the present circumstances around the world, it may be easier to believe. Everyone is aware of the "stay at home" orders in different regions, and this message is designed to target that specifically.
The message takes the following format or variations of it: "We would like to inform you that you have been recorded as leaving your home on 3 occasions. A fine of $27 has been added to your gov.us.account. For further information, please visit https://www.gov.us/coronavirus/penalty-payment/tracking."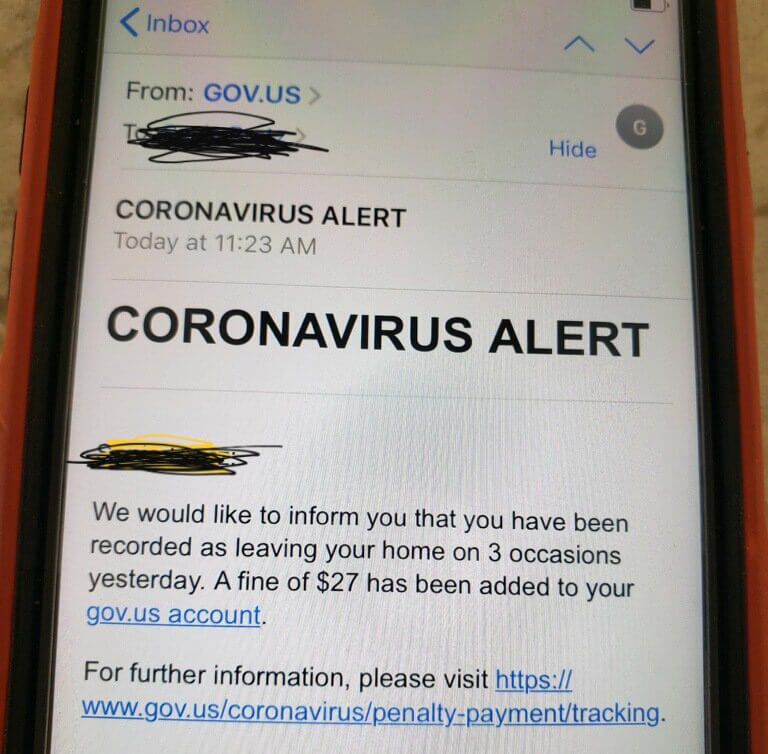 When you click the link, you are redirected to a malicious website page that resembles an official government website. However, it's just an attempt to extract vital credentials from you. To pay your fine, you are required to input your credit card information, bank details, or other sensitive data. This is where the real scam occurs, leading to identity theft.
This text is sent at random to put fear in the minds of people and threatens them with a fine for leaving their homes. We all know that it's compulsory to isolate, but there have been no charges or penalties – via text message – for disobedience of the quarantine order. If you get any message that displays such information, it's best to ignore it.
2. Government Grant
The government stimulus scam had experienced a decline late last year but made a comeback this month due to the escalation of the COVID-19 crisis, which also generated a bunch of fraudulent practices (such as the Coronavirus Face Mask Scam or the Fake Best Air Purifier for Allergies). The former scheme used was that people received a message saying that they are eligible for a grant from an economic surplus. Now, the details of the scam have changed while people are invited to apply in order to receive financial assistance that will help them get through the pandemic.
The recipients of this message are urged to visit a website where they register and input their details to determine their eligibility to receive the money.
After the application is submitted, victims are sent a congratulatory message that they've been accepted to receive the stimulus funds. But, there's a catch. The scammer will require that you pay a particular governmental tax to access the promised citizens benefits. If you pay up, you won't receive financial support or get a refund on the federal tax – you just lose your money.
If you are interested, here is the real list with government grants for individuals in the US, UK, Canada and Australia.
If you haven't yet, you will probably be receiving a text message (claiming to be from IRS, CRA, ATO, or HMRC) regarding a tax refund. The message may inform you that the government cannot process your tax filing because someone else has done it on your behalf. This would surely get you frightened and make you more susceptible to their scams. The trick is to get you to verify your identity (to proof is the real you), meaning the scammers will steal the personal information that you will be required to fill.
Another variation of the Tax Refund Scam may – more common via email – involves a text message which consists of a refund that you apparently shall receive. To claim it receive, you need to submit your banking information.
Last but not least, a third variation of the scam (see photo below) is a text message confirming that IRS, CRA, ATO, or HMRC will send your refund to your bank account. However, they show the last four digits of the account, but they don't seem to match yours. Victims may panic when they don't recognize the account and input their real number.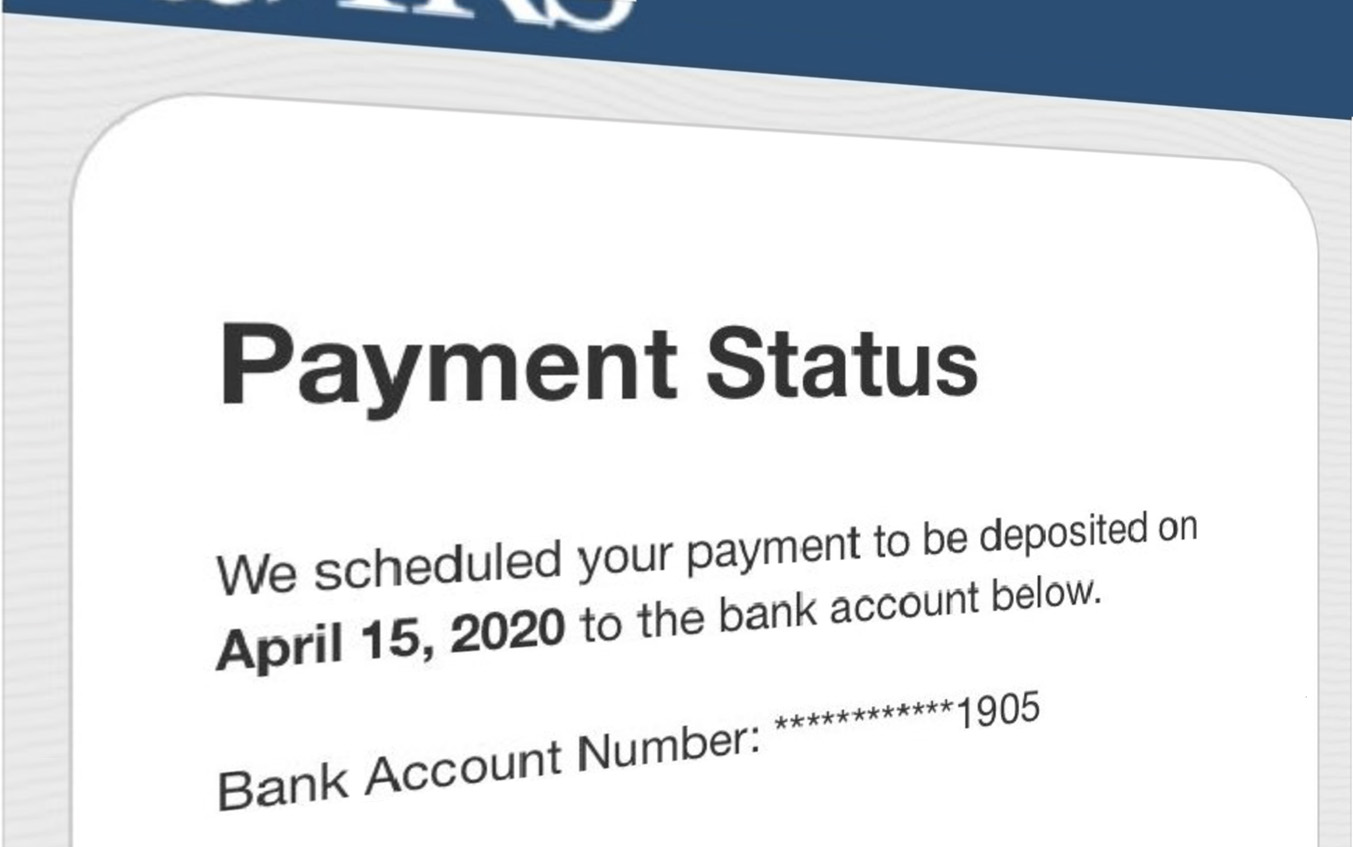 This scam takes place in the form of a letter or email informing you of different job openings around you. There is also be a phone number included in the message that you can use to get more information. When you call, you'll get put on hold for a long time. You may not be quick to hang up expecting that you'll speak to someone in government who has an employment offer for you.
After waiting for a long time and listening to the same on-hold song repeatedly, you finally hang up the phone and get on with other daily activities. If you try the next day or another time again, the scenario repeats: you are put on hold for an extended period.
After trying to get in touch with them a few more times, you may eventually give up. In the next few weeks, you'll receive your phone bill, which notifies you that you have spent a lot of money on "premium" phone conversations (hotlines) that you know nothing about.
There is a new popular scam going around, which may be in the form of a parking ticket coming from the local authorities. How does this scam work?
An unexpected text message will claim that you owe parking tickets for unauthorized parking in a local parking lot. The amount charged may extend from $35 – $150. The whole plot is designed to take some of your money under the guise of a fake parking ticket sent electronically. If you get in contact with the number on the text message or click the link, you may be tricked to make payments or input credentials.
Watch the video below to see a different variation of the parking ticket scam:
6. Student Loan Forgiveness Programs
A fake Student Loan Forgiveness Program Scam is offered via a text message informing you of your eligibility for such a benefit. The sender will try to extract critical information from you by starting a conversation, making it look like it is an official offer.
The text is all in a bid to learn about your vital credentials. Victims to these scams usually end up providing details such as bank account information or credit card details. Some other people are tricked into a pre-payment in order to make them eligible for the offer.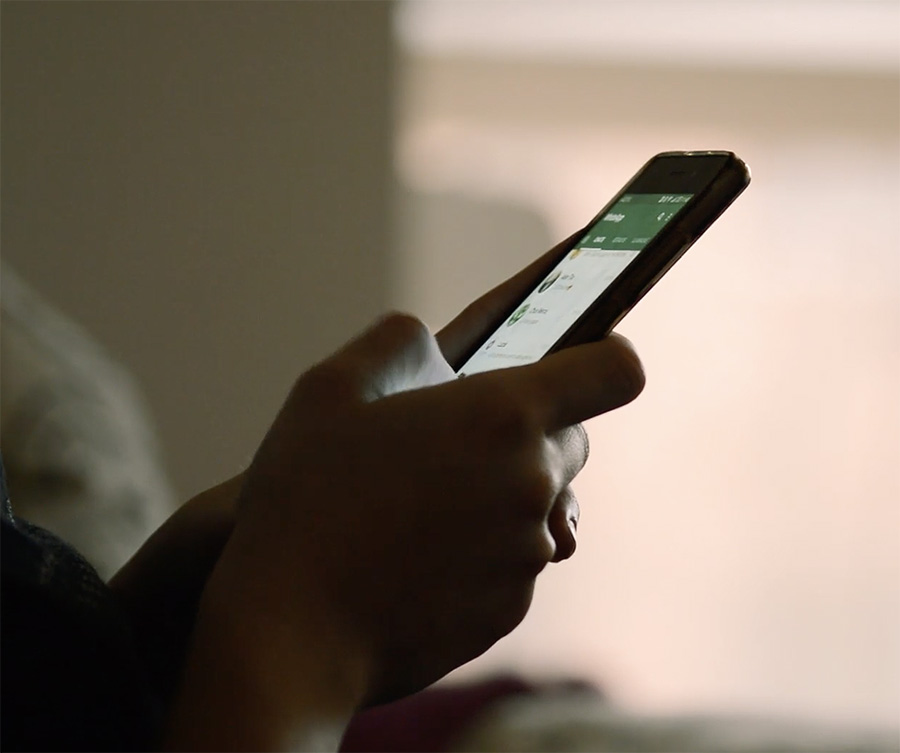 7. Government Auctions
The Government Auctions Scam may take place in two variations. Scammers will organize fake online auctions and promote them both via text messages and on social media platforms. At these events, they trick people into paying for non-existent items and collect credit card information, but not sending any goods.
Another variation of the scam is when people are lured into paying for cheap counterfeit items. These are featured as government 'seized' goods from criminal activities, that are now sold online. In reality, they are just knock-offs made for a low amount of money in Asia.
Government Text Message: How To Report a Scammer
Warn your family and friends about these fake government text messages by sharing the article on social media using the buttons provided. You can also officially report the scammers to the Federal Trade Commission using the link below:
How To Prevent Identity Theft and More

If you want to be the first to find out the most notorious scams every week, feel free to subscribe to the Scam Detector newsletter here. You'll receive periodic emails – we promise not to spam. Meanwhile, educate yourself with some other fraud-related articles right under this paragraph, so that you can protect yourself in many other aspects and niches. Last but not least, use the Comments section below to expose other scammers.
---
Verify a website below
Are you just about to make a purchase online? See if the website is legit with our validator:
vldtr®
Searching:

Domain age, Alexa rank, HTTPS valid, Blacklisting, SSL certificates, Source code, Location, IP address, WOT Trustworthiness, Spam reports, Advanced technology, Privacy Policy, Terms of Use, Contact options

TOP 3 MUST-WATCH FRAUD PREVENTION VIDEOS
1. Top 5 Amazon Scams in 2023
2. Top 5 PayPal Scams in 2023
3. How To Spot a Scam Email in 2023
Selma Hrynchuk
Selma is a fraud prevention specialist renowned for her expertise in private eye investigations and a remarkable partnership with law enforcement agencies. Beyond her investigative triumphs, her public speaking engagements and written works have empowered countless individuals to protect themselves and stay ahead of deceptive schemes. Selma's legacy shines as a tenacious agent of change, unyielding in her commitment to battling fraud and ensuring a safer world for all.