OFFICIAL: Full List of Government Grants for Individuals and Financial Assistance Links in the US, UK, Canada and Australia
The coronavirus disease has ravaged the world and is threatening to tear down everything. There have been 5.1M deaths recorded worldwide until today and governments and agencies have made serious efforts to bring it to an end.
While the world is yet hopeful for the eradication of this outbreak soon, notable policies to keep citizens capable of taking care of themselves have been implemented. These policies have been put in place to alleviate the demerits caused by COVID-19. As expected, they help to make the crisis easier to manage.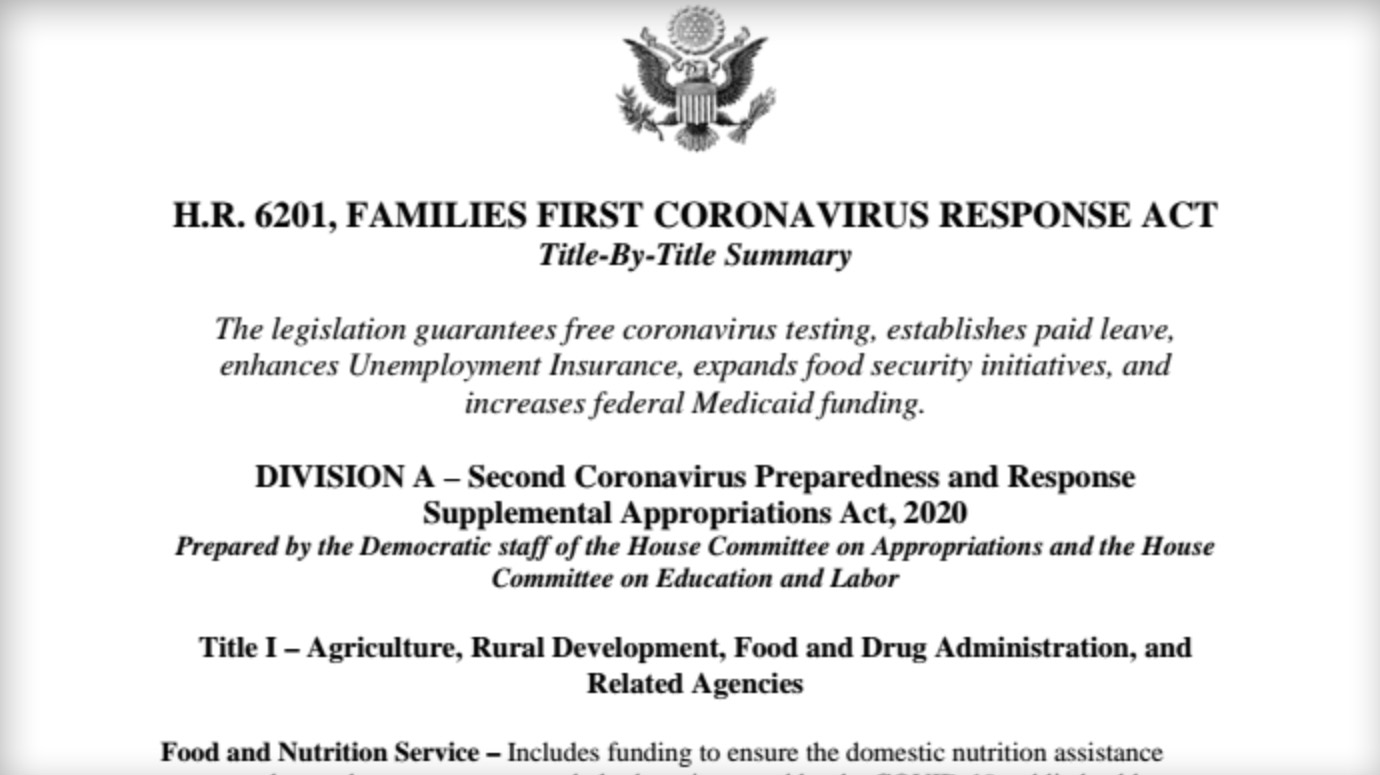 Economic Stimulus Packages: Real Ones vs. Fakes
Governments around the world have swung into action offering grants and financial assistance to families in distress. Good examples of such support are the state, federal and provincial stimulus packages, varying from place to place in the United States, Canada, Australia and the United Kingdom. In this article, we will offer a comprehensive list with government grants for individuals and official pages referring to how to get the financial support in all four regions above – or, whatever is about to happen in that direction. See the list later in this material, so you can avoid the fake government grant offers.
However, there are complications.
COVID-19 Financial Assistance For Families: The Tagline That Scammers Use to Get Every Victim
As the grants seem to draw closer attention, there seems to be an impending problem for citizens: the fake support pages and economic stimulus announcements. Criminals took advantage of these initiatives to rip people of their hard-earned money. Let's take a look at some scam examples before getting into the real, official announcements. Here they are:
The first type of Government Grant scam comes as a text message on your phone or a social media post, whether you live in the US, Canada, Australia or the UK. It states that you have qualified to earn money to help you stay at home with your family during this crisis. With all the news you've heard around about the Federal Stimulus Package, it may be easier to fall for the trick than you thought.
As soon as you click on the link, you will be redirected to a website that would be requesting your personal information and bank details. The scammer will ask for these details under the guise that they are trying to verify your identity and process the amount for your grant. Make no mistake as this is false and the real reason is to rip you off your money and personal information. The Government doesn't offer money via calls or text messages.
Government Grant Money: Avoid Text Messages
The messages usually contain malicious links, as you can see in the image below: "URGENT: UKGOV has issued a payment of 558 GBP to all residents as part of its promise to battle COVID19". Or, in a different variant, "as part of the NHS promise to battle the COVID-19 virus, HMRC has issued a payment of £258 as a goodwill payment. Follow the link to apply [suspicious link]".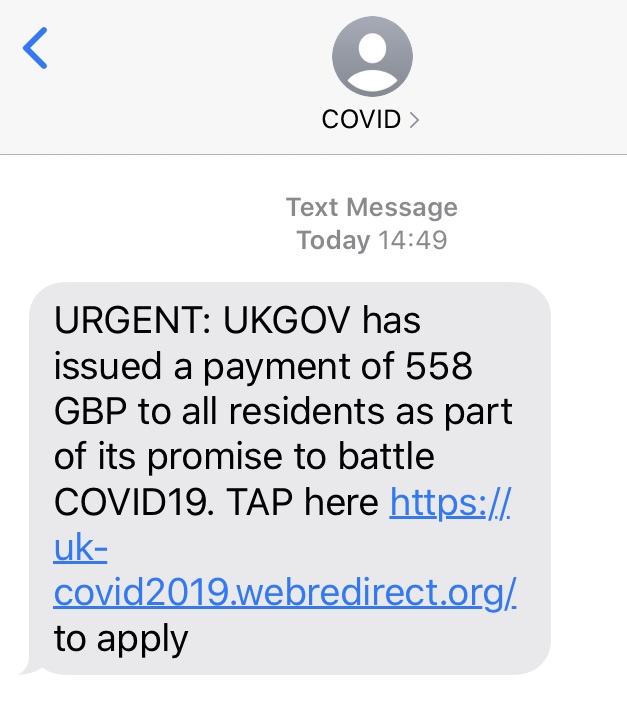 In the United States, the link would direct citizens to a bogus government agency named U.S. Emergency Grants Federation. On their website, they would request for your social security number under the guise of determining the amount of grant that you're eligible for.
In other variations, easier to detect, the website may claim that you are able to get extra money — sometimes they promise you thousands of dollars — or that you can get your funds instantly. They would request that you share more personal information and pay a fee to handle the transaction.
It's best that you ignore any of such messages or don't click on the link at all. If you'll be offered a grant by the government it would be done through the proper channels offered below. Also, take note that government authorities would not ask for your details or a processing fee. Rather, they have all of your details already and would be able to handle any such transaction themselves.
See If You Can Qualify For Financial Assistance Below
That being said, Scam Detector has been spending a lot of hours in the last week to collect all the official information for you, trying to debunk fake stories and protect everyone from financial fraud and identity theft. Or, in case you want to see if you can qualify for state, federal or provincial assistance – check out the list below. Just keep in mind that not all of them have grants to offer (at least fior now, keep an eye on them), but also critical information regarding financial assitance of some sort. Most of the organizations below have other links included, which could take you to the next step.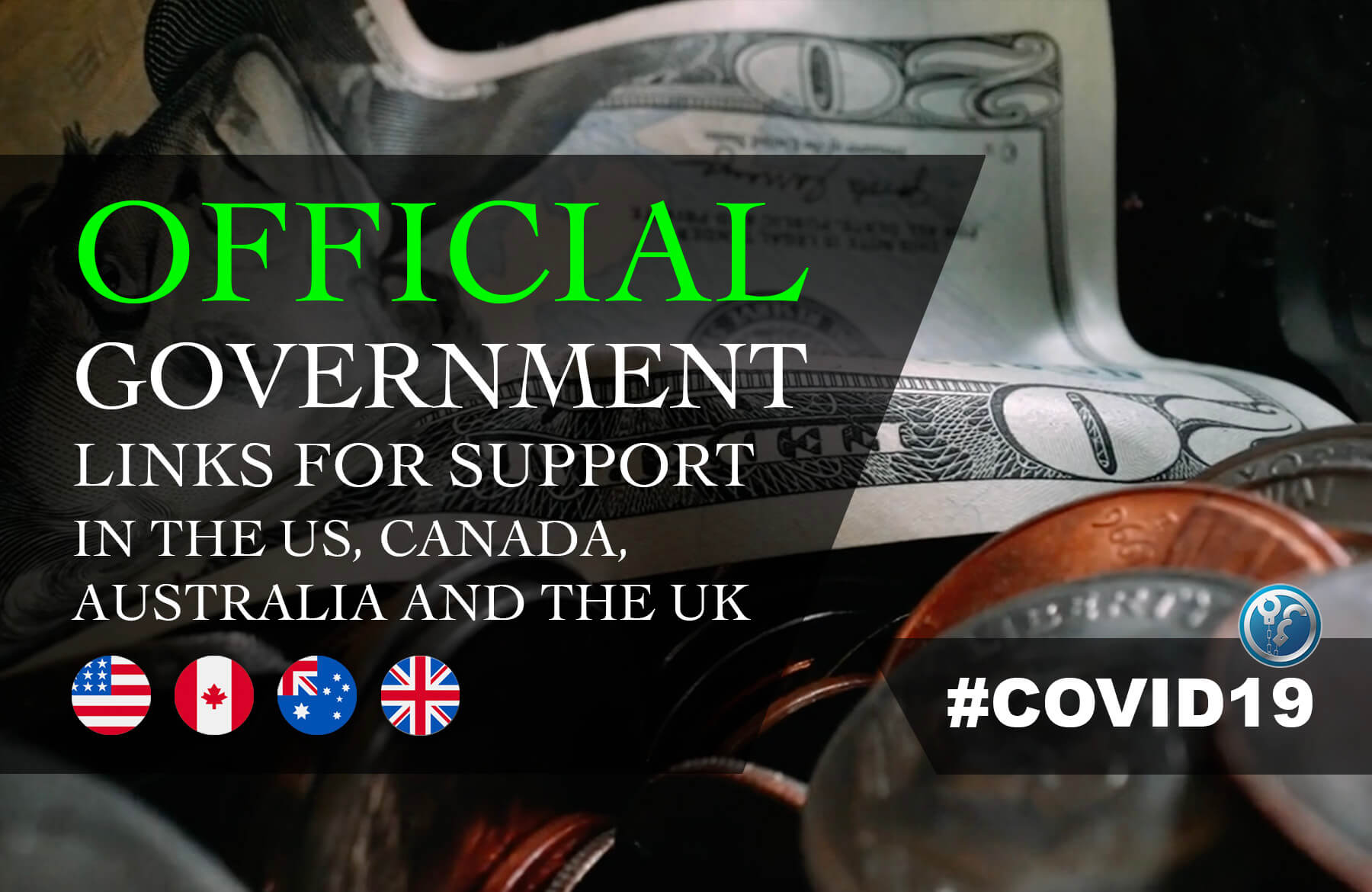 ---
Verify a website below
Are you just about to make a purchase online? See if the website is legit with our validator:
vldtr®
Searching:

Domain age, Alexa rank, HTTPS valid, Blacklisting, SSL certificates, Source code, Location, IP address, WOT Trustworthiness, Spam reports, Advanced technology, Privacy Policy, Terms of Use, Contact options

TOP 3 MUST-WATCH FRAUD PREVENTION VIDEOS
1. Top 5 Amazon Scams in 2023
2. Top 5 PayPal Scams in 2023
3. How To Spot a Scam Email in 2023
Selma Hrynchuk
Selma is a fraud prevention specialist renowned for her expertise in private eye investigations and a remarkable partnership with law enforcement agencies. Beyond her investigative triumphs, her public speaking engagements and written works have empowered countless individuals to protect themselves and stay ahead of deceptive schemes. Selma's legacy shines as a tenacious agent of change, unyielding in her commitment to battling fraud and ensuring a safer world for all.