How the scam works:
(with explanatory video below) Scammers send mass-emails, request recipients to participate in a survey, and promise a gift card in return. The crooks pose as retail chains or fast food restaurants (latest name used is Zara) and use the real logos to make it seem legitimate.
Participants who respond and enter personal information often find that, instead of receiving a gift card, they receive calls from telemarketers. Through the survey, the scammers attain participants' email addresses, phone numbers and home addresses.
The worst comes not when your personal info is sold to telemarketers, but when your identity is stolen.
The other variation of this fraud is the Facebook Free Gift Card scam. The crooks ask you to fill out a survey in order to receive the card, as well as clicking the "Like" button. Filling out the form and sending it over provides the scammers access to your personal information, including passwords and bank accounts. Amongst the Faceook/Twitter Free Gift Card scams found on the social networking websites are big brand names used by the crooks.
Watch the video below to see in action a third and most lucrative (for the scammers) variation of the Gift Card for Survey Scam, exposed in the news.
Gift Card Scam In The News Video
Below there is also a list with such fake offers posted by scammers.
"$1,000 Victoria's Secret gift card" scam
"$500 Costco free gift card" scam
"$100 Applebee's free gift card" scam
"1 free Walgreen gift card" scam
"One free Amazon.com gift card" scam
"Boots $50 voucher giveaway" scam
"Free $1,000 Walmart gift card survey" scam
"Free £170 worth of Tesco vouchers" scam
"Eat for free at Cheescake factory" scam
"Free £500 Argos gift cards for Christmas" scam
"Eat for free at Pizza Hut" scam
"Free Starbucks $50 gift card" scam
"Free $25 Tim Hortons gift card" scam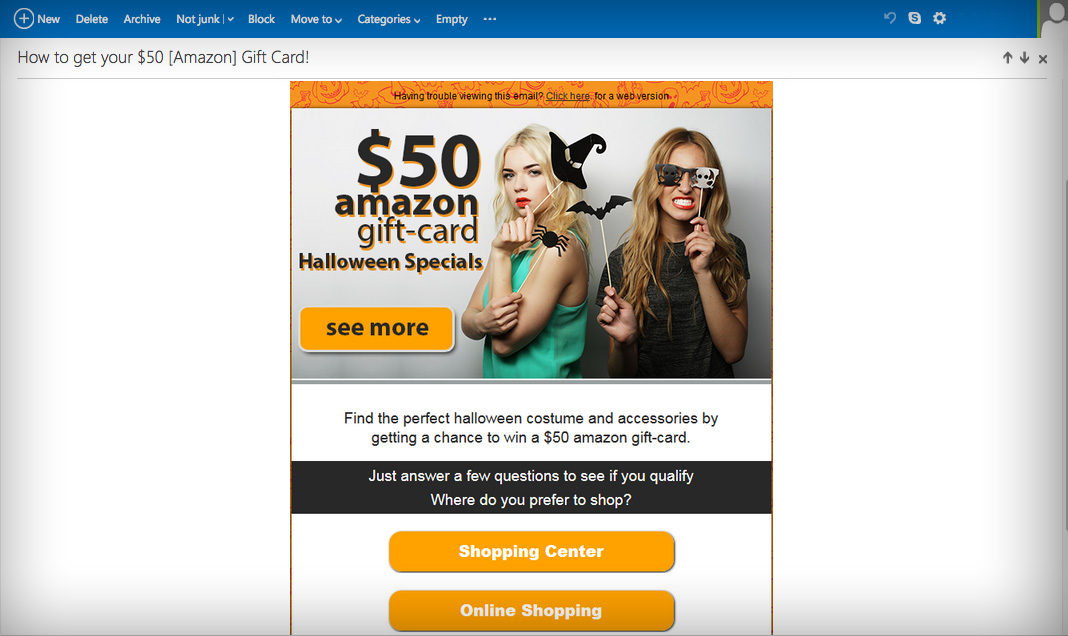 How to avoid:
People love freebies and that's exactly what scammers use as bait to get your info. Buy the online gift cards through legitimate sources, but first make sure the website is authentic and not cloned. And Facebook or Twitter free gift cards? Hmmm…no. If you really want to participate in rewards programs and gift cards are your weakness, use Swagbucks.com, which is the world's largest free online rewards program. You get paid by doing things online which you might do anyway, such as searching the web, discover products, take surveys, watch videos, or play games. You can also get free iTunes and Amazon cards. The company has an A+ rating with the Better Business Bureau. You can register for free HERE.
How to report:

Make your family and friends aware of this scam by sharing it on social media using the buttons provided. You can also officially report the scammers to the Federal Trade Commission using the link below:
Report Scammers To The Federal Trade Commission Here
How to protect yourself more:

If you want to be the first to find out the most notorious scams every week, feel free to subscribe to the Scam Detector newsletter here. You'll receive periodical emails and we promise not to spam. Last but not least, use the Comments section below to expose other scammers.
Related Articles and Pages:
---
Verify a website below
Are you just about to make a purchase online? See if the website is legit with our validator:
vldtr®
Searching: Domain age, Alexa rank, HTTPS valid, Blacklisting, SSL certificates, Source code, Location, IP address, WOT Trustworthiness, Spam reports, Advanced technology, Privacy Policy, Terms of Use, Contact options

TOP 4 MUST-WATCH FRAUD PREVENTION VIDEOS
1. Top 5 Cryptocurrency Scams in 2021
2. Top 5 Amazon Scams in 2021
3. Top 5 PayPal Scams in 2021
4. Top 6 Instagram Scams in 2021