Free Spotify Premium: How The Scam Works
Wonder how to get music on Spotify for free? Beware of the newest scam going around: How To Get Free Spotify Premium Account for iPhone aka Spotify Premium Free Trial. In this article, we will show you how the scam works, as well as the best tips and hacks to use Spotify.
A new WhatsApp phishing trap created to steal your Spotify credentials has been revealed this week. Many users of the popular messaging app reported receiving a WhatApp message containing a URL for a one-year free subscription to Spotify Premium, the ad-free version of the popular music streaming service.
If you click the link, you are directed to a page showcasing the Spotify logo. The branding is complete, also featuring the Spotify's font as well as its green and black color scheme.
Once you get to that page, they were asked several questions before being asked to log into the platform. The trick here is, the cybercriminals collecting all this data will sell all the accounts on the black market.
The scam is perpetrating across many countries, requiring the page to be recreated in many different languages, as seen below – a screenshot from Spain, while the scam was reported by the national Police there.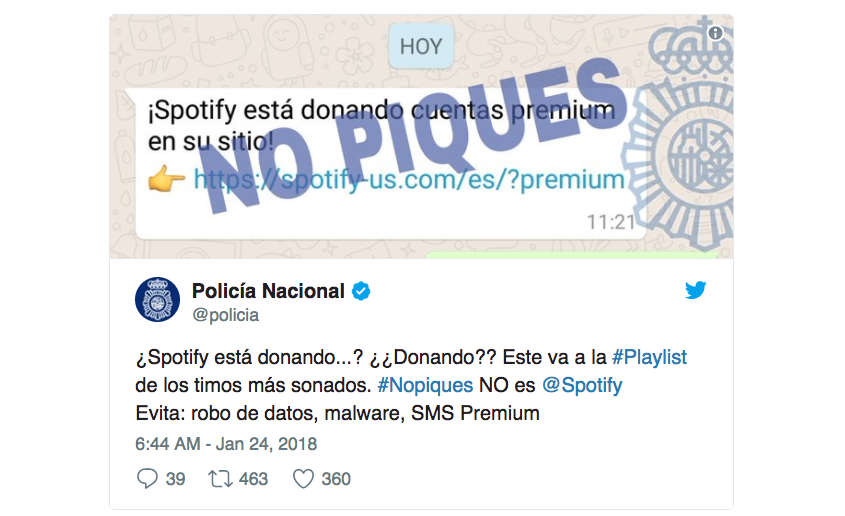 However, criminals use translation apps and tools that provide imprecise translations, which makes the scam somehow easier to spot.
Spotify Premium Free Trial Scam: How To Report
Let your family and friends know about the Free Spotify Premium Membership scam by sharing it on social media here, using the buttons provided. You can also officially report the scammers to Whatsapp Admin or to the Federal Trade Commission using the links below:
Best Spotify Hacks To Use
If you are using Spotify on a regular basis, watch the video below to see some of the best hacks that you can use on the platform, especially how to get on playlists:
Recommended Reads:
Amazon Brushing: How Fake Reviews Work
How You Can Lose Hundreds of Dollars To Online Marketing Gurus
---
Verify a website below
Are you just about to make a purchase online? See if the website is legit with our validator:
vldtr®
Searching:

Domain age, Alexa rank, HTTPS valid, Blacklisting, SSL certificates, Source code, Location, IP address, WOT Trustworthiness, Spam reports, Advanced technology, Privacy Policy, Terms of Use, Contact options

TOP 3 MUST-WATCH FRAUD PREVENTION VIDEOS
1. Top 5 Amazon Scams in 2023
2. Top 5 PayPal Scams in 2023
3. How To Spot a Scam Email in 2023
Selma Hrynchuk
Selma is a fraud prevention specialist renowned for her expertise in private eye investigations and a remarkable partnership with law enforcement agencies. Beyond her investigative triumphs, her public speaking engagements and written works have empowered countless individuals to protect themselves and stay ahead of deceptive schemes. Selma's legacy shines as a tenacious agent of change, unyielding in her commitment to battling fraud and ensuring a safer world for all.