Business Register 2020 Scam: How It Works
Do you own a business and need exposure? Maybe you have an eCommerce store or simply a brick-and-mortar location? Be careful about a new scam that is going around this month and using different names: the Business Register Scheme, aka the Business Directory Addition or the Online Business Registration Pty. How does that work? You might be receiving an email one of these days with the following content:
"Madam/Sir, in order to have your company inserted in our Register for 2020/2021 print, complete and submit the attached form (PDF) to the following address:
EU BUSINESS REGISTER
PO BOX 3079
3502 GB UTRECHT
THE NETHERLANDS
Fax: 0031 205 248107
You can also attach the completed form in a reply to this email. Updating is free of charge!"
The PDF attached is the image above. It features a bunch of sectors, as well as informaton room for name, address, telephone, and email. As you probably have noticed, "updating is free of charge" but, of course, your business has never been placed into this directory before! That's when you are asked to pay a fee in order to have your company featured into this bogus list. A small fee, but  big enough to get you hooked and make you pull out your credit card.
Here is a screenshot of another scammy letter, sent by a company called Online Business Registration Pty Ltd: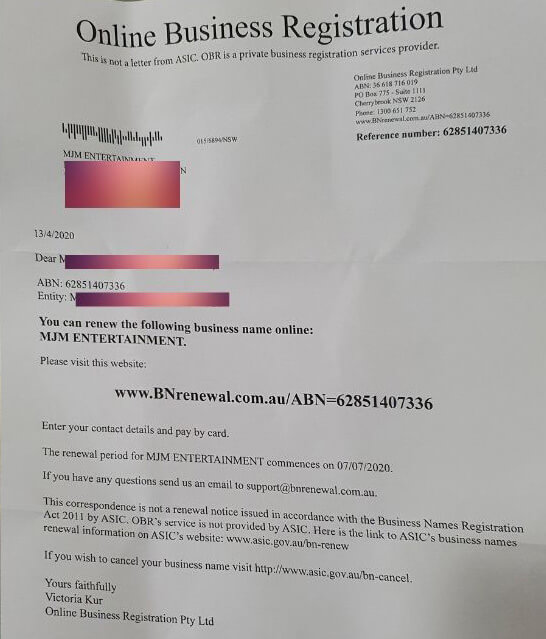 Business Directory 2020 Scam: How To Avoid
Notice how they refer to you as "Sir/Madam", and not with your real name. They know nothing about your business. This email has been sent to millions of people around the world via mail merge. Whatever it sticks, thay'll take it. Ignore and delete this bogus business directory email.
Business Directory Add 2020: How to Report a Scammer
Warn your family and friends about the Business Directory 2020 Scam by sharing this article on social media using the buttons provided. You can also officially report the scammers to the Federal Trade Commission using the link below:
How To Prevent Identity Theft and More

If you want to be the first to find out the most notorious scams every week, feel free to subscribe to the Scam Detector newsletter here. You'll receive periodic emails – we promise not to spam. Meanwhile, educate yourself with some other fraud-related articles right under this paragraph, so that you can protect yourself in many other aspects and niches. Last but not least, use the Comments section below to expose other scammers.
Here are some must-reads for the end:
Sell My Structured Settlement Scam
Pump and Dump Scheme Scam
---
Verify a website below
Are you just about to make a purchase online? See if the website is legit with our validator:
vldtr®
Searching:

Domain age, Alexa rank, HTTPS valid, Blacklisting, SSL certificates, Source code, Location, IP address, WOT Trustworthiness, Spam reports, Advanced technology, Privacy Policy, Terms of Use, Contact options

TOP 3 MUST-WATCH FRAUD PREVENTION VIDEOS
1. Top 5 Amazon Scams in 2023
2. Top 5 PayPal Scams in 2023
3. How To Spot a Scam Email in 2023
Selma Hrynchuk
Senior Editor at Scam Detector Media, Selma is a fraud prevention specialist with a wealth of experience in private investigations and collaborations with law enforcement. A captivating public speaker, Selma educates audiences about scams and personal safety. Through her insightful writing, she exposes criminals and shares essential tips for staying secure. Selma is a dedicated guardian against fraud, committed to unmasking deception and promoting integrity.