BMW Lottery Winning Scam: How It Works
Thousands of people around the world have been receiving these days an email apparently coming from the BMW headquarters. It informs the potential victims about a BMW lottery winning and congratulates the recipients about the award: a brand new car and cash on the side. The sender uses the name Marta Wegrzynek, but don't get fooled – it could be any, so beware.
The scam is based on the same formula that any Lottery Winning scam or Publishers Clearing House Sweepstakes scam works. How is that?
Watch the video below to see how the Lottery Car Winning scam works:
In order to receive the BMW money, the 'winners' have to pay a state or provincial tax, which typically is 5% of the winnings. Excited to get half-million dollars, victims send the 5% fee to a PO Box. They are also asked to send the money via reloadable cards such as Green Dot, Vanilla Reload, Ukash, or MoneyPak. Why? These payment methods are requested because they are both entirely legitimate and completely untraceable.
The fact that transfers can be completed without the recipient having to provide any identifying information is ideal for fraudsters. Once the criminals gain your trust, they can then accept the payment in such a way that it is all but impossible for law enforcement to trace the fraud back to them.
How The Fake BMW Email Looks Like
You can report the scammers below in this article, but before you get there here is a how a bogus message from the BMW headquarters looks like (grammar mistakes included):
"Dear BMW Enthusiast,
This is to inform you that you have been selected for a prize of a brand new 2021 Model BMW and a Check of $500,000.00 from international programs was held Jan 2nd of this first section of 2021 in the New Iberia Louisiana, UNITED STATES OF AMERICA.

Model: BMW 2021

Mileage: 5

Transmission: Automatic 8 Speed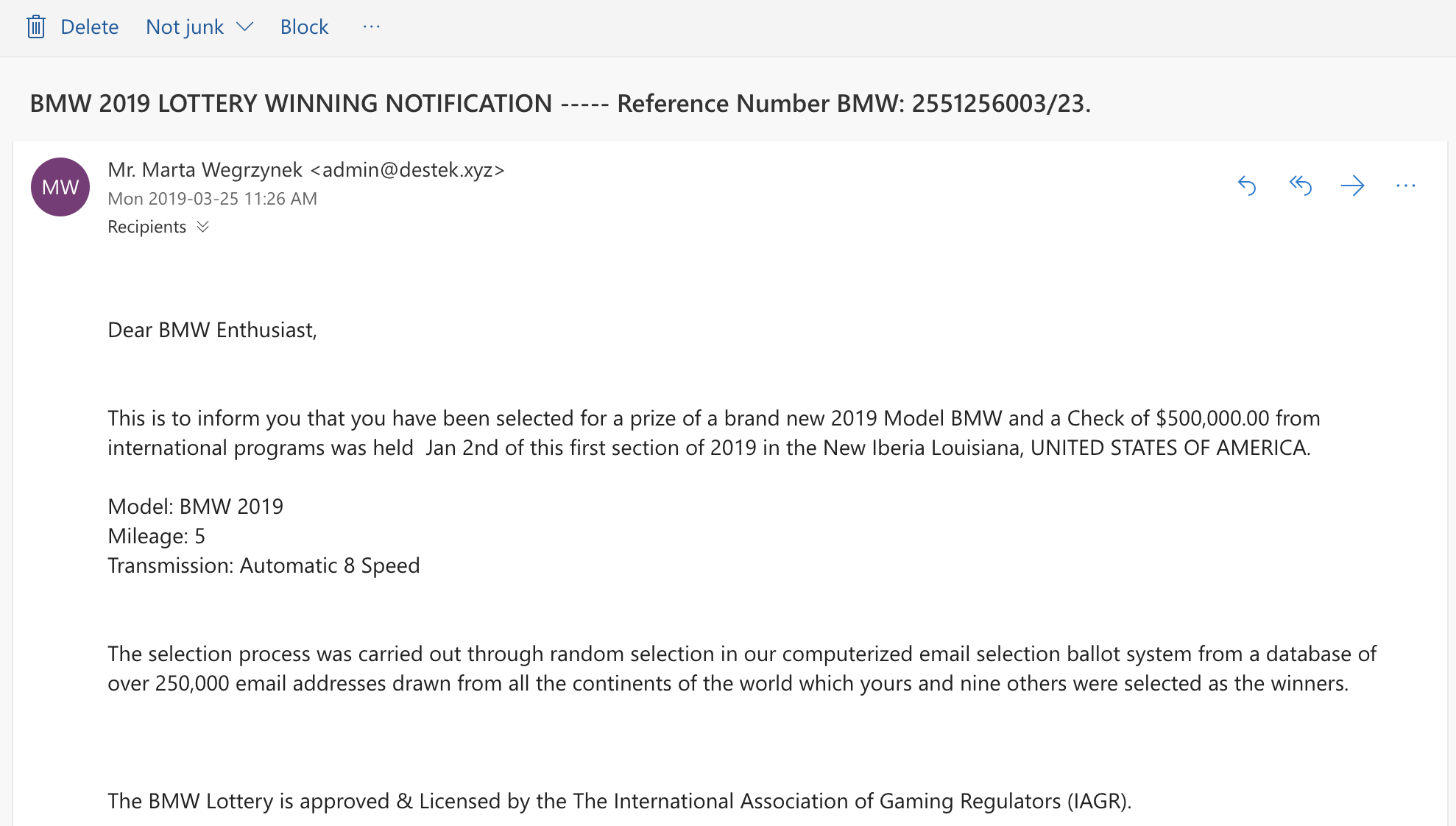 The selection process was carried out through random selection in our computerized email selection ballot system from a database of over 250,000 email addresses drawn from all the continents of the world which yours and nine others were selected as the winners. The BMW Lottery is approved & Licensed by The International Association of Gaming Regulators (IAGR).

To begin the processing of your prize you are to contact our fiduciary claims department for more information as regards procedures to claim your prize.

BMW LOTTERY DEPARTMENT USA

Verification Agent:Thomas Grey

Contact To: bmwclaimsdepartment001@yahoo.com

Contact him by please providing him with your secret pin code X7PWYZ2005 and your Reference Number BMW: 2551256003/23. You are also advised to provide him with the under listed information as soon as possible: 1.Name in full. 2.Address. 3.Nationality. 4.Nearest Airport. 5 Phone/Fax 6.Present Country. 7.Email.

Please you are to provide him with the above listed details as soon as possible so he can begin with the processing of your prize winnings. Note: Do not disregard any email as this is a PROMO BMW LOTTERY DEPARTMENT that was held Jan 2nd 2021. Congratulations once again from all our staff and thank you for being part of our promotional program.

Marta Wegrzynek, The Director Promotions BMW Lottery Department"
BMW Lottery Email Scam: How To Avoid
There are few red flags that require common sense. You can't win if you didn't play, so just hang up the phone if you don't remember entering. When it comes to emails, check the content for grammar mistakes. If you take a good look at the text above, you'll see many.
Since we are talking about financial gain scams, be also aware of a couple of other scams that are going around this week, the Google Foundation, Securities Fraud and the Government Grants.
BMW Lottery Email Scam: How To Report
Make your family and friends aware of the BMW Lottery Scam by sharing it on social media using the buttons provided. You can also officially report the scammers to the Federal Trade Commission using the link below:
How to protect yourself more:

If you want to be the first to find out the most notorious scams every week, feel free to subscribe to the Scam Detector newsletter here. You'll receive periodical emails and we promise not to spam. Last but not least, use the Comments section below to expose other scammers.
Related Articles and Pages:
Retread Tires Scam

Low Interest Rate Credit Cards Scam

Medical Alert Systems For Seniors Scam

National Do Not Call Registry Scam

How To Hack Email Without Password Scam

---
Verify a website below
Are you just about to make a purchase online? See if the website is legit with our validator:
vldtr®
Searching:

Domain age, Alexa rank, HTTPS valid, Blacklisting, SSL certificates, Source code, Location, IP address, WOT Trustworthiness, Spam reports, Advanced technology, Privacy Policy, Terms of Use, Contact options

TOP 3 MUST-WATCH FRAUD PREVENTION VIDEOS
1. Top 5 Amazon Scams in 2023
2. Top 5 PayPal Scams in 2023
3. How To Spot a Scam Email in 2023
Selma Hrynchuk
Selma is a fraud prevention specialist renowned for her expertise in private eye investigations and a remarkable partnership with law enforcement agencies. Beyond her investigative triumphs, her public speaking engagements and written works have empowered countless individuals to protect themselves and stay ahead of deceptive schemes. Selma's legacy shines as a tenacious agent of change, unyielding in her commitment to battling fraud and ensuring a safer world for all.