Benefits Package Scam: How It Works
(with video below) What if you receive a great offer from the Government, meant to improve your overall benefits, from health coverage and retirement pension to eventual tuition fees or property taxes? Be aware of a scam that came back these days, known as Citizen Benefits Package Email. How does the scam work?
Watch the video below to see the Citizen Benefits Package scam exposed:
Citizen Benefits Package Scam Video
Whether you are from the United States, Canada, Australia, or the United Kingdom, you might receive an official-looking email, as it would come from a Government representative. It is a similar approach to the one scammers use in the Government Grant Scam or Economic Stimulus Scheme.
The name used in this scam is Fraser Hill and the email address is: kmaghawry@link-trading.net. However, be aware that the name and the email address could be different. The scam first started a couple of years ago.
The content of the message looks like this (customize it for your country):
Dear All,
The attached circular is a Notice of Canadian Citizens Benefit Package which include additional property, health coverage, retirement benefit, tuition reimbursement (education)etc. Please read the attached and adhere to the Canadian Government Directives and how to apply for your benefit.
Regards,
Fraser HILL
Canadian Benefit Rep.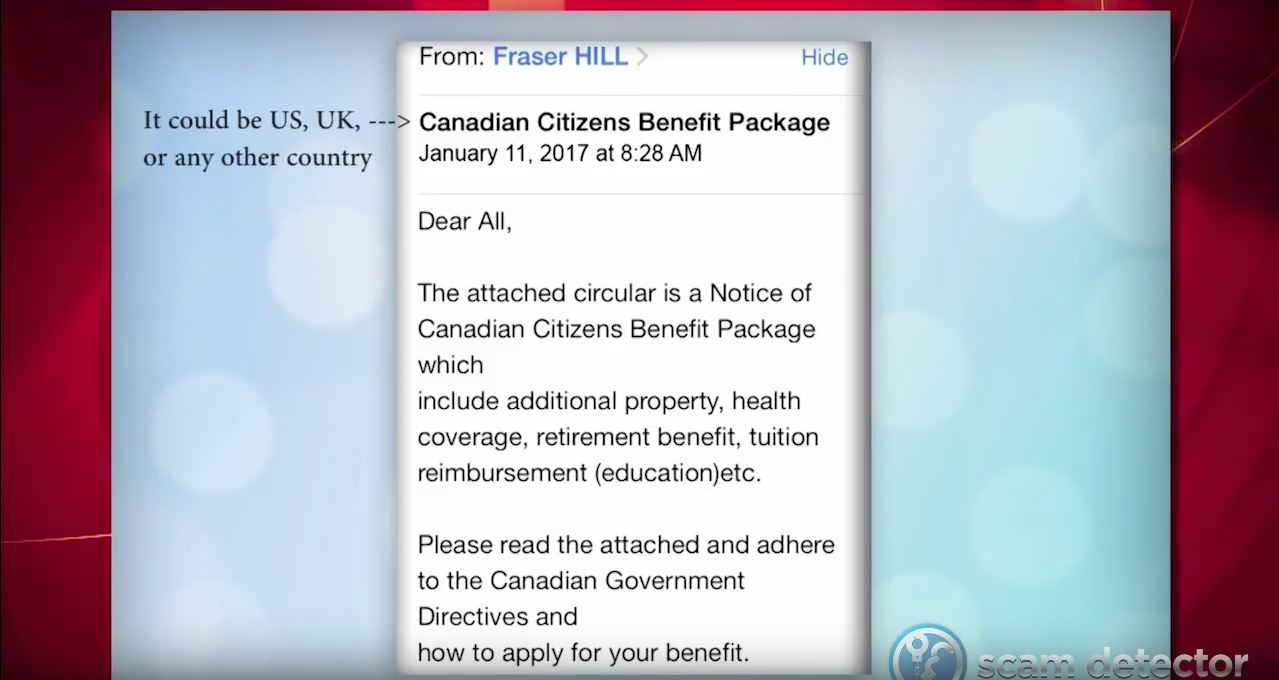 The attachment is a corrupted file. It contains a virus or key logger – software that records what keys you press and then access your personal files.
How To Avoid The Benefits Package Scam:
Never open attachments from people you don't know. If in doubt, go to the real Government's website, look for a phone number, and call. Require about the subject of the email. Also, look for grammar mistakes in the message, as well as the signature. In the email above, there is no contact info whatsoever or a link to a relevant webpage (which in some cases might be fake as well).
The point is, the less information the sender provides – as a "Government official" – the more red flags come into the picture.
How To Report The Benefits Package Scam:
Make your family and friends aware of this scam by sharing it on social media using the buttons provided. You can also officially report the scammers to the Federal Trade Commission using the link below:
Report Scammers To The FTC Here
How To Protect Yourself More:

If you want to be the first to find out the most notorious scams every week, feel free to subscribe to the Scam Detector newsletter here. You'll receive periodical emails and we promise not to spam. Last but not least, use the Comments section below to expose other scammers.
Related Articles and Pages:
Low Interest Rate Credit Cards Scam

Solar Panels For Your Home Scam
Hair Loss Treatment/ Hair Restoration Scam

Adopt A Pet/ Dogs For Adoption Scam

---
Verify a website below
Are you just about to make a purchase online? See if the website is legit with our validator:
vldtr®
Searching:

Domain age, Alexa rank, HTTPS valid, Blacklisting, SSL certificates, Source code, Location, IP address, WOT Trustworthiness, Spam reports, Advanced technology, Privacy Policy, Terms of Use, Contact options

TOP 3 MUST-WATCH FRAUD PREVENTION VIDEOS
1. Top 5 Amazon Scams in 2023
2. Top 5 PayPal Scams in 2023
3. How To Spot a Scam Email in 2023
Selma Hrynchuk
Selma is a fraud prevention specialist renowned for her expertise in private eye investigations and a remarkable partnership with law enforcement agencies. Beyond her investigative triumphs, her public speaking engagements and written works have empowered countless individuals to protect themselves and stay ahead of deceptive schemes. Selma's legacy shines as a tenacious agent of change, unyielding in her commitment to battling fraud and ensuring a safer world for all.