Admin Assistant Job Offer Scam: How It Works
(with video below) Making money from the comfort of your home is extremely tempting. This is why everyone and their dog try to find the secret formula to create an income that would save them time, gas, and mental health. If you are one of those looking for a great job offer, be aware of the latest employment scam.
Scammers contact you via email or even specialty websites that you put your resume on. If you experienced anything like this, feel free to submit the names of the people who contacted you in the Comments section at the end of this article.
The Admin Assistant Job Offer Scam is part of the same 'work-from-home' group of schemes (or the Personal Assistant Wanted scam) that has been hitting all the employment platforms lately. How does it work?
Watch the video below to see the Personal Assistant Job Offer scam exposed:
Admin Assistant Job Scam Video
In the Admin Assistant Job Offer scam, the victim will receive an email/message from a company looking to hire. The ad looks like this: "Hiring part-time admin assistants to help with invoices, data capturing, and other office related work. FROM HOME. Salary – from $400-600/day".
Tempting, right?
Here is the hook. In order to get started, you are required to pay for 'training materials on how to get started', which will cost you around $200. You send over the money, and what do you get?
A bunch of copied and pasted articles on how to make $400-600 from home! Basically, in order to cover their fraud, the crooks DO send you something (the articles), just so they can justify the cost they charged you.
In other cases, you get nothing back. No job, no 'training materials', no money.
Often, the scammers will ask you even for your personal information, which could lead to identity theft.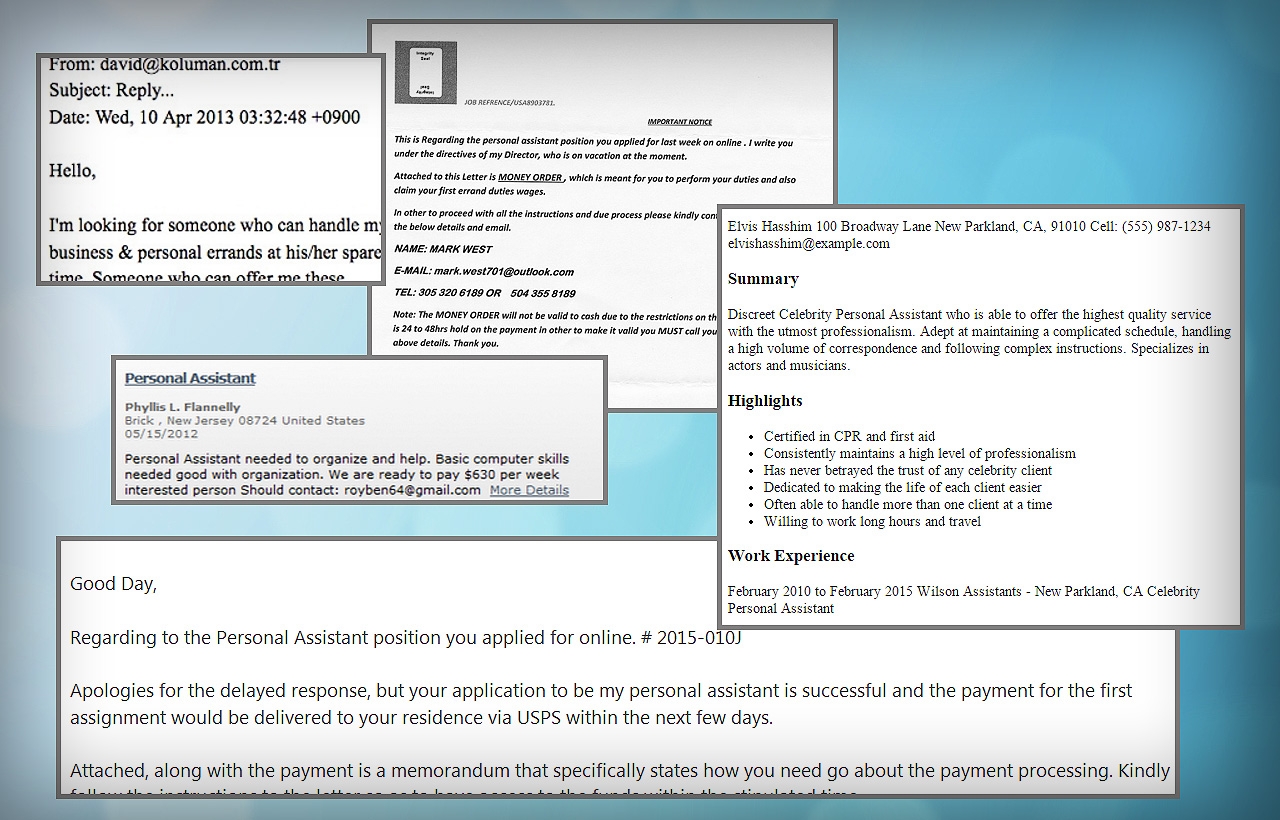 Admin Assistant Job Offer Scam: How To Avoid
One of the names used by the scammers as the representatives of these sneaky companies is Vicky Taljaard. However, they could change it to any name, especially after they are exposed on pages like this one.
Request a telephone interview as well as ask very detailed questions to help you verify the employer's identity. Ask for clients they worked for and make sure they are real. Do not give personal information to anyone who simply offers a "one-time amazing opportunity for employment".
Well-paid jobs don't just fall on your lap randomly. Always do your research and work only for legitimate employers. If you're looking for a job and seek to make some money online until you find the next job, here is a company below that is trustworthy and offer good opportunities:
It is the world's largest free online rewards program. You get paid by doing things online which you might do anyway, such as searching the web, discover products, take surveys, watch videos, or play games. You can also get free iTunes and Amazon cards. The company has a A+ rating with the Better Business Bureau. You can register for free HERE.
Admin Assistant Job Scam: How To Report
Make your family and friends aware of this scam by sharing it on social media using the buttons provided. You can also officially report the scammers to the Federal Trade Commission using the link below:
How To Protect Yourself More:

If you want to be the first to find out the most notorious scams every week, feel free to subscribe to the Scam Detector newsletter here. You will receive periodical emails and we promise not to spam. Last but not least, use the Comments section below to expose other scammers.
Related Articles And Pages:

Get Paid To Write Reviews Scam

---
Verify a website below
Are you just about to make a purchase online? See if the website is legit with our validator:
vldtr®
Searching:

Domain age, Alexa rank, HTTPS valid, Blacklisting, SSL certificates, Source code, Location, IP address, WOT Trustworthiness, Spam reports, Advanced technology, Privacy Policy, Terms of Use, Contact options

TOP 3 MUST-WATCH FRAUD PREVENTION VIDEOS
1. Top 5 Amazon Scams in 2023
2. Top 5 PayPal Scams in 2023
3. How To Spot a Scam Email in 2023
Selma Hrynchuk
Selma is a fraud prevention specialist renowned for her expertise in private eye investigations and a remarkable partnership with law enforcement agencies. Beyond her investigative triumphs, her public speaking engagements and written works have empowered countless individuals to protect themselves and stay ahead of deceptive schemes. Selma's legacy shines as a tenacious agent of change, unyielding in her commitment to battling fraud and ensuring a safer world for all.