How the scam works:
Some of the most influential people in the world are reverends and pastors. There is no surprise that they could sometimes have hundreds of thousands of followers on social media, depending on the size of their congregation and community.
There is an inherent trust in these men and women of God, and it has opened a door for scammers to take full advantage of this position of authority and trust for their own greed. How does the scam work?
Watch the video below to see the Fake Pastor Facebook Page scam exposed:
Fake Pastor Facebook Page Video
Pastors, especially high profile pastors and ones with large congregations are the targets of this fake profile scam. Scammers use information from the pastors' real Facebook page and create a phony, practically identical page, sending friend requests to all the people on the actual page's Friends list.
After posting a few interesting things on their wall, to create a sense of authenticity and get more trust – they solicit donations for missions work and other charities for which the church legitimately collects tithes and donations. Of course, the money is only used to line the scammers' pockets.
United States, Australia, Canada, or Great Britain – it could happen anywhere. Some of the well-known victims were figures such as Rev. Adam Hamilton (photo below, his real page) from Kansas City — scammers duplicating his page and reaching out to over 10,000 people — and Pastor Wayne Cordeiro, from Hawaii, featured in the video above.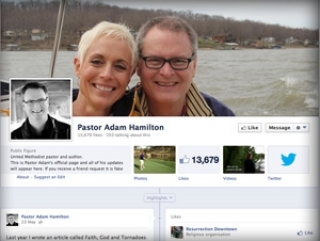 How to avoid the Reverend Facebook Page scam:
If you do receive a friend request from your church or minister – and you are already Facebook friends with this person – ask them in person, via email or over the telephone if they are legitimately friending you on another page.
Often you will discover that this page is a fake profile. Do not just send a private message to the person making the request; of course, the scammer is going to tell you they are the actual person!
Also, be aware that churches and other charitable organizations will only use their social media profiles to post church updates, news and positive, inspirational messages. The majority of their donations for missions are made to their official web pages or during special collections during services.
How to report the Reverend Facebook Page scam:
Make your family and friends aware of this scam by sharing it on social media using the buttons provided. You can also officially report the scammers to Facebook using the link below:
Report To Facebook Here
How to protect yourself more:

If you want to be the first to find out the most notorious scams every week, feel free to subscribe to the Scam Detector newsletter here. You'll receive periodical emails and we promise not to spam. Last but not least, use the Comments section below to expose other scammers.
---
Verify a website below
Are you just about to make a purchase online? See if the website is legit with our validator:
vldtr®
Searching:

Domain age, Alexa rank, HTTPS valid, Blacklisting, SSL certificates, Source code, Location, IP address, WOT Trustworthiness, Spam reports, Advanced technology, Privacy Policy, Terms of Use, Contact options

TOP 3 MUST-WATCH FRAUD PREVENTION VIDEOS
1. Top 5 Amazon Scams in 2023
2. Top 5 PayPal Scams in 2023
3. How To Spot a Scam Email in 2023
Selma Hrynchuk
Selma is a fraud prevention specialist renowned for her expertise in private eye investigations and a remarkable partnership with law enforcement agencies. Beyond her investigative triumphs, her public speaking engagements and written works have empowered countless individuals to protect themselves and stay ahead of deceptive schemes. Selma's legacy shines as a tenacious agent of change, unyielding in her commitment to battling fraud and ensuring a safer world for all.