How The Scam Works:
(with video below) While browsing the Internet on your computer or smartphone, a pop-up comes out of nowhere. It states that Apple needs testers for the new iPhone 7 and all the information will be used towards creating the future iPhone 8. Alternatively, the pop-up could simply say that you won an iPhone 7. How does the scam work?
Watch How The Scam Works:
Watch the video below to see the iPhone 7 Tester scam exposed:
iPhone 7 Tester Scam Video
"Your desktop was selected to participate in the testing of the new iPhone 7 that just arrived", the pop-up might say. Those interested are required to click 'OK' and then are redirected to a questionable website, such as officialsurveyrewards.com.
Once you are redirected to the website, you are informed that Apple is looking for 20 additional Firefox [insert any operating system here] users to be part of a private group that will test the new iPhone 7.
$1 Bogus Shipping Fee
You are then required to answer four questions. They might be 'Yes-No' questions such as "Do you currently own any Apple products?" or "Are you interested in receiving SMS messages?". However, once you answer all these, you will receive a notification saying: "Congratulations, you qualified for the private test group. We will contact you with details. Click below to get your bonus iPhone 7. This is to say thanks for your participation (just pay $1 for the shipping)."
Needless to say, in order to pay the $1 shipping fee you are required to provide a credit card number. Just like during any other fake registration put together by scammers, you are also asked for personal information that criminals sell to third parties or use it to steal your identity.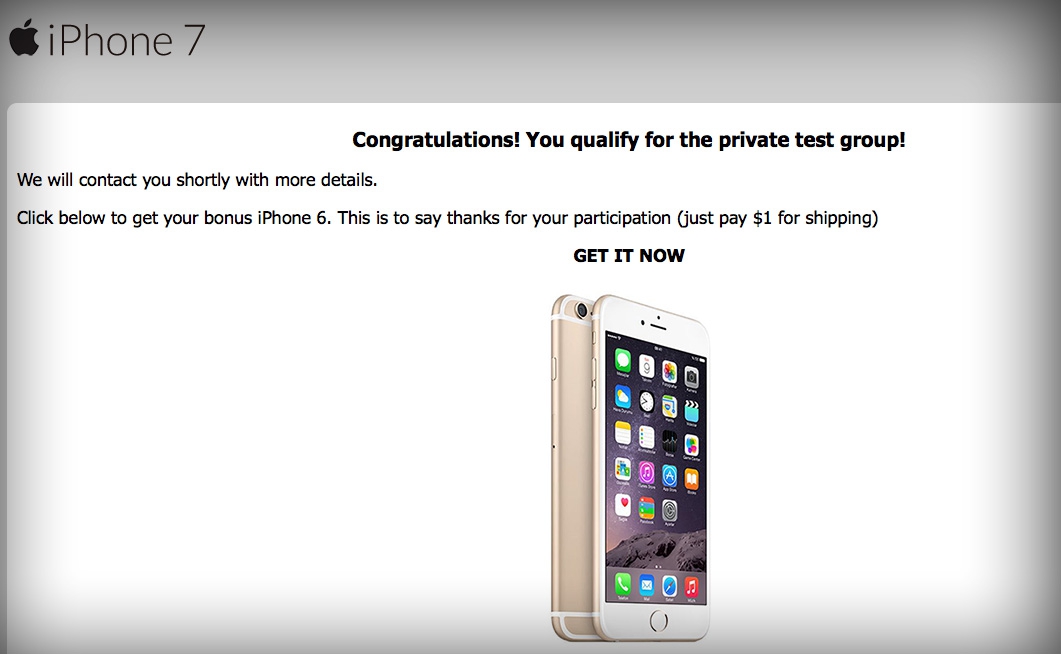 How To Avoid The iPhone 7 Tester Scam:
If you get this pop-up, close it. Apple does these testings within the company and never offer free iPhones to random people for such things. There are certain procedures that need to happen before a release and asking for testers via operating systems is not one of them.
How To Report The iPhone 7 Tester Scam:

Make your family and friends aware of this scam by sharing it on social media using the buttons provided. You can also officially report the scammers to the Federal Trade Commission using the link below:
Report Scammers To The FTC Here
How To Protect Yourself More:

If you want to be the first to find out the most notorious scams every week, feel free to subscribe to the Scam Detector newsletter here. You'll receive periodical emails and we promise not to spam. Last but not least, use the Comments section below to expose other scammers.
Related Articles And Pages:

Full List of Online Auction/Tech Scams

Fake Amazon Shipping Notification Scam

Online Reputation Management Companies Scam

PayPal Alert Notification Scam

Western Union Profile Update Scam

---
Verify a website below
Are you just about to make a purchase online? See if the website is legit with our validator:
vldtr®
Searching:

Domain age, Alexa rank, HTTPS valid, Blacklisting, SSL certificates, Source code, Location, IP address, WOT Trustworthiness, Spam reports, Advanced technology, Privacy Policy, Terms of Use, Contact options

TOP 3 MUST-WATCH FRAUD PREVENTION VIDEOS
1. Top 5 Amazon Scams in 2023
2. Top 5 PayPal Scams in 2023
3. How To Spot a Scam Email in 2023
Selma Hrynchuk
Senior Editor at Scam Detector Media, Selma is a fraud prevention specialist with a wealth of experience in private investigations and collaborations with law enforcement. A captivating public speaker, Selma educates audiences about scams and personal safety. Through her insightful writing, she exposes criminals and shares essential tips for staying secure. Selma is a dedicated guardian against fraud, committed to unmasking deception and promoting integrity.