Free Fixed Matches: Betting Scam – How It Works
The sports gambling phenomenon has been taking an incredible turn online in the last few years. Statistics are insane. They show that the global online gambling market is anticipated to be valued at more than 94 billion U.S. dollars in 2024. The current size of the market is almost 46 billion U.S. dollars.
The desperation of winning easy money, unfortunately comes with a bunch of fraud of all kinds. However, today we are going to focus on one particular sports betting scam. Feel free to share in the Comments section your experience or to expose the names of the crooks you've been dealing with.
Let's take a look at a scam that is going around these days, exposed by a victim who sent us the whole story, with images and names. If you are a gambler on football/soccer matches, beware. You need to remember not necessarily the name of the scammer, but rather how the trick works – since criminals change names as soon as they get reported. So here it is:
Betting: Fixed Matches Subscription Trap
María José Sport is a Facebook profile that is advertising the sale of fixed odds on football matches. On her Facebook page, "Maria Jose" has a few attractive pictures and claims to be a reporter working in television. She guarantees has the 'ins' on many European football matches (soccer), from Premier League, Serie A, La Liga, Bundesliga, Ligue One and others. She even posts pictures of herself occasionally, to keep the trust of the 'fans' – while these images are most likely stolen from someone else's account.
Plenty of fans liked her page and jumped on the opportunity to grab a few great tips and odds while making money, by subscribing to her service.
Essentially, to get the fixed football matches odds for betting you need to 'subscribe' to Maria Jose Sport with an amount of €300. Then you would get the secret right before the games start.
"She said I should also pay €100 as a new timer or subscriber before she will give me the fixed football matches odds.", says Julian O., a victim who lost €400 to Maria Jose Sport. The attractive 'Maria' gave Julian a Chipper Cash account, so he can pay his subscription. Chipper Cash is a money transfer portal similar to Venmo in North America. The victims are required to send the money to a Freddy Obute in Nigerian, the owner of the Chipper Cash account @freddy05.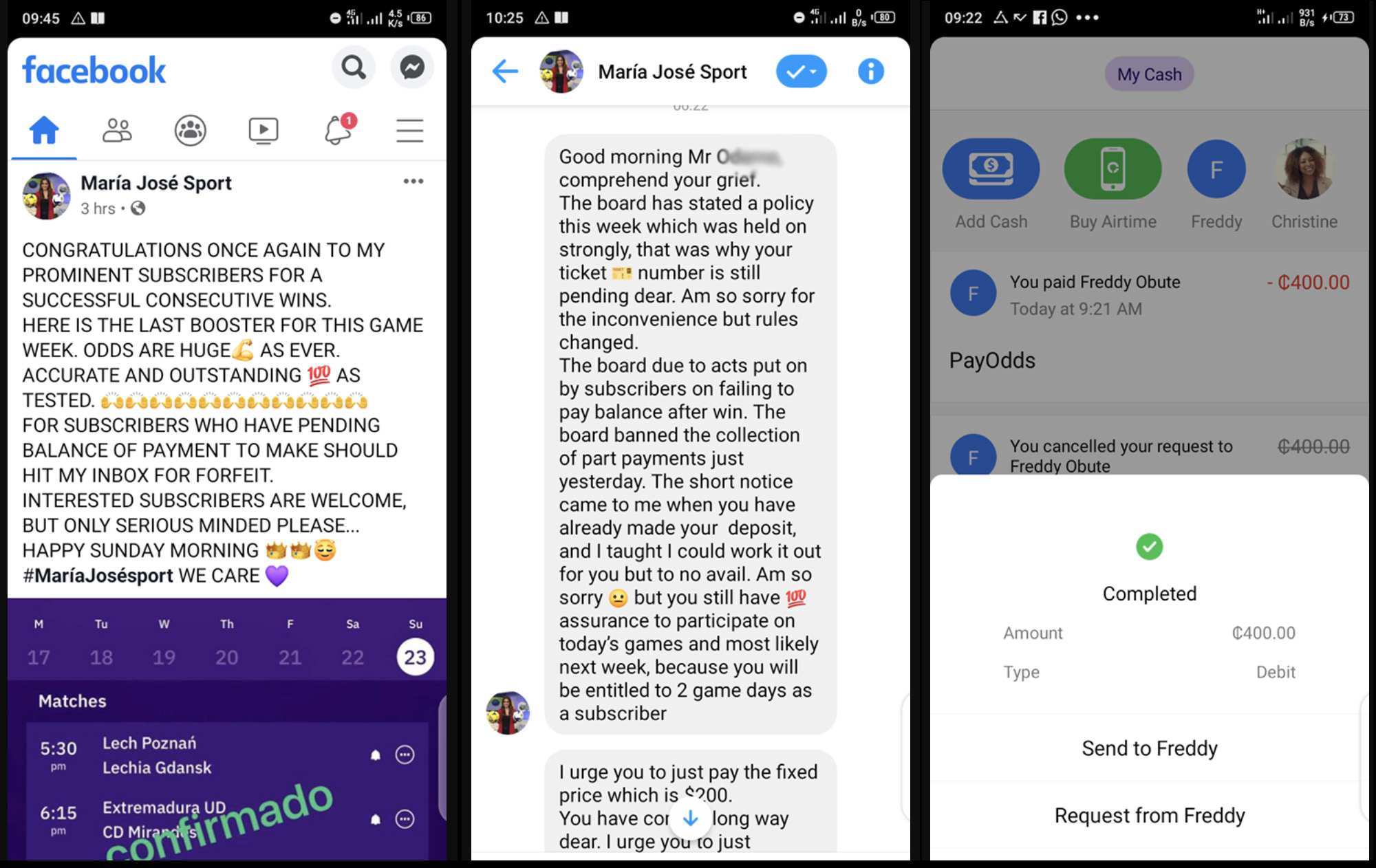 "I submitted screenshot evidence to María José Sport that I paid, and she confirmed that my money transfer had been received.", adds Julian O. Meanwhile, María José Sport promised to give his the fixed football matches odds when the games are about few minutes to start. Needless to say, that didn't happen.
"My message was alerting her that the matches have started and I was asking why I didn't get what I paid for. But she replied later telling me that new directives from her management board were that all partial payment subscribers shouldn't be given any fixed football matches odds for the bet. She asked me to pay €100 more so I can fully take advantage of the offer. That's when I stopped and realized I've been scammed", concludes Julian.
After his final complaints, Maria Jose Sport blocked his Facebook account, which made him contact us to expose the scam. That being said, if you are a gambler, bet only on specialty websites – don't fall for attractive pictures posted by scammers in Africa.
It is possible at the time of the reading that the Maris Jose Sport profile has been reported and taken down, but nothing stops scammers to open new accounts with the same approach – so beware!
Betting on Fixed Matches Scam: How To Report
Warn your family and friends about the Betting on Fixed Matches Scam by sharing it on social media using the buttons provided. You can also officially report the scammers to the Federal Trade Commission using the link below:
How To Protect Yourself More

If you want to be the first to find out the most notorious scams every week, feel free to subscribe to the Scam Detector newsletter here. You'll receive periodic emails and we promise not to spam. Last but not least, use the Comments section below to expose other scammers.
---
Verify a website below
Are you just about to make a purchase online? See if the website is legit with our validator:
vldtr®
Searching:

Domain age, Alexa rank, HTTPS valid, Blacklisting, SSL certificates, Source code, Location, IP address, WOT Trustworthiness, Spam reports, Advanced technology, Privacy Policy, Terms of Use, Contact options

TOP 3 MUST-WATCH FRAUD PREVENTION VIDEOS
1. Top 5 Amazon Scams in 2023
2. Top 5 PayPal Scams in 2023
3. How To Spot a Scam Email in 2023
Selma Hrynchuk
Selma is a fraud prevention specialist renowned for her expertise in private eye investigations and a remarkable partnership with law enforcement agencies. Beyond her investigative triumphs, her public speaking engagements and written works have empowered countless individuals to protect themselves and stay ahead of deceptive schemes. Selma's legacy shines as a tenacious agent of change, unyielding in her commitment to battling fraud and ensuring a safer world for all.