Free Beer Keg From Heineken: How The Scam Works
A new Free Beer Keg scam is making its way to the most popular social media platforms as you are reading this. It comes as a text message or ad that is designed to tempt the users with delivered free kegs of brew, whether they are Heineken, Stella Artois, Budweiser, Miller, Amstel, Carlsberg, or Busch beer. The tricksters even offer a keg of non-alcoholic beer! It happens these days on Facebook, WhatsApp, Instagram, Twitter, or Viber.
This scam message takes advantage of this quarantine period this year and even makes use of well-known slogans such as "stay at home," "stay safe," and so on. Regardless of the brand name they use, scammers create this phishing scam to look like this: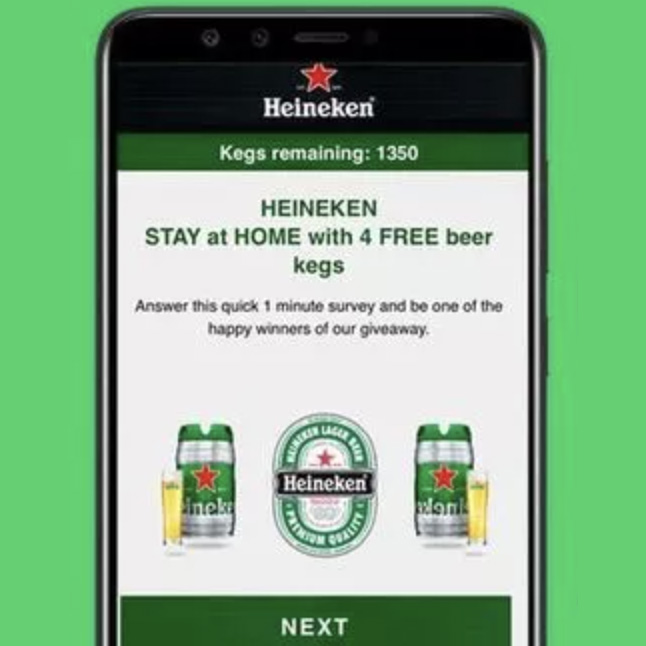 "Kegs remaining: 1350. Heineken Stay at Home with 4 FREE beer kegs promotion. Answer this quick 1-minute survey and be one of the happy winners of our giveaway", says the message.
It's easy to believe that the content of the message is actually to make your quarantine period more bearable with some kegs of free beer, but the reality is far from that. The only clause stipulated for getting the free beer kegs is that you complete a survey which they guarantee will only take a short period, typically less than a minute.
The survey trick has many variations, which range from installing malware on your device to affiliate commissions for the scammers. By filling that survey, you are invited to input a lot of personal information, not just your email address, but your physical address as well (they say they need to know where to deliver the free beer.
Many victims provide the information necessary, only for the promise of getting 4 Heineken beer kegs (or Stella Artois, Budweiser, etc.). To make the offer more realistic, the crooks even ask if you want to get a keg of non-alcoholic beer amongst the four. Alternatively, they may ask if you prefer gluten-free, Pale Ale, hop, malt, barley, quinoa, millet, sorghum, rice, a special yeast, any other ingredient – or even if you have celiac disease. Last but not least, they would ask if you are 21 years of age, so you can qualify for the promotion, which will select the winners through an enhanced functionality of new software.
In a different version of the scam, the fake brew keg promo may come from a hacked app of a friend, targeting people who were supposed to have a wedding during the Coronavirus outbreak. "We know you were planning your special day during this wedding season, but it is an unprecedented situation, and Busch brewery would like to support your wedding plans still. For all of the engaged couples, our company will send a wedding gift along with some Busch merchandise and a magic recipe. This year is special!"
You can replace the Busch brand with any other name within the context – it's essential to understand how the scam works, not necessarily the names they use.
Forget about the gluten or the recipe mentions. The beer keg promo is a typical phishing scam, and it is actually straightforward. All you have to do to put yourself at risk is complete the survey and reveal sensitive information about yourself, which could lead to identity theft.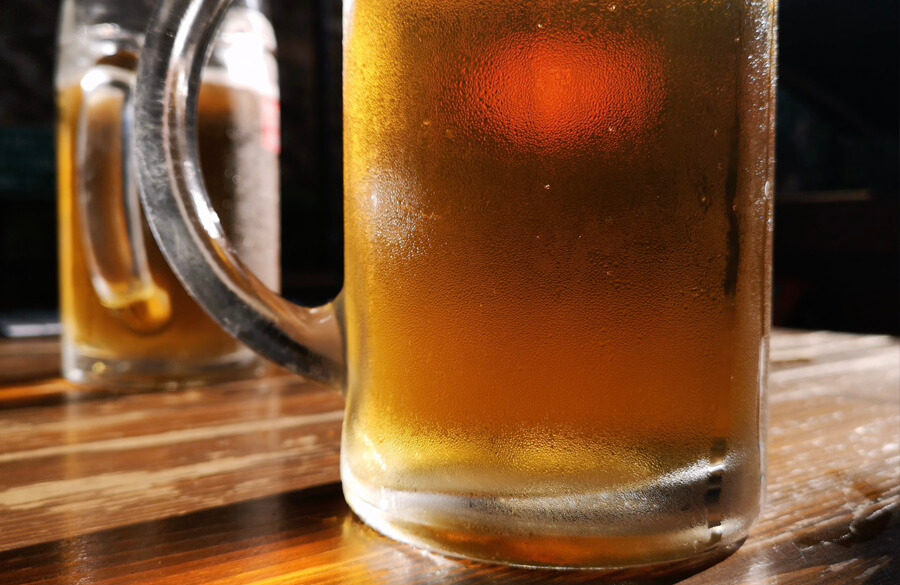 Older Scam, Now Gluten-Free
The COVID-19 pandemic has caused worldwide panic and driven people into quarantine and lockdown for an extended period. Due to this, every restaurant, pubs, cafes, diner, and bar is closed. This has led to a lot of increase in alcohol sales and delivery around the country.
Several scammers have decided to make some profit from this connection, and people are falling victim to it. These scammers started this scam by pretending to be representatives of the famous Dutch brewer, Heineken. Of course, any other brewery from your area might be the object of this fake promotion.
This Free Beer scam is not a new one, but it has a different twist. Something similar to it occurred a couple of years ago, and the tactics employed were quite identical. That version was even more sophisticated than what we have today – the free kegs of beer were to be given as an anniversary celebration of the famous brewer. This scam was tagged as a part of Heineken's 140th-anniversary celebration, and the message claimed that the Dutch brand was offering 5-liter kegs of beer.
All the customers had to do was click a link. This link redirected users to a website where they were asked random questions such as how often they drink, usual quantities, if they use any free software, if they agree with the free speech, and so on. Regardless of what they would fill into the website, the site will declare them as a winner of some free beer. Then, they'll be asked to follow the link and share the information on the website with 20 friends on Whatsapp or Facebook.
Heineken issued a statement back. Then to debunk any claims about a free beer promotion. They officially confirmed that the WhatsApp messages going in circulation were nothing but a scam. Their official statement stated that:
"The promotion states Heineken is giving away free kegs in celebration of its 140th anniversary and encourages recipients to share the message. This is indeed a scam".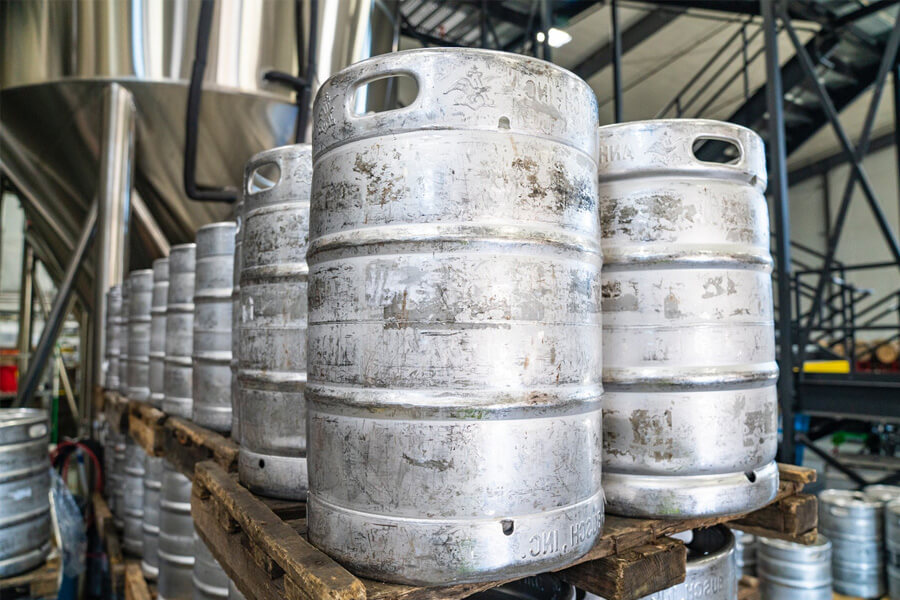 Take note that any sales, discounts, or promotions will be announced on official platforms and social media accounts of such a large firm, whether it is Heineken, Stella Artois, Budweiser or Carlsberg. Any information that you can't find on them is usually fake.
The biggest advice for you is to be reasonable and look out for yourself. Do not click on the link regardless of how attractive it may seem. This tip also applies to other freebies messages which you may receive. If you're up for a promotion, the beer company will inform you in more conventional ways than through WhatsApp messages. You should ignore such links, no matter the version of the text.
If the offer seems attractive to you, make sure that you confirm it on the company's official social media channels. But such generous offers don't usually exist unless they are for the first responder crews of the pandemic.
How to Identify the Free Beer Scam
What are the things to look out for that will indicate a free beer scam? Take note of the following tips before you believe you are a fortunate person to get the kegs:
1. The message will be sent to you from an unknown, unverifiable number or through a hacked social media account (see here how scammers get into your Facebook inbox very fast). Big brands will never contact you through such means. Usually, the critical information is disclosed through their official channels, not by chance.
2. The message will look to redirect you to a suspicious link. This link is not going to be the official website of the company. Any real promotions of the brewing company will undoubtedly be held on their official website.
3. They will request critical information. Why do brewers need to find out about your banking information to give you some free beer? If you've officially won anything, they'll get in contact with you and have it delivered to your home or any nearest location that you will provide.
4. Don't fall for the small details meant to get your trust, such as "special mentions" of gluten content, sugar-free recipe, or the delivery of a keg of a non-alcoholic beer.
Beer Promo Scam: How To Report
Warn your family and friends about the Beer Promotion Scam by sharing this article on social media using the buttons provided. You can also officially report the scammers or any other suspicious activity (not necessarily referring to beer) to the Federal Trade Commission using the link below:
How To Prevent Identity Theft and More

If you want to be the first to find out the most notorious scams every week, feel free to subscribe to the Scam Detector newsletter here. You'll receive periodic emails – we promise not to spam. Last but not least, use the Comments section below to expose other scammers, beer or not-related.
---
Verify a website below
Are you just about to make a purchase online? See if the website is legit with our validator:
vldtr®
Searching:

Domain age, Alexa rank, HTTPS valid, Blacklisting, SSL certificates, Source code, Location, IP address, WOT Trustworthiness, Spam reports, Advanced technology, Privacy Policy, Terms of Use, Contact options

TOP 3 MUST-WATCH FRAUD PREVENTION VIDEOS
1. Top 5 Amazon Scams in 2023
2. Top 5 PayPal Scams in 2023
3. How To Spot a Scam Email in 2023
Selma Hrynchuk
Selma is a fraud prevention specialist renowned for her expertise in private eye investigations and a remarkable partnership with law enforcement agencies. Beyond her investigative triumphs, her public speaking engagements and written works have empowered countless individuals to protect themselves and stay ahead of deceptive schemes. Selma's legacy shines as a tenacious agent of change, unyielding in her commitment to battling fraud and ensuring a safer world for all.