Latest Scam: Free Internet
WhatsApp Messenger is a great instant messaging app for smartphones that can be used to send texts, images, video, and audio media messages. Recently, it has reached 2 billion users, but you probably knew that already. However, criminals came up with more ways than you know to trick the app's users – from promising 1000 Gb of Internet for free to stay home during the COVID-19 crisis to upgrades to a non-existent Whatsapp Gold version. Don't be one of the victims. Let's take a look.
There are five types of Whatsapp scams that are very common these days. Let's take a look:
1. Whatsapp Fake Admin
First, if you have WhatsApp installed on your mobile, you might receive an email or a text message claiming to be sent by the WhatsApp admin. They are inviting you to add on services or subscribe for updates, without you knowing that clicking on the link provided will give the scammers approval to list you on a premium phone line. That means you'll be charged hundreds of dollars, regardless of where you live.
Watch the video below to see exactly how the text message variation scam works and what the message says:
2. Whatsapp New Feature Upgrade
This second variation of the scam is the newest one. As you probably know, WhatsApp has a feature that lets you make voice calls. This seems to be the most awaited Whatsapp feature, and scammers are cashing in on the massive usage.
As you need to have the latest version of the messenger installed on your phone to update the feature, crooks nowadays spread a phishing message along the lines: "Please click here to update the voice calling feature on Whatsapp" while a compromised link is provided, leading you to download unwanted software.
3. Download Whatsapp Gold Version
WhatsApp users are reporting receiving a message encouraging them to switch to a premium version of the app named WhatsApp Gold. "Hey, finally secret WhatsApp Gold version has been leaked. This version is used only by big celebrities. Now we can use it too. Click here for the Whatsapp Gold download option", says the message.
However, the bogus WhatsApp Gold contains malicious software that tracks users and steals their data. The message introducing you to this version invites you to access questionable websites such as goldenversion.com.
4. Whatsapp Missed Voicemail Message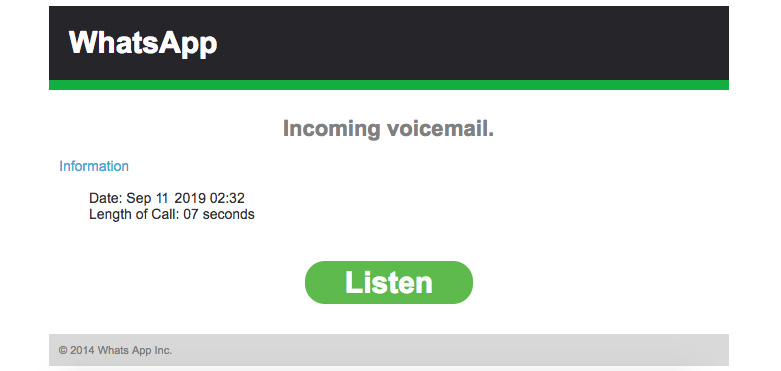 In this fourth variation of the Whatsapp scam, via e-mail, crooks inform you that someone left a voicemail for you. As a courtesy of their services, the email provides you a button called 'Play', where you can listen to your message.
Thinking that this might be a new feature that WhatsApp developed, chances are you might want to click on the 'Play' button. What will happen is you will be taken to a malicious website that will download and install a file called "Browser 6.5" on your Android phone.  If users then click the "Agree" button in the "browser", text messages will be sent to premium rate phone numbers. The scammers will also try to convince users to download another malicious app.
This scam does not work on Macs, as "Browser 6.5 is not compatible with your computer". However, if you are using a jailbroken iPhone, you will also download the malicious file, as jailbroken phones cannot be protected.
5. 1000 Gb of Internet For the COVID-19 Crisis
The latest Whatsapp scam promises the users 1000 Gb of Internet for free to encourage them to stay home during the COVID-19 crisis (see below). If you click the link, you will be taken through a series of questions, as a survey on COVID. After answering, you are required to" invite 20 friends to stay at home, in order to get the same 'deal'. Ignore!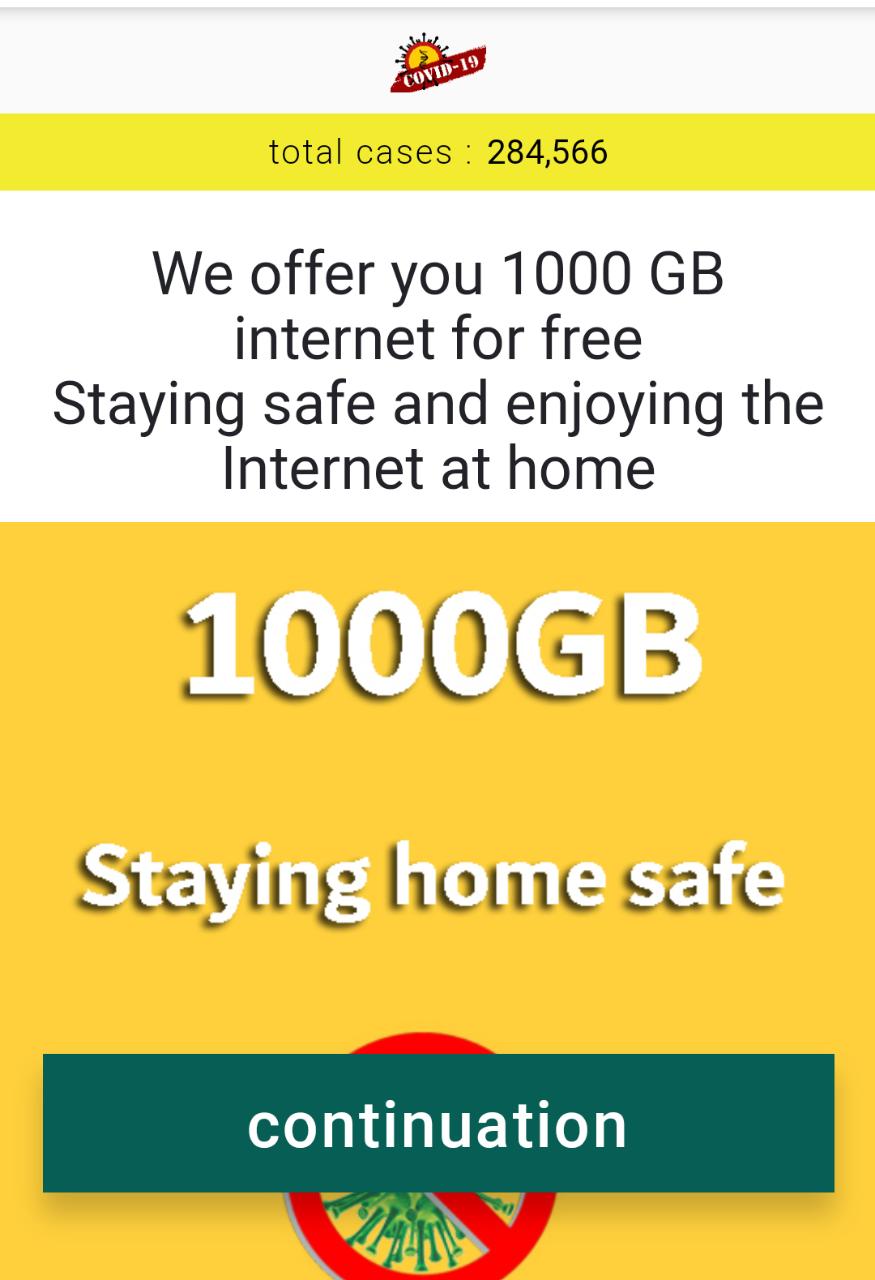 BONUS: Investing In Whatsapp Stocks
Let's say you may be interested in buying stocks online, stock trader opportunities, dividend stocks, or simply looking to find the best way to buy penny stocks. One day, you may be receiving a text message along these lines:
"Hi, it's Ed at Goldman Sachs [insert any name, for both person and well-known investment banking firm]. I hope the family's good. Listen, my guy sent me a message saying AVRN is going to a dollar so if you want to make a move and buy it you should do I now. Text me later, let me know how it goes."
This message comes to you from a person that you don't know, but he makes it look like he sent it to the wrong person by mistake. This way, you would be let into a big secret and given a rare chance to get involved in the penny stock trading.
The AVRN (digital currency company) message above made its rounds recently being sent to thousands of people at once, raising AVRN's shares to a high number, only to crash later on.
It is what is known as a 'Pump and Dump' scheme, where someone promotes a stock they hold, driving up the price based on artificial interest, and then sells before everyone realizes the interest was just manufactured.
In this case, the message was sent on social media platforms and apps such as Whatsapp, Viber, Facebook, and so on. You may be receiving a similar message featuring a different publicly-traded company that you might want to invest in (via the 'Pump and dump' scheme).
Watch the video below to see these 5 WhatsApp scams in video format, too:

WhatsApp Scams: How To Avoid
WhatsApp does not have a voicemail email notification. Do not click 'Play' or "Listen". Period. On the other hand, do not download or upgrade anything that comes from external links until the Whatsapp app sends you the official message for upgrading via iTunes or GooglePlay.
Last but not least, when it comes to putting money on Whatsapp stocks, unsolicited investment advice should never be followed.
WhatsApp Scams: How To Report
Make your family and friends aware of this scam by sharing it on social media using the buttons provided. You can also officially report the scammers to the Federal Trade Commission using the link below:
How to protect yourself more:

If you want to be the first to find out the most notorious scams every week, feel free to subscribe to the Scam Detector newsletter here. You'll receive periodical emails and we promise not to spam. Last but not least, use the Comments section below to expose other scammers.
Recommended Reads:
Google Listing Calls – Your Business On First Page
Is Facebook Going To Start Charging?
iPhone X Review – Free iPhone 8
---
Verify a website below
Are you just about to make a purchase online? See if the website is legit with our validator:
vldtr®
Searching:

Domain age, Alexa rank, HTTPS valid, Blacklisting, SSL certificates, Source code, Location, IP address, WOT Trustworthiness, Spam reports, Advanced technology, Privacy Policy, Terms of Use, Contact options

TOP 3 MUST-WATCH FRAUD PREVENTION VIDEOS
1. Top 5 Amazon Scams in 2023
2. Top 5 PayPal Scams in 2023
3. How To Spot a Scam Email in 2023
Selma Hrynchuk
Senior Editor at Scam Detector Media, Selma is a fraud prevention specialist with a wealth of experience in private investigations and collaborations with law enforcement. A captivating public speaker, Selma educates audiences about scams and personal safety. Through her insightful writing, she exposes criminals and shares essential tips for staying secure. Selma is a dedicated guardian against fraud, committed to unmasking deception and promoting integrity.