How the scam works:
(with video below) The lottery notification e-mail scam hits again. The recipients are informed that they have won half million Pounds (or dollars) at the UEFA 2016 European Championship Lottery. Whether you are a soccer fan or not, you will probably receive this lottery email these days. How does the scam work?
Watch the video below to see in action how the Lottery scam works:
Lottery Scam in the News Video
Referring specifically to this UEFA 2016 European Championship lottery email, the sender is Catalan Amanda, and the email address used is: amanda_catalan@mymail.eku.edu. However, it could be any other name or address, so beware. Below is the content of the email, including grammar mistakes:
"Your E-Mail Address Have Won You £500,000.00(FIVE HUNDRED THOUSAND EURO). This Promotion is for The 2016 UEFA European Championship hosted in France, Sponsored by Coca-Cola Adidas, Hisense and Swizz Government.

This is from a total cash prize of £50,000.000.00 (FIVE HUNDRED THOUSAND EURO), shared amongst the first One-Hundred Winners in this category worldwide. Please note that your lucky winning number falls within our Lottery booklet representative office in Europe as indicated in your play coupon, because this particular draw was selected to promote The 2016 UEFA European Championship hosted in France, hence your winning information must be kept to enable you participate in our subsequent games before the grand finale.

In view of this, your £500,000.00 (FIVE HUNDRED THOUSAND EURO) Cheque will be delivered to you as long as you provide all the requirement information, our agent will immediately commence the process to facilitate the release of your funds as soon as you contact him.
All participants were selected randomly from World Wide Web site through computer draws system and extracted from over 10,000,00 companies and personal E-mails. For security reasons, you are advised to keep your winning information confidential till your claims is processed and your money remitted to you in whatever manner you deem fit to claim your prize. This is part of our precautionary measure to avoid double claiming and unwarranted abuse of this program by some unscrupulous elements. Please be warned!!!
To claim your prize, please contact our corresponding agent in Spain Mr. Tom Newman immediately you read this message for quick and urgent release of your fund, contact information are as follow and provide him with the following information's needed to process your winning prize.
Full Names ………………………………..
Age: …………………………….
Sex: ………………………………..
Residential address: ………………..
Nationality: ………………………..
Occupation: …………………………
Tel(s): ……………………………..
Amount Won…………………………….
Mr. Tom Newman
KINDLY COMPLETE THE ABOVE FORM AND SMUMMIT IT TO THE CORRESPONDING AGENT EMAIL: UEFA2016CHAMPIONSHIP@OUTLOOK.COM
Online Team Management®
© Copy Right Reserved 1961-2016."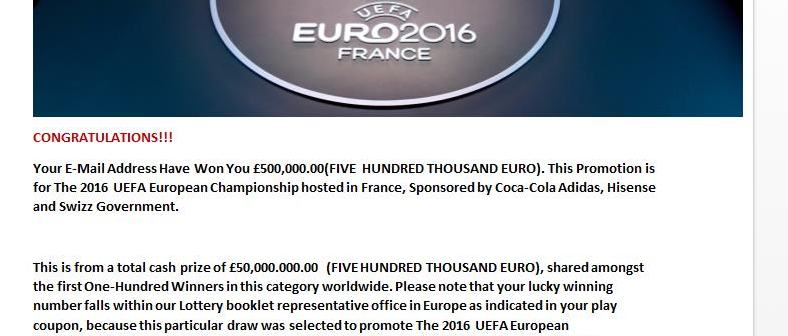 Well, don't fall for this, as the UEFA 2016 lottery email is a pure scam.
How to avoid the UEFA 2016 Promotion scam:
You can never win a lottery without participating. Don't believe that somebody else might have put your name in the draw. You might also notice that the notifications always refer to you as "Dear Winner", but never "Dear John" (or whatever your name is). Last but not least, always look for grammar mistakes In the text above, you can see misspellings such as "Swizz Government", "Copy Right" or "One-Hundred winners".
How to report the UEFA 2016 Promotion scam:

Make your family and friends aware of this scam by sharing it on social media using the buttons provided. You can also officially report the scammers to the Federal Trade Commission using the link below:
Report Scammers To The Federal Trade Commission Here
How to protect yourself more:

If you want to be the first to find out the most notorious scams every week, feel free to subscribe to the Scam Detector newsletter here. You'll receive periodical emails and we promise not to spam. Last but not least, use the Comments section below to expose other scammers.
Related Articles and Pages:

Full List of Online Auction/Tech Scams

Fake Amazon Shipping Notification Scam

Online Reputation Management Companies Scam

PayPal Alert Notification Scam

---
Verify a website below
Are you just about to make a purchase online? See if the website is legit with our validator:
vldtr®
Searching:

Domain age, Alexa rank, HTTPS valid, Blacklisting, SSL certificates, Source code, Location, IP address, WOT Trustworthiness, Spam reports, Advanced technology, Privacy Policy, Terms of Use, Contact options

TOP 3 MUST-WATCH FRAUD PREVENTION VIDEOS
1. Top 5 Amazon Scams in 2023
2. Top 5 PayPal Scams in 2023
3. How To Spot a Scam Email in 2023
Selma Hrynchuk
Selma is a fraud prevention specialist renowned for her expertise in private eye investigations and a remarkable partnership with law enforcement agencies. Beyond her investigative triumphs, her public speaking engagements and written works have empowered countless individuals to protect themselves and stay ahead of deceptive schemes. Selma's legacy shines as a tenacious agent of change, unyielding in her commitment to battling fraud and ensuring a safer world for all.