Whatsapp Gold Scam: How It Works
Have you heard of the WhatsApp Gold scam? This is the week when the hoax is back, so beware. What are we talking about? Activation and upgrade, so let's dive into it.
WhatsApp is one of the most popular messaging apps out there. The platform has over 2.7 billion users, meaning a third of the world. However, criminals prey on naive users to make money and compromise their laptops and other devices. Here are 5 scary WhatsApp scams you need to avoid.
In the latest scam, WhatsApp users receive a message encouraging them to switch to a premium version of the app named WhatsApp Gold. "Hey, finally, the secret WhatsApp Gold version has been leaked. This version is used only by big celebrities. Now we can use it too", says the message.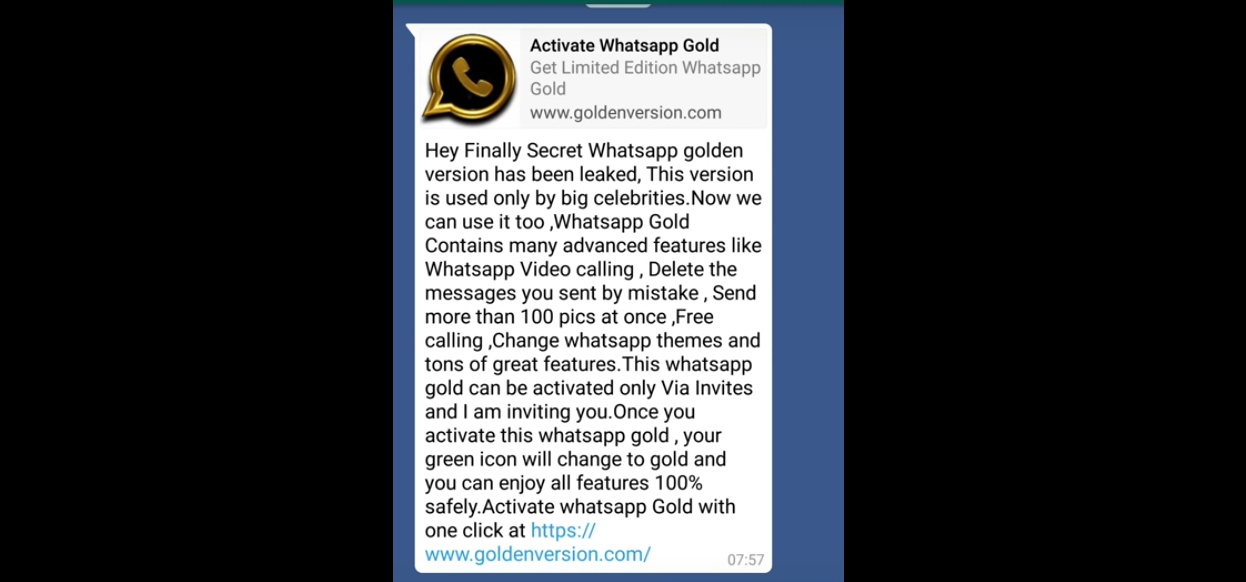 The WhatsApp Gold scam is just a hoax circulating for a while. As you can see above, it typically involves scammers sending messages to WhatsApp users claiming that there's a premium or "Gold" version of WhatsApp that offers enhanced features like video calling, the ability to delete sent messages, and more. They often entice users to click a link to download this premium version.
However, WhatsApp Gold is not a legitimate product, and downloading it from such links can lead to various problems, including malware or viruses being installed on the user's device. WhatsApp is a free messaging app with no official "Gold" version or premium upgrade.
The malicious software tracks users and steals their personal data and files. In the example above, the message introducing you to this WhatsApp Gold version invites you to access a questionable website, goldenversion.com.
The scam is remarkably similar to the recent WhatsApp Plus hoax, an app that promised users the chance to send files of unlimited size and use WhatsApp with more than one number but got them blocked by WhatsApp due to security concerns.
Top 5 WhatsApp Scams
Watch the video below to see Top 5 WhatsApp scamsWhatsApp scams going around:
In a different WhatsApp scam, you might receive an email or a text message claiming to be sent by an official WhatsApp administrator.
Watch the video below to see exactly what the message says:
Whatsapp Gold Scam: How To Avoid
To avoid falling victim to scams like WhatsApp Gold, it's important to:
Be cautious of unsolicited messages: If you receive a message from an unknown contact or a message offering premium features that seem too good to be true, be skeptical.
Do not click on suspicious links: Avoid clicking on links from unknown sources, especially those promising premium versions of apps.
Verify information: If you're unsure about the authenticity of a message or offer, check the official website or app store for information. WhatsApp's official website or app store listings are reliable sources of information.
Keep your software up to date: Regularly update your WhatsApp app and your smartphone's operating system to ensure you have the latest security patches.
Report suspicious messages: If you receive a suspicious message or encounter a scam, report it to WhatsApp so they can take appropriate action.
Remember that scammers often use various tactics to trick users into downloading malicious software or revealing personal information, so it's important to remain vigilant and practice good cybersecurity hygiene.
WhatsApp does not send messages or emails asking its users to upgrade or download a different app. On the other hand, do not download anything that comes from external links until the Whatsapp app sends you the official message for upgrading via iTunes or GooglePlay.
Last but not least, beware of the Pay for Whatsapp Scam and the  Whatsapp Insurance Offer trick.
Whatsapp Gold Scam: How To Report
Make your family and friends aware of the Whatsapp Gold Scam by sharing it on social media using the buttons provided. You can also officially report the scammers to the Federal Trade Commission using the link below:
How to protect yourself more:

Do you want to be the first to find out the most notorious scams every week (not just WhatsApp scams)? Feel free to subscribe to the Scam Detector newsletter here. You'll receive periodical emails and we promise not to spam. Last but not least, use the Comments section below to expose other WhatsApp scammers.
Related social media articles:

Phone Scams: Full List
Free iPhone 15 Scam
---
Verify a website below
Are you just about to make a purchase online? See if the website is legit with our validator:
vldtr®
Searching:

Domain age, Alexa rank, HTTPS valid, Blacklisting, SSL certificates, Source code, Location, IP address, WOT Trustworthiness, Spam reports, Advanced technology, Privacy Policy, Terms of Use, Contact options

TOP 3 MUST-WATCH FRAUD PREVENTION VIDEOS
1. Top 5 Amazon Scams in 2023
2. Top 5 PayPal Scams in 2023
3. How To Spot a Scam Email in 2023
Selma Hrynchuk
Selma is a fraud prevention specialist renowned for her expertise in private eye investigations and a remarkable partnership with law enforcement agencies. Beyond her investigative triumphs, her public speaking engagements and written works have empowered countless individuals to protect themselves and stay ahead of deceptive schemes. Selma's legacy shines as a tenacious agent of change, unyielding in her commitment to battling fraud and ensuring a safer world for all.