DHHS Grant Program Scam on Facebook: How It Works
The recent DHHS Grant Program Scam on Facebook has at least two variations. The first one is a private message from established connections on the platform regarding a DHHS financial program (Department of Health and Human Services); the other one is from random people that contact you and claim to have high authority positions within the organization.
Let's expose how the scam works, show you how to avoid it, and how to see if a profile on Facebook is fake or not. Don't hesitate to share your experience in the comments section if you feel anything is suspicious in your inbox.
Last but not least, we will also tell you how to delete personal information from Internet after interactions with websites that collected it. This way, they don't get to sell it to third parties. Meanwhile, make sure to block all the malicious websites on the Internet – see next paragraph how.
Let's start.
The DHHS Grant Program Scam on Facebook promotes a website that is incredibly realistic-looking that got thousands of victims to submit their personal data. Don't be one of them. We have a complete review of the DHHSGrant.us on our website validator. But first, let's see how the scam works (by the way, beware of Telegram scams as well).
To operate the scheme, random people send you Facebook messages informing you that a new federal program done through the Department of Health and Human Services allows you to receive money that you don't have to return. Essentially, a grant is offered to all those affected by COVID-19 and the pandemic – or so they say.
The message reads, "the funds are available for the special crisis – the first priority on their list with Government grants for individuals". The scammers use powerful titles attached to their names such as 'Government Official', Grants Manager', or even 'Pastor' (see image below).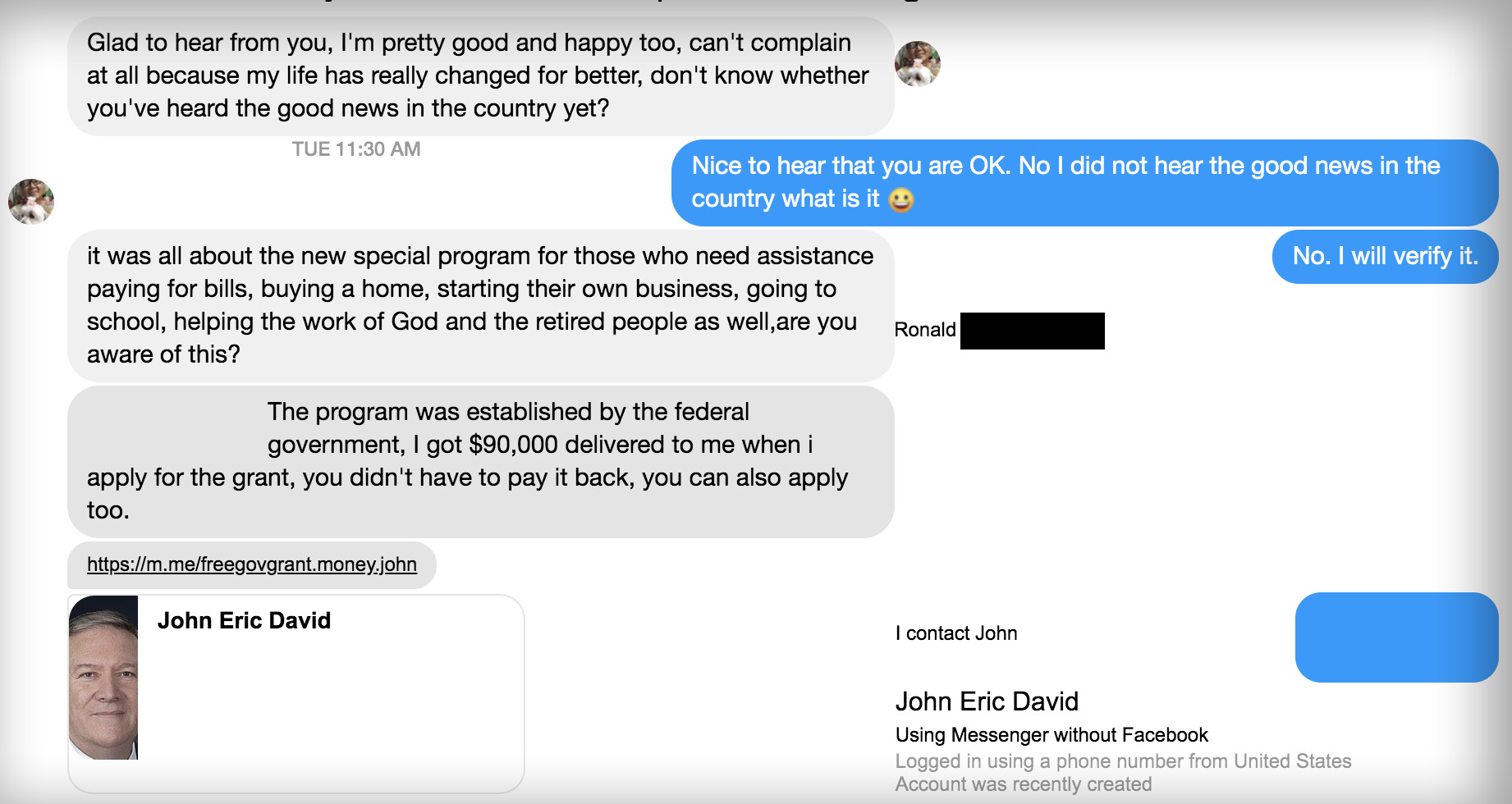 In order to receive the DHHS grant, an applicant has to provide his address, bank account and the social security number. Basically, all the information which leads to identity theft and the stealing of their money. The scammers even create fake websites claiming to be those organizations. However, here are the good news. You can now detect the malicious sites.
How To Detect and Block A Harmful Site
The best way to avoid all the fake phone number finder sites is to easily detect and block them. How to do that? There is a powerful tool that notifies you if a website is real or not. You should install a browser extension called Guardio HERE (we tested it, it works and it's worth every penny). It automatically blocks 100x more harmful websites than competitors and 10x more malicious downloads than any other security tool. Very effective.
DHHS Financial Program Scam: Second Variation
You would be surprised to find out that the DHHS Grant Program Scam on Facebook could come into your inbox even from people you know. However, they wouldn't know about it, as their account has been hacked. Here is what happens.
You receive a new Facebook notification from a very good friend that you talked to even a few days ago. Not suspecting anything, you start reading: "Hey, what's up? Listen, make time today to apply for this federal grant from the Department of Health and Human Services. It's because this COVID-19 never ends. Free money, man. It's not advertised publicly. Someone at work just told me about it this morning, so I already applied. I am sure we will get it. So, get on it. Going into a meeting, my phone will be off. I will send you a text later on".
This person (friend, family member, acquaintance) gives you the DHHS link, which appears to be a Government webpage. It is not, so beware!
Here is another screenshot from the bogus website along with what they say:
"HHS is the largest grant-making agency in the US. Most HHS grants are provided directly to individuals, families, states, territories, tribes, and educational and community organizations, then given to people and organizations who are eligible to receive funding.
To Apply for a Federal Government Grant contact the Agent via the head chat on this website to get a registration form and track if your application is approved. The following are the available:
– Cash Grants
– Small And Large Business Grants
– College And Scholarships Grants
– Federal & State Grants
– Private Foundation Grants
– Grants For Women
– Housing And New Homes Grants.
(Note) Grant is only awarded to qualified citizens and failure to claim an awarded grant on a delivery date will result to termination of application. Contact an agent via Whatsapp to apply for cash grant, click on the icon below."
As you can see, the grammar is horrible – some mistakes are in bold letters. Any Government official who would approve the copy would be fired on the spot. And really, who applies for a federal grant via Whatsapp? Sadly, many people fall for this scam.
What happens if you apply without thinking? After you are told that your chances to get the grant are high, you submit the application form, along with a small fee.
Watch the video below to see the fake Facebook grant scam narrated by a victim:
How To Avoid The Department of Health and Human Services Scam
The scammers could even chat with you live on Facebook Messenger, while you really think it is your friend who is trying to help you. Criminals could reach out to you not only through Facebook (sometimes claiming you're the winner of the Facebook Lottery), but via Twitter or Instagram as well, but we have good news. If you don't personally know the person contacting you, here is a tip:
Watch the video below to see how you can easily identify if a profile is fake or not:
However, you should also report the perpetrators of the DHHS financial program scam. Here is a Facebook scammer list for your reference.
How To Remove Your Personal Information From The Internet
If you were dealing with the DHHS Grant scam, or anything similar, your personal information is listed all over the Internet. Let us explain. The scammers collect your personal data when they get you to share your info, accept cookies, and, more importantly, visit specific web pages. Then they sell it to third parties, including financial institutions, medicare companies, etc. It's a fact. Your collected personal data is used not only for spam emails, targeted ads, and telemarketing calls but also for changing your monthly financial rates. Luckily, we have good news.
If you wonder how to remove your information from the Internet, you should order it from Incogni; see below. It is a trustworthy powerful privacy tool that requests your data removal from almost a hundred brokers on your behalf. The Incogni service is verified by our Scam Detector staff and is legitimate. For the price of a couple of coffees a month, it's worth every penny and. Click the button below to remove your personal data from the Internet:

DHHS Grant Program Scam: How To Report

Let your family and online friends know about the DHHS Grant Program Scam by sharing this article on your social media. You can also officially report the scammers to the Federal Trade Commission using the link below:
Report Scammers To The FTC Here
How to protect yourself more:

If you want to receive the most notorious scams via email on a regular basis, feel free to subscribe to the Scam Detector newsletter here. You will receive weekly emails and we promise not to spam. Last but not least, use the comments section below to expose other Facebook scammers.
---
Verify a website below
Are you just about to make a purchase online? See if the website is legit with our validator:
vldtr®
Searching:

Domain age, Alexa rank, HTTPS valid, Blacklisting, SSL certificates, Source code, Location, IP address, WOT Trustworthiness, Spam reports, Advanced technology, Privacy Policy, Terms of Use, Contact options

TOP 3 MUST-WATCH FRAUD PREVENTION VIDEOS
1. Top 5 Amazon Scams in 2023
2. Top 5 PayPal Scams in 2023
3. How To Spot a Scam Email in 2023
Selma Hrynchuk
Selma is a fraud prevention specialist renowned for her expertise in private eye investigations and a remarkable partnership with law enforcement agencies. Beyond her investigative triumphs, her public speaking engagements and written works have empowered countless individuals to protect themselves and stay ahead of deceptive schemes. Selma's legacy shines as a tenacious agent of change, unyielding in her commitment to battling fraud and ensuring a safer world for all.