TV Licensing Cancel Scam: How It Works
If you live in the United Kingdom, there is an email going around today that are pretending to be sent from TV Licensing. It may also come as a text message. They announce that the company has cancelled your license as they were unauthorized to process your payment details. Also, they mention that you have an overdue balance. "If you don't keep up with your payments, we may be forces to cancel your license or pass your details to a debt collection agency", they may add. Notice the grammar mistakes.
The email looks like this:

Below there is an alternative to the fraudulent TV Licensing email that is going around these days: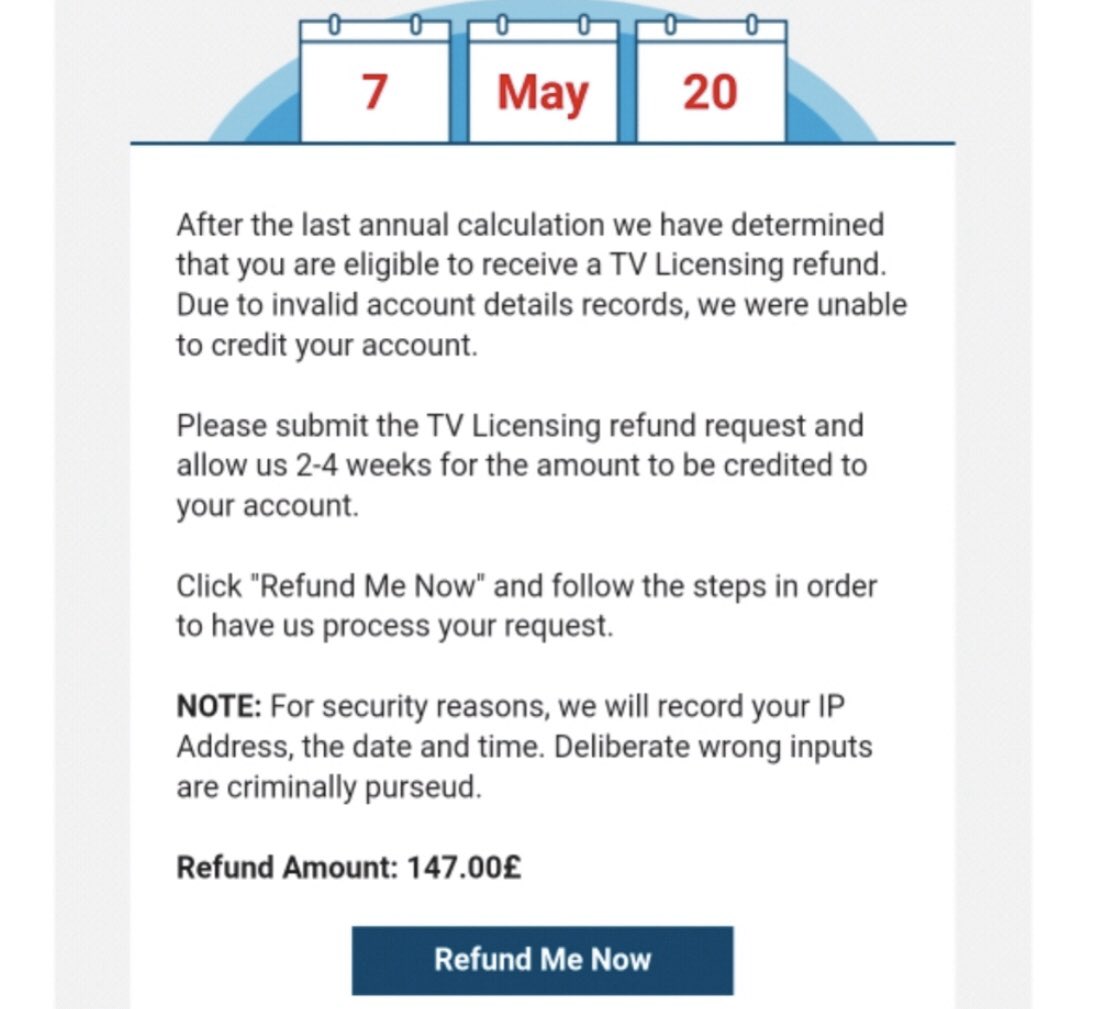 TV Licensing Cancel Scam: How To Avoid
The message is just another phishing scam, which is a common type of email fraud. Cybercriminals send emails claiming to be from respectable organisations to trick you – or any other victims – into accessing a bogus website where you will enter your personal details, which could further lead to identity theft.
In this particular message exposed above, the emails are disguised to look like TV Licensing has sent them.
Alternatively, these text notifications may inform you that you are entitled to a refund for an overpayment. Also, they could warn that your licence is about to expire. As expected, the fake company will then ask you to respond by entering your bank details, but on a website that is resembling the real one, like in this case.
Although the correspondence may use the TV Licensing logo and have other features that make them look authentic, you should never trust them.
Interesting enough, at the time of this writing, the TV Licensing's official website was down, so hopefully will be available when you will be on – see the screenshot, below: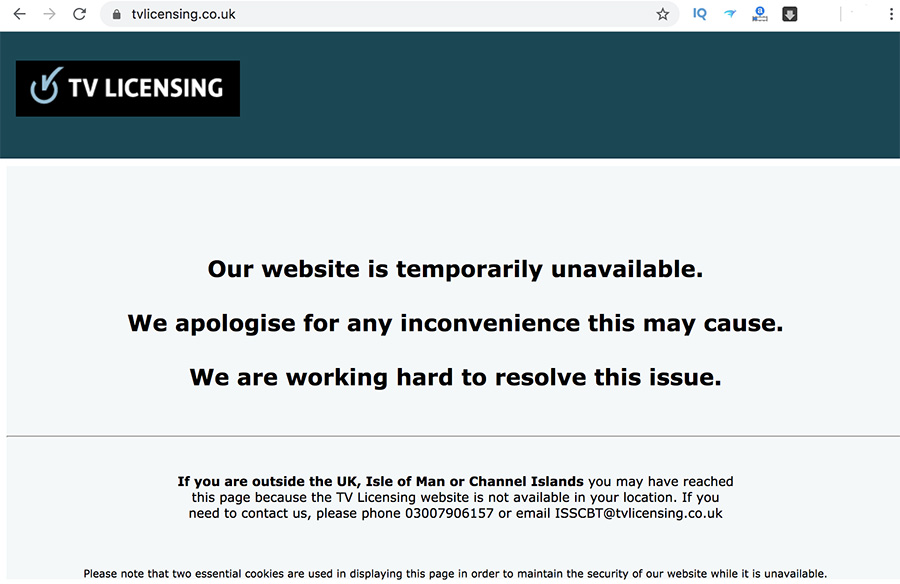 TV Licensing Email: How To Report a Scammer
Warn your family and friends about the TV Licensing Cancel Scam by sharing it on social media using the buttons provided. You can also officially report the scammers to the Federal Trade Commission using the link below:
How To Prevent Identity Theft and More

If you want to be the first to find out the most notorious scams every week, feel free to subscribe to the Scam Detector newsletter here. You'll receive periodic emails – we promise not to spam. Meanwhile, educate yourself with some other fraud-related articles right under this paragraph, so that you can protect yourself in many other aspects and niches. Last but not least, use the Comments section below to expose other scammers.
Here are some must-reads for the end:
PayPal Money Adder Scam
---
Verify a website below
Are you just about to make a purchase online? See if the website is legit with our validator:
vldtr®
Searching:

Domain age, Alexa rank, HTTPS valid, Blacklisting, SSL certificates, Source code, Location, IP address, WOT Trustworthiness, Spam reports, Advanced technology, Privacy Policy, Terms of Use, Contact options

TOP 3 MUST-WATCH FRAUD PREVENTION VIDEOS
1. Top 5 Amazon Scams in 2023
2. Top 5 PayPal Scams in 2023
3. How To Spot a Scam Email in 2023
Selma Hrynchuk
Selma is a fraud prevention specialist renowned for her expertise in private eye investigations and a remarkable partnership with law enforcement agencies. Beyond her investigative triumphs, her public speaking engagements and written works have empowered countless individuals to protect themselves and stay ahead of deceptive schemes. Selma's legacy shines as a tenacious agent of change, unyielding in her commitment to battling fraud and ensuring a safer world for all.