(with videos below) People always wonder: "How do scammers hack into my account?" Whether is on Facebook, Instagram, Twitter or Pinterest, today we're going to expose some of the methods so you can protect yourself from now on. Feel free to contribute in the Comments section of this article if you know other ways.
How Scammers Get Into Your Facebook Account:
Watch the video below to see the Facebook Account Hack exposed:
The most common way for a scammer to get into your account is by sending you an email claiming to be from Facebook. The message resembles the social media giant's branding and informs you that you have many unread notifications. It could be that you have a new message from a friend, someone has added you to their list, or that people liked a particular picture on your feed.
The email invites you to check the notifications by opening your account clicking on a link provided. Once you access the link you are taken to a page that looks exactly like the Facebook login page.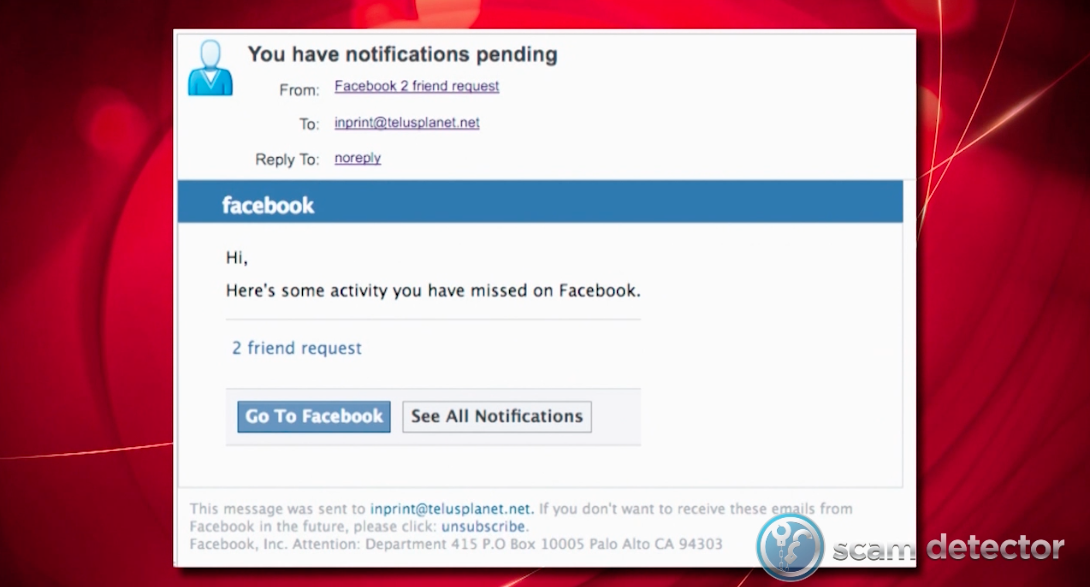 Unfortunately, the page is an exact replica of the original one, so when you put in your credentials (email and password) you are just passing along your key to the gate.
Another way to hack into someone's social media account is through third-party applications. But let's use Twitter for that example, with a concrete case of how that works.
How Scammers Hack Into Your Twitter Account:
Watch the video below to see the Twitter Account Hack exposed:
A lot of mobile applications in the app stores are legitimate, but there are many that are less reliable. How many times did you see your cell phone screen showing a notification such as: "[App name] would like to access your Twitter/Facebook account. Click OK to allow".
Well, by letting questionable applications accessing your accounts you are just opening another door for hacking. We are not saying to reject every single app that needs access to your major ones, but maybe take a second to review online the legitimacy of the app you are just about to let 'in'.
Scammers initially hack into these less-trustful apps and then log into your Twitter or any other app that has access to.
How Scammers Hack Into Your Pinterest Or Instagram Account:
This way of hacking works for all social media networks as well, but for the sake of the example let's use Pinterest.
The scammers get access to your account via email. Branded just like it would come from the Pinterest offices, the email says that someone is trying to access your account in Argentina (or any other country, for that matter). Indeed, the message asks if that was you – just like any other platform does.
As many people who are concerned about their accounts being hacked into, you may be clicking the button "That was not me". If you then immediately take to a page that looks exactly like the Pinterest login page – similar to the Facebook Notification scam described above.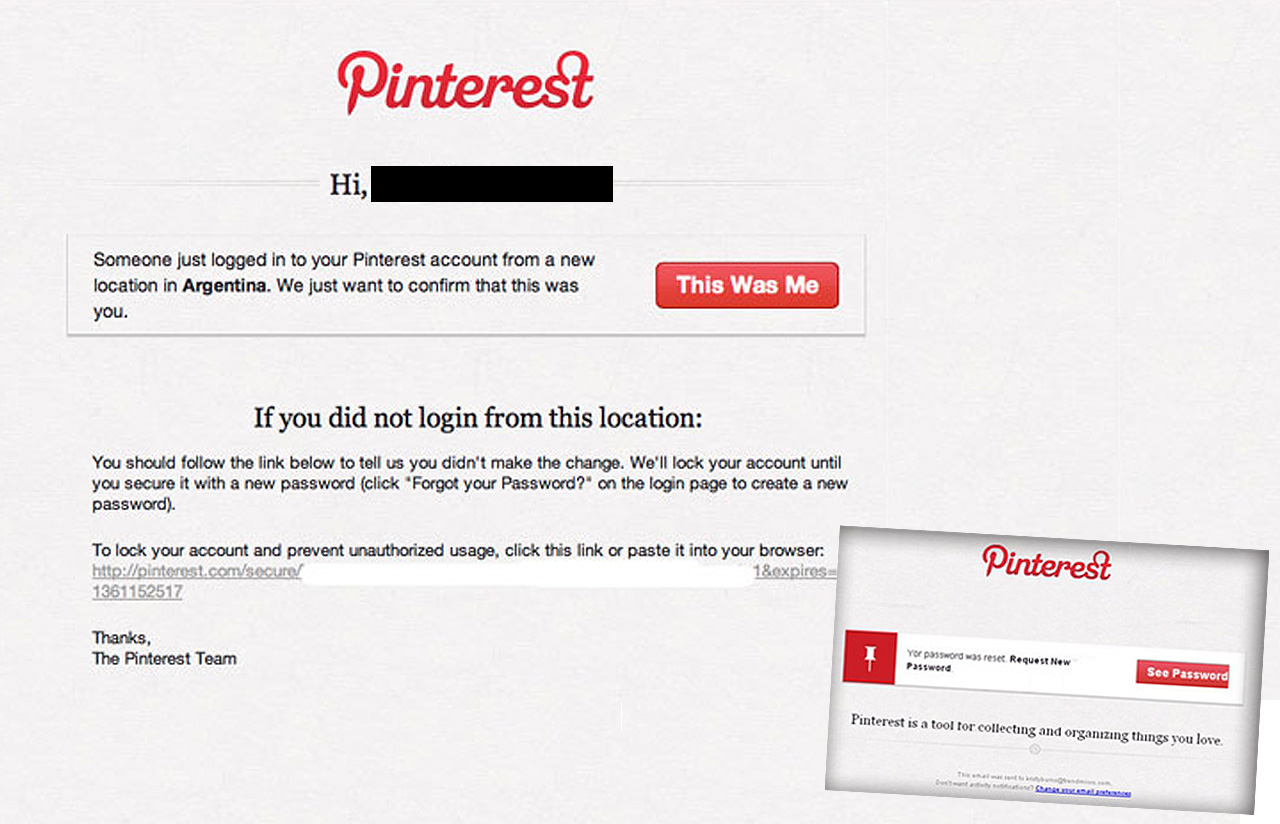 Needless to say, once you put in your credentials, you are offering scammers access to your account.
How To Avoid The Facebook/ Twitter/ Pinterest/ Instagram Hacking:
Although you probably hear this many times, change your password to your accounts every 6-8 weeks. There are too many social media accounts to keep track of their passwords, but here is a good tip:
Set your password having a couple of capital letters in the beginning and a number at the end, followed by a special character (punctuation mark). For example SAnAntonio36-. You should always remember that.
When the time comes to change the password, change just the number, from 36 to 37. And so on. This way you will only have to remember one character, while the old password is just not the same.
How To Protect Yourself More:
If you want to be the first to find out the most notorious scams every week, feel free to subscribe to the Scam Detector newsletter here. You'll receive periodical emails and we promise not to spam. Last but not least, use the Comments section below to expose other scammers.
Related Articles and Pages:
Low Interest Rate Credit Cards Scam

Solar Panels For Your Home Scam
Hair Loss Treatment/ Hair Restoration Scam

Adopt A Pet/ Dogs For Adoption Scam

---
Verify a website below
Are you just about to make a purchase online? See if the website is legit with our validator:
vldtr®
Searching:

Domain age, Alexa rank, HTTPS valid, Blacklisting, SSL certificates, Source code, Location, IP address, WOT Trustworthiness, Spam reports, Advanced technology, Privacy Policy, Terms of Use, Contact options

TOP 3 MUST-WATCH FRAUD PREVENTION VIDEOS
1. Top 5 Amazon Scams in 2023
2. Top 5 PayPal Scams in 2023
3. How To Spot a Scam Email in 2023
Selma Hrynchuk
Senior Editor at Scam Detector Media, Selma is a fraud prevention specialist with a wealth of experience in private investigations and collaborations with law enforcement. A captivating public speaker, Selma educates audiences about scams and personal safety. Through her insightful writing, she exposes criminals and shares essential tips for staying secure. Selma is a dedicated guardian against fraud, committed to unmasking deception and promoting integrity.