Social Security Suspension Scam: How It Works
Beware of the SSA Scam, having a few variations: Social Security Suspension Scam, Suspended Security Benefits, Social Security Stimulus, Fake Employee and SSA Visit.
It is known that all Americans are required to have a social security card and number to identify themselves for government benefits and various other reasons. This number is very important, so once it's compromised, it makes very difficult the process of clearing your good name.
This scam works on the assumption that people are intimidated by the importance of the Social Security Administration (SSA) and give in their personal information, which could lead to identity theft.
How does the work? There are four variations that we want to expose today: Security Benefits Suspended, Social Security Stimulus, Fake Employee, and SSA Visit. Let's look at all of them:
1. Suspended Security Benefits or Number
Here is how the Social Security Scam Call works: you may get a phone call from 1(888)179-6592, or any other number — it's essential to learn how the scam works precisely, as the number could be hacked and different tomorrow. If you respond, an automated system greets you with something like this:
"This call is from the Social Security Administration. The reason we called today is to tell you that your Social Security benefits were suspended due to suspicious activity during the COVID-19 crisis. If you want to find out more about this case, press 1".
Would you press 1? Most likely. If you press 1, you will be connected to a real person who will ask for all your personal information to prove your identity. The more you give away, the worse the situation can get. This info will be used for identity theft.
Also, the scammer could proceed by saying that your Social Security number is suspended. SSA doesn't suspend anything at this time, so ignore the call. It is one of the most common Social Security scams out there.
2. Social Security Stimulus
There is no surprise that due to the COVID-19 pandemic, many people will receive their stimulus checks, while others try to apply for many other financial support options. The situation is perfect for cybercrooks, who create a plethora of Coronavirus-related scams, including the Social Security Stimulus one.
See how the Fake Federal Grant Scam works here and watch the video below to see it exposed (it's been happening for years, but now has a new twist):
3. Fake Social Security Administration Employee
Watch the video below to see how the Social Security Administration Employee Scam works:
You receive a phone call from someone identifying himself as an employee of the Social Security Administration. Before the call, the scammer does a bit of homework about you by looking at your social media profiles, where he could find personal information that can use in the conversation, so it seems legit. See here how criminals hack into social media accounts.
Once you answer the phone, the callers inform you are being investigated for fraud. They use official verbiage and info found online. Then they proceed to ask for more personal info and financial details, which as well could lead to identity theft and credit card charges. Many people fall for the scam because they share a lot of personal information on their social media platforms.
Here is a screenshot of the SSA's official website these days, featuring an alert for scammers: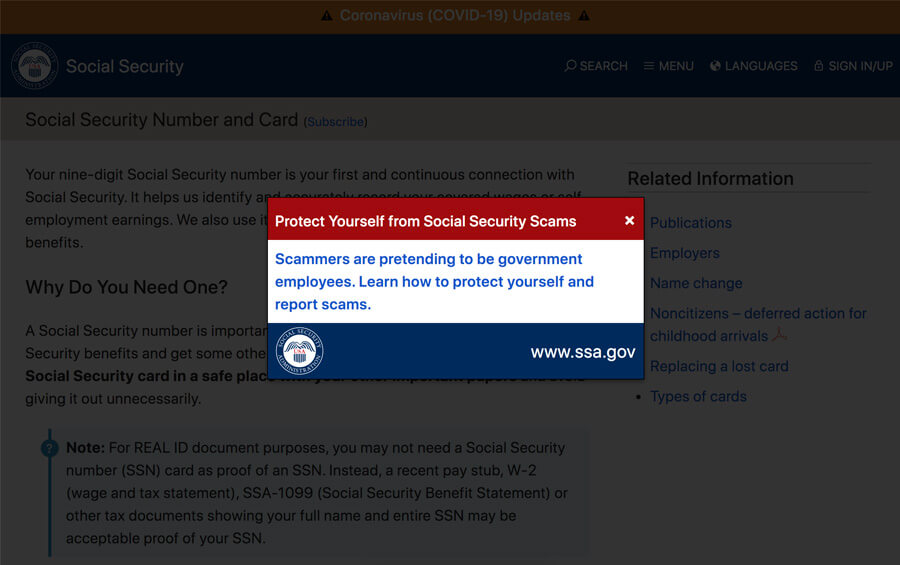 This scam also occurs in Canada and is known as the Social Insurance Number scam.
4. Social Security Administration Visit
In the fourth variation, the caller also claims to be working for the Social Security Administration. He advises you that one of the SSA reps will be conducting a home visit and will need to ask some preliminary questions before the scheduled appointment.
They then ask to "verify" your social security number and other account numbers, such as banking information. Many people don't fall for this, but a significant amount of victims still does. Scammers make up to 100 calls per day.
Of course, there is no home visit from the SSA, and the victims compromise their personal identifying information leaving themselves vulnerable to identity theft and the ruination of their excellent credit.
Social Security Suspension: How To Avoid The Scam
Be aware that the SSA never schedules home visits and does not call citizens at home – so beware of the Social Security Suspension scam. The legitimate organization only operates out of its offices and via snail mail. If you receive a call such as this, you should contact the authorities and advise them on what was said.
Telephone scams are as old as the telephone itself; be wary of ever giving too much personal information to anyone over the phone.
Last but not least, beware of these 3 Social Security Benefits Status scams.
Social Security Administration Call Scam: How To Report

Make your family and friends aware of the Social Security Administration Call Scam by sharing it on social media using the buttons provided. You can also officially report the scammers to the Federal Trade Commission using the link below:
How to protect yourself more:

If you want to be the first to find out the most notorious scams every week, feel free to subscribe to the Scam Detector newsletter here. You'll receive periodical emails and we promise not to spam. Last but not least, use the Comments section below to expose other scammers.
Related Articles and Pages:
Low Interest Rate Credit Cards Scam

Medical Alert Systems For Seniors Scam

National Do Not Call Registry Scam

---
Verify a website below
Are you just about to make a purchase online? See if the website is legit with our validator:
vldtr®
Searching:

Domain age, Alexa rank, HTTPS valid, Blacklisting, SSL certificates, Source code, Location, IP address, WOT Trustworthiness, Spam reports, Advanced technology, Privacy Policy, Terms of Use, Contact options

TOP 3 MUST-WATCH FRAUD PREVENTION VIDEOS
1. Top 5 Amazon Scams in 2023
2. Top 5 PayPal Scams in 2023
3. How To Spot a Scam Email in 2023
Selma Hrynchuk
Senior Editor at Scam Detector Media, Selma is a fraud prevention specialist with a wealth of experience in private investigations and collaborations with law enforcement. A captivating public speaker, Selma educates audiences about scams and personal safety. Through her insightful writing, she exposes criminals and shares essential tips for staying secure. Selma is a dedicated guardian against fraud, committed to unmasking deception and promoting integrity.