Zodiac Casino Mega Moolah Scam: How It Works
(with video below) Did you ever read an online article which features a bunch of links at the end of it, something like a 'Suggested Articles' section? Of course you did, most of the major media sites have these ads. In this material, you'll learn how some of them are pure fraudulent links and how to report them.
Watch the video below to see in action the sneaky Zodiac Casino scam, exposed:
Online Ads Zodiac Casino Scam Video
In this particular case, we will refer to some illegal practices done by an online casino called Zodiac Casino, promoting a promo called 'Mega Moolah.' However, the same maneuvers could be done by any business – and there are tons out there pulling the same scam!
First things first: The ads ('Suggested Articles") listed under your original article are provided by third party legitimate businesses. Their service is excellent, but scammers take advantage of it and abuse the system, luring people into paying money for questionable products by using fake websites and testimonials. Don't get us wrong, not all the links are fake, just a selected few.
One of the first red flags that you should take into consideration is the appearance of the name of your city into the title of a link. These inserts are done by something called 'geo-tagging,' which helps any marketer to advertise his/her products in a particular geographical area just by adding the latitude/longitude in the HTML code.
In our specific case, the city that showed up on these titles is Edmonton (see below), because we are located in Edmonton. In your case, the title of the article/link would be, for example, "[insert the name of your city] casino accidentally prints 5 secrets for huge jackpots". Or "[your city] pizza delivery guy in tears after life-changing day". Or, as the last example, "[your city] McDonald's employee quits after winning over $362,259". All these four examples are exposed in the video above, but let's take a deeper look.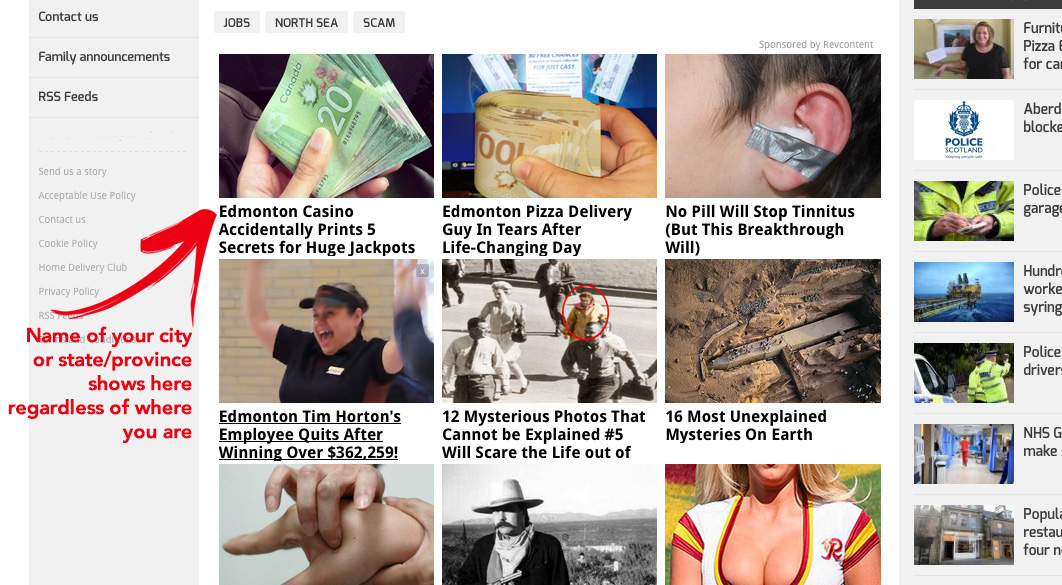 If you click any of them, you will be taken to a fake website, looking like a reputable media outlet. In our specific case, we were sent to bogus pages with names such as The Tribune, Daily News, OG Mail, etc. These are just fake websites that would shamelessly promote the products.
Not to mention that all the links/tabs on the page would take you to the Zodiac Casino's website too, where you are required to register, with name and credit card. We all know that any reputable media outlet should not even endorse products as editorial, let alone having all the buttons forwarded to the product.
More red flags show up when you discover fake testimonials at the bottom of the article, coming in as 'Facebook comments.' These observations are ridiculously glorifying the product (in this case Zodiac Casino's Mega Moolah play). When clicking on the names of the people who commented, instead of being taken to their Facebook profile page you are redirected to the Zodiac Casino's page again.
Scammers use the same pics for many different names, as seen below. You will also notice that the comments never get old, in this case, comments being left "12 minutes ago." Forever.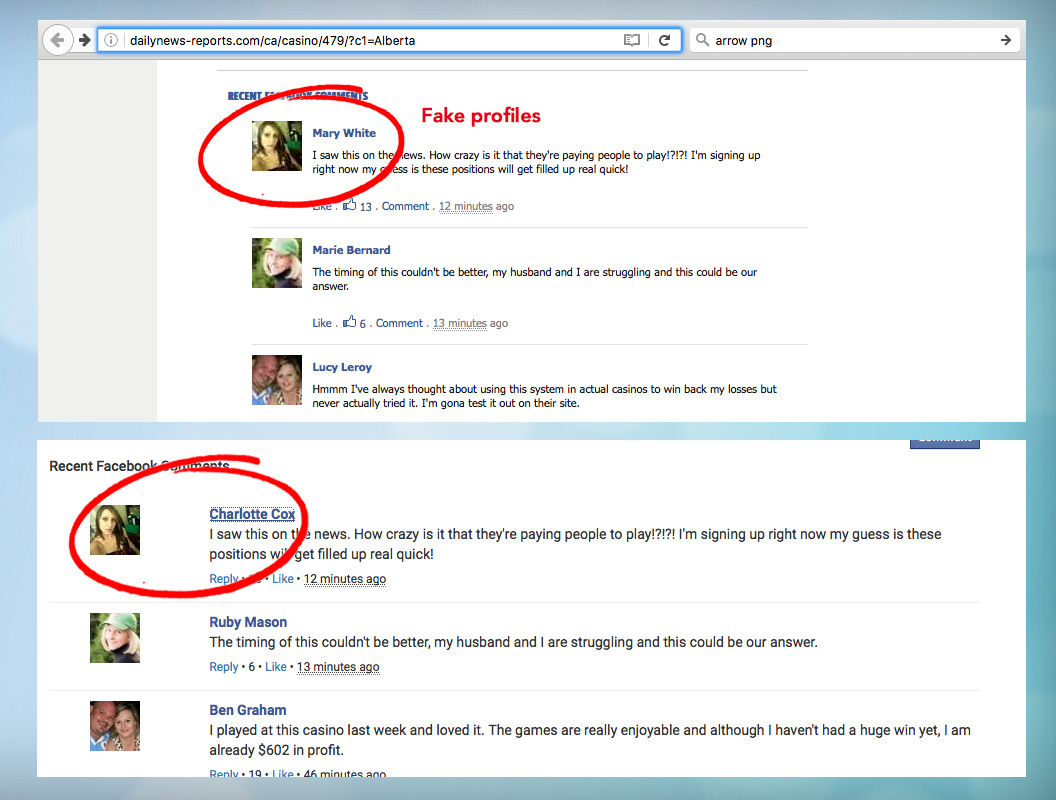 As per the "[your city] pizza delivery guy in tears after life-changing day" article, the ridiculousness goes even further. Using the geo-tagging function again, Zodiac Casino adds the name of your city/state/province again and creates a fake article as the guy if from your town. In our case, it says (see below pic) that "An [insert your city] pizza delivery man called Chris Fields won $31,411 on his cell phone."
Following that statement, crooks mention that "While browsing Facebook on his break, Chris came across a website giving away 80 free spins. With nothing to lose and 15 minutes left before his shift, he decided to try his luck. What happened 10 spins and 4 minutes later would change his future FOREVER."
Well, that is the exact text of every fake article Zodiac Casino posted and promoted via their ads. You can see two different fake articles on the main image of this article, at the top of the page.
In reality, they stole the picture of a real pizza delivery man from Ohio, who got a $700 as a tip from a church group on a Sunday morning. Very emotional, he posted a video in which he starts crying and says that he's been battling addiction. His real name is Jeff Louis, and you can see the actual video and story HERE. What's funny about the scammers using this image/story is that they mention "an Edmonton (Canadian) man," while his picture shows him holding US dollars.
Zodiac Casino Mega Moolah Scam: How To Avoid
Remember, this article refers to the Zodiac Casino's practices, but this scam could be pulled by everyone, in any industry. The most common sectors are the weight loss, gym steroids, hair restoration, cosmetics (bags under eyes), etc. The number of fake articles is countless.
Rely only on legitimate businesses. Go on Facebook and ask your friends about a good recommendation. Nowadays, there are tons of fake testimonials. Believe only people you know.
Zodiac Casino Mega Moolah Scam: How To Report
Make your family and friends aware of the Zodiac Casino Mega Moolah scam by sharing it on social media using the buttons provided. You can also officially report the scammers to the Federal Trade Commission using the link below:
How to protect yourself more:

If you want to be the first to find out the most notorious scams every week, feel free to subscribe to the Scam Detector newsletter here. You'll receive periodical emails and we promise not to spam. Last but not least, use the Comments section below to expose other scammers.
---
Verify a website below
Are you just about to make a purchase online? See if the website is legit with our validator:
vldtr®
Searching:

Domain age, Alexa rank, HTTPS valid, Blacklisting, SSL certificates, Source code, Location, IP address, WOT Trustworthiness, Spam reports, Advanced technology, Privacy Policy, Terms of Use, Contact options

TOP 3 MUST-WATCH FRAUD PREVENTION VIDEOS
1. Top 5 Amazon Scams in 2023
2. Top 5 PayPal Scams in 2023
3. How To Spot a Scam Email in 2023
Selma Hrynchuk
Selma is a fraud prevention specialist renowned for her expertise in private eye investigations and a remarkable partnership with law enforcement agencies. Beyond her investigative triumphs, her public speaking engagements and written works have empowered countless individuals to protect themselves and stay ahead of deceptive schemes. Selma's legacy shines as a tenacious agent of change, unyielding in her commitment to battling fraud and ensuring a safer world for all.