24-Hour Locksmith Scam: How It Works
(with video below)
If you are locked out of your house or car, read this before calling anyone. Watch out for the Cheap Locksmith or 24 Hour Locksmith Scam (with video below). Hundreds of people are victimized daily all over the country. Don't get us wrong, most of the locksmiths are honest out there, but this scam is increasing nationwide as you're reading this. How does the scam work?
Watch the video below to see in action the 24 Hour Locksmith scam, exposed:
24 Hour Locksmith Scam Exposed
The scam works like this: Let's say you are in need of a locksmith and find an ad for a technician advertising services for "only $25". You hire them, but at the end of the service you're charged $450. When you try to argue they say the $25 is just the callout charge and doesn't include the labor. However, this labor suddenly becomes much more 'complicated' than it should be.
If you refuse to pay, they threaten to call the Police and even have the guts to ask you to go to an ATM to get cash out. There are cases when crooks even charge over $500.
The questionable locksmith quotes "$25 to come out plus labor and labor starts at about $10 for a basic lock". Once he arrives at the house, the "basic" lock turns out to be a 'high security lock'. This is their most favorite trick to pull. Their original price automatically increases a few times.
Most of the times the lock just needs to be picked, but the crooked locksmith might not tell you that. He only gives you the only "option" available to you. Telling you that the lock might be able to be drilled or pulled open. Of course, the lock will be useless to you at that point (they know this). The locksmith then says: "I may be able to drill it and replace it. I think I have a few extra ones in my trunk." Then he hits you with the whole $250 (or more) bill.
Some of the other quotes a scammer might use are: "The lock is "high-security", "it is an unconventional lock", "it is an overseas lock and I can't recognize it", "it has been previously rekeyed to be "un-pickable", or "one of the pins is stuck".
Often these questionable locksmiths don't even have proper licenses.
24-Hour Locksmith Scam: How To Avoid
This scam is a classic 'Bait and Switch' scheme. Always settle the labor price when you call for a cheap locksmith service. On the other hand, don't be shy to ask for his license. Tell the contractor over the phone to bring it over when they come.
Any reputable locksmith should ask you for proof that you have permission to enter/break in. Don't sign anything they hand you unless they fill out the "Total" field in their receipt with the amount that they advertised.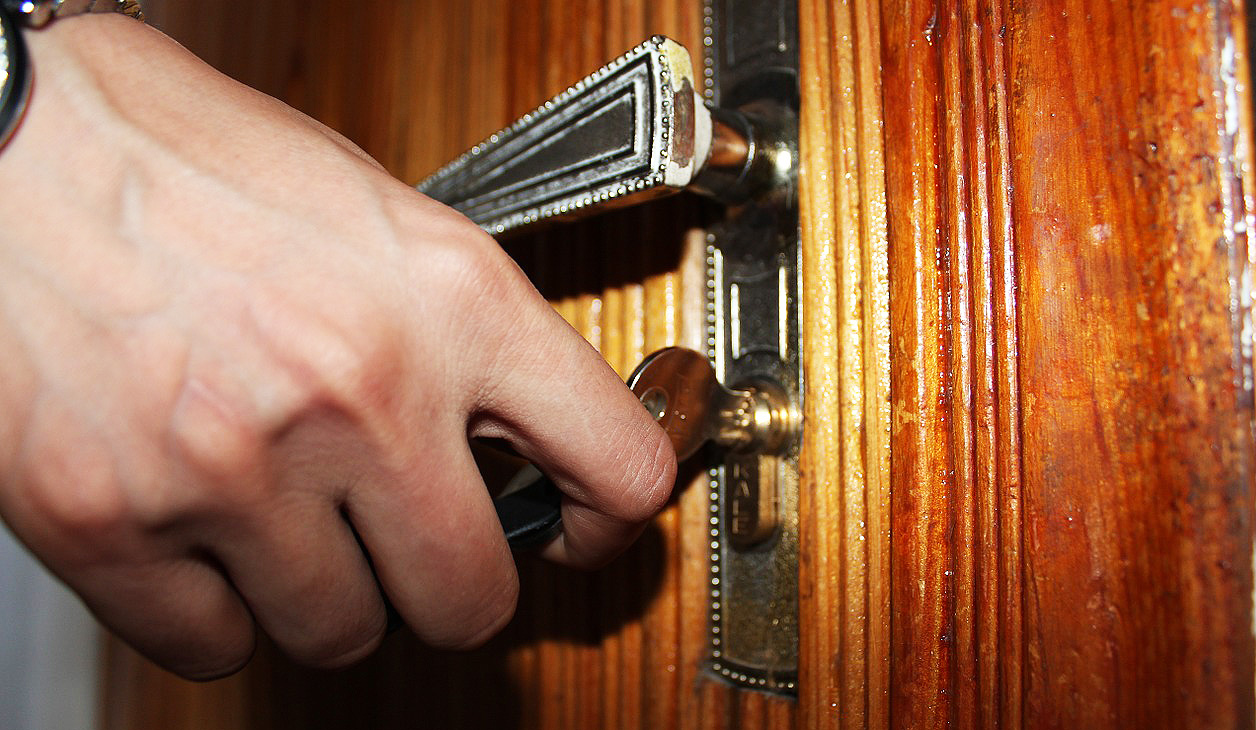 If he says he is going to use a bumpkey or an inflatable air wedge or a drill, chances are he is going to overcharge you.
As mentioned, most of the locks should be easy to pick. A commercial lock requires more skill. It requires training and experience. As an example, a Quickset Smartkey deadbolt cannot be picked. It must be drilled.
On the other hand, if you are having your house rekeyed, ask to see ID of the locksmith and get a written quote before they begin working. They could keep a copy of your new key and allow themselves into your house at any time or sell the key to criminals.
If the cheap locksmith you found online answers your phone call with a generic expression such as "locksmith services," be very wary. If they can't give a specific business name, look for a different one. Before having the locksmith come out, make sure you get information about any extra charges such as for mileage, service call minimums or emergency hours. Take a look at the locksmith's car; it should be marked, and get the license number.
If he insists on cash only, you know it's a scam. Also, cancel the job if he can't give you an estimate before starting to work on your lock.
Re-keying Scam

Usually, re-keying costs between $12 and $30 per keyhole/cylinder. Most locks have only one keyhole. Some locks are double sided (2 keyholes) and will count as two locks. Some companies have a service call/trip charge and possibly a minimum charge for coming out.
In the re-keying scam, they charge you for the new pins along with all the other charges. Replacing the 'pins' is what a re-keying job is. It's like buying a motorcycle from a dealer and the dealer charging extra for the headlight and the wheels.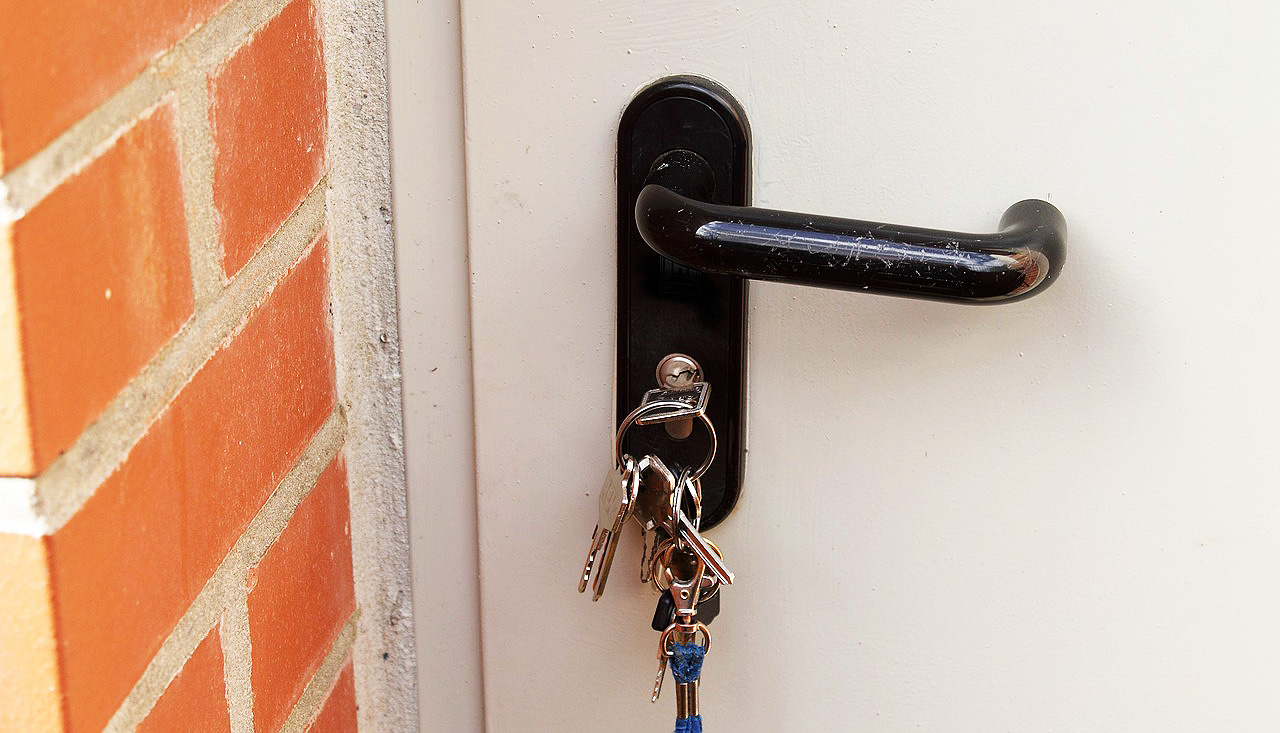 In a different variation of the trick, the locksmith gives a different price depending on how many pins are in the lock. Almost every basic lock has five pins. The scam comes when he tells you that he can't see how many pins there are on the lock and has to open it first.
Then he proceeds to inform you that if the lock has four pins, the charge will be only $12 to rekey it. If the lock has five pins it will be $65, and if it has six or more it will be $155.
Naturally, at this point you hope that it doesn't have more than six, right? The locksmith then takes the lock off the door, takes it apart, and says: "Oh, thank goodness, this lock is only a five pin lock. You just saved a bunch of money!" You are now so glad it wasn't a six pin lock and the $65 price plus all the 'other' fees sounds like a great deal. You even thank him for being a good man!
In the third variation of the scam, the locksmith say that the lock is broken and has to be fixed first. Call his bluff; your lock is not broken, if it worked before it certainly still works now. He just broke the lock on purpose just to make more money.
24-Hour Locksmith Scam: How To Report

Make your family and friends aware of this scam by sharing it on social media using the buttons provided. You can also officially report the scammers to the Federal Trade Commission using the link below:
How to protect yourself more:

If you want to be the first to find out the most notorious scams every week, feel free to subscribe to the Scam Detector newsletter here. You'll receive periodical emails and we promise not to spam. Last but not least, use the Comments section below to expose other scammers.
Related Articles and Pages:
Full List of Face To Face Scams

Solar Panels For Your Home Scam
Water Heater Repair Emergency Plumbing Service

Emergency Garage Door Repair Service Scam

Heating and Air Conditioning Repairs Services Scam

Cheap Home Security Systems Scam

Low Interest Rate Credit Cards Scam

---
Verify a website below
Are you just about to make a purchase online? See if the website is legit with our validator:
vldtr®
Searching:

Domain age, Alexa rank, HTTPS valid, Blacklisting, SSL certificates, Source code, Location, IP address, WOT Trustworthiness, Spam reports, Advanced technology, Privacy Policy, Terms of Use, Contact options

TOP 3 MUST-WATCH FRAUD PREVENTION VIDEOS
1. Top 5 Amazon Scams in 2023
2. Top 5 PayPal Scams in 2023
3. How To Spot a Scam Email in 2023
Selma Hrynchuk
Selma is a fraud prevention specialist renowned for her expertise in private eye investigations and a remarkable partnership with law enforcement agencies. Beyond her investigative triumphs, her public speaking engagements and written works have empowered countless individuals to protect themselves and stay ahead of deceptive schemes. Selma's legacy shines as a tenacious agent of change, unyielding in her commitment to battling fraud and ensuring a safer world for all.