These Phone Calls Can Have Fake Background Noise or Change Voice
You've heard of caller ID spoofing, but did you know that's very easy now for ANYONE to call you and make your phone display show any number and name they want They don't even need to be tech savvy or have access to any special software.
There are apps for everything today: to order food, to place filters on your pictures, or to find cheap flights. Well, there is also one that allows any user to change the number that shows on a recipient's phone display. Not only that, the caller can add various background noises, to make you believe that he is in a busy office. How does it work?
Watch the video below to see how scammers can change not just the background noise, but their voices as well:
The app is not just a mobile app, but a desktop as well. So crooks don't even need to download the app on their phone, they could just do desktop calls!
Now imagine this: your phone rings, the display shows the name of the local police. When you pick up you hear an 'officer', while Police sirens can be heard in the background. Would you believe is a scam?
The same thing happens when criminals use the names and the numbers of your local banks. According to Tony Sales, who has been dubbed as 'Britain's greatest fraudster', it could take only 82 seconds for a victim to believe the call is legitimate and hand over his/her bank account. In a UK-based TV show called Undercover: Nailing the Fraudsters quoted by Daily Mail, Sales explains how scammers operate.
The app is legal in the US, but for example, in the UK "users must have expressed permission from the person being called in order to spoof call them", which barely makes sense.
For users in other countries, the SpoofCard website states that: "it's your responsibility to determine whether the use of the app and other capabilities of SpoofCard are legal in the country where you are calling to and from".
Popular Feature: Calls Go Straight To Voicemail
The app is free, but users need to buy credits to start making calls. SpoofCard uses both Pay-as-you-Go plans and monthly memberships. For 100 credits (100 minutes) they charge $100US.
Once users purchase the credits and are ready for their 'conversation', they type in the number they want to ring. Then they type in the caller ID that they want to be displayed on the recipient's phone to disguise their identity. From there, the call is connected.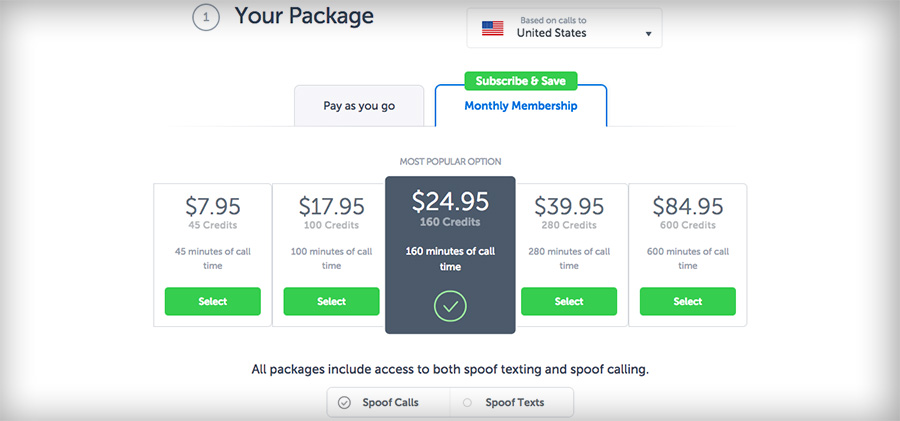 Scammers typically use the "suspicious activity on your bank account" plot, luring victims into handing over their bank account details. There is also a feature in the app that lets the user send his call straight to voicemail. This feature is a very popular amongst scammers as they avoid conversation and only leave call-to-actions in the voice message.
The fake background noises that can be added to the calls vary from Police, traffic, casino, and dogs to interference and airport sounds.
The makers of the app claim to have over 4 million users worldwide.
The original intention of the SpoofCard creators was to provide professionals an option to use their cell phones to respond business calls from home (evenings, weekends) without revealing their personal numbers.
One of the testimonials on their website is from a doctor who said: "I respond to emergencies from my home and mobile phone. Using SpoofCard I can maintain my privacy so clients only see my work number".
Spoof Calls: How To Report

Warn your family and friends aware of the Spoof ID Caller Scam by sharing it on social media using the buttons provided. You can also officially report the scammers or any suspicious activity to the Federal Trade Commission using the link below:
How To Protect Yourself More

If you want to be the first to find out the most notorious scams every week, feel free to subscribe to the Scam Detector newsletter here. You'll receive periodical emails and we promise not to spam. Last but not least, use the Comments section below to expose other scammers.
Related Articles and Pages
How Criminals Can Hack Into Your Amazon Echo
5 Scary WhatsApp Scams You Need To Avoid Today
---
Verify a website below
Are you just about to make a purchase online? See if the website is legit with our validator:
vldtr®
Searching:

Domain age, Alexa rank, HTTPS valid, Blacklisting, SSL certificates, Source code, Location, IP address, WOT Trustworthiness, Spam reports, Advanced technology, Privacy Policy, Terms of Use, Contact options

TOP 3 MUST-WATCH FRAUD PREVENTION VIDEOS
1. Top 5 Amazon Scams in 2023
2. Top 5 PayPal Scams in 2023
3. How To Spot a Scam Email in 2023
Selma Hrynchuk
Selma is a fraud prevention specialist renowned for her expertise in private eye investigations and a remarkable partnership with law enforcement agencies. Beyond her investigative triumphs, her public speaking engagements and written works have empowered countless individuals to protect themselves and stay ahead of deceptive schemes. Selma's legacy shines as a tenacious agent of change, unyielding in her commitment to battling fraud and ensuring a safer world for all.