Federal Grant On Facebook Scam: How It Works
The Government Grant Scam has two variations: one coming from people you know, one from people that randomly contact you on Facebook. Let's take a look at both and see how the scam works, how to avoid it, and how you can report it. Feel free to share your experience in the Comments section and expose the names that the scammers use. Let's see.
Watch the video below to see the first variation of the Government Grant Scam exposed:
In this scam, random people befriend you on Facebook and send you messages informing you about a new federal grant such as the DHHS Financial Program that allows you to receive money that you don't have to return. "The funds are available for the special crisis – the first priority on their list with Government grants for individuals", they say. Cybercrooks use many names and usually powerful titles such as 'Reverend', Facebook marketing manager', 'Pastor', etc. In the latest scam, the name used was John Eric David, who contacted our reader Ronald – see image below:
Scammer John Eric David (fake profile) was trying to get Ronald to access the bogus website: m.me/freegovgrant.money.john in order to collect all the personal data from Ronald, in order to award him the grant. Needless to say, giving your address, social security number, bank account and all the other data will lead to identity theft and the stealing of your money.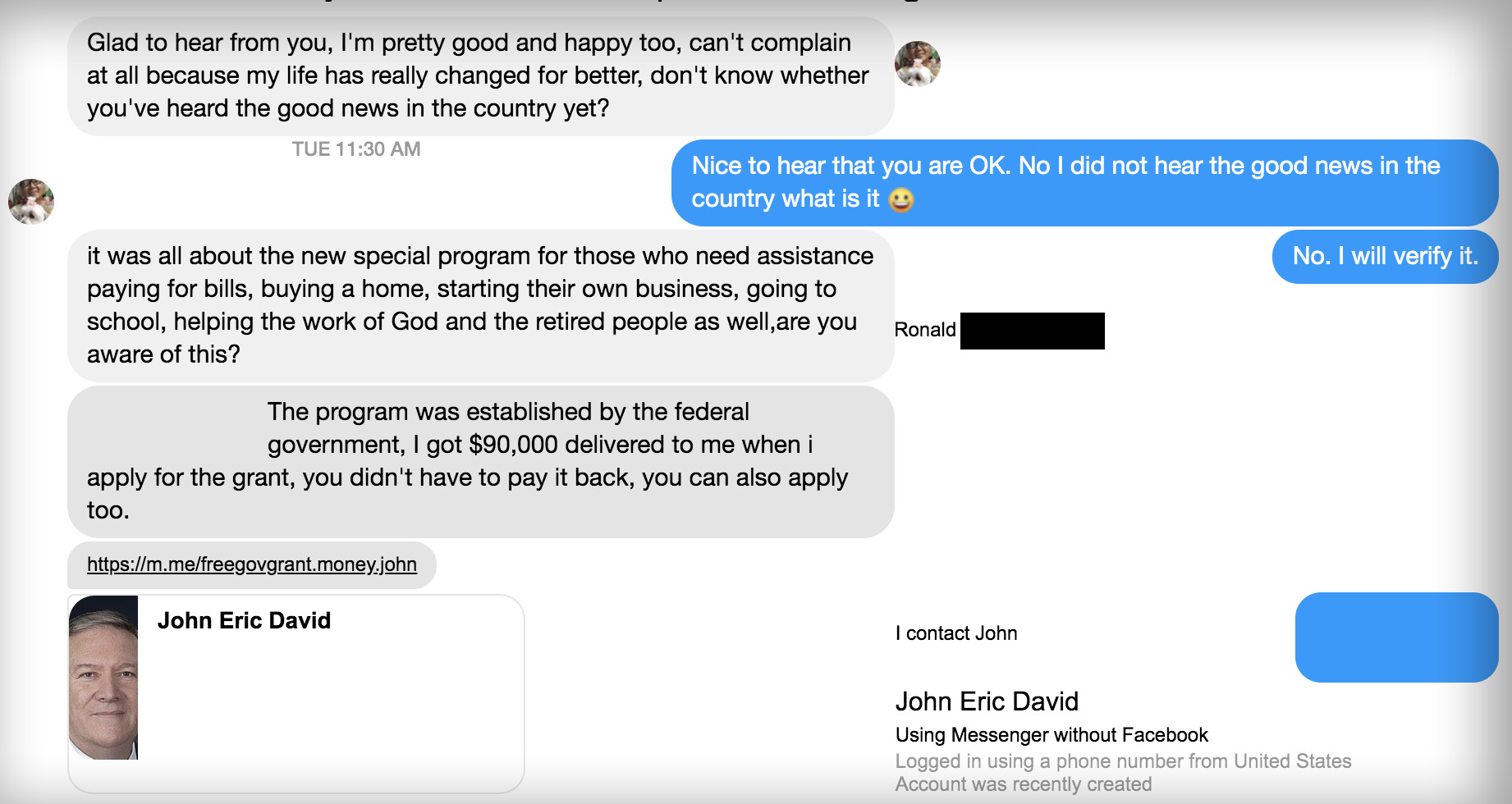 Second Scenario: From People You Know
Let's look at the second scenario of the Government Grant scam:
You receive a Facebook message from a family member or a very good friend. Not suspecting anything, you start reading: "Morning. Make time today to apply for this federal grant. It's not advertised publicly. I got the info from someone at work, so I am sure you will get it. It's what you need, and you can only get it today! I am busy for the next few hours. My phone is off. I will call you as soon as I am done".
Let's say the message is from your mom.
She gives you a link, which seems to be a Government webpage. They are giving a $12,000 federal grant to hard-working individuals who either own a small business or are thinking of opening one. The grant is available only today, so you really have to get the ball rolling ASAP. You download the form and might even call the phone number listed, for more information.

After you are assured that you completed everything properly and your chances to get the grant are high, you submit the application form, along with a $199 fee.
You are told to wait five business days for the official results. However, they will never come. What just happened? Scammers create bogus Government pages with fake phone numbers then hack into Facebook accounts and start sending messages like the one above.
Watch the video below to see the Grant Through Facebook scam narrated by a victim:
Facebook Grant Scam: How to Avoid
The crooks have everything set up so when you read the message you notice the fact that the sender says she won't answer her phone, so you know not to call her. Even worse, the scammers could even talk to you live on Facebook Messenger using the chat feature, while you really think it is your mom. You only have a few business hours to apply and criminals make everything possible to avoid the victims calling the other person.
Refuse to proceed if you are rushed to pay a fee, especially in a case like this. Talk to the real person who sent you the message. If you really can't speak to them, examine the website very carefully.
Open the real Government's website by typing it into the browser yourself, to see if they have information about the promised grants. On an official website, there are always links to their programs and services, contacts in different departments, news releases, etc.
The scammers could reach out to you not only through Facebook, but via Instagram messages as well, so beware. It is known that the easiest way criminals catch their victims these days is by promising free money through social media or reward systems. Alternatively, through bitcoin and other complicated cryptocurrency deals.
Always do your research online. If you are really looking to make money through social media or reward systems, use only trustworthy platforms that have been certified already. The world's largest free online rewards program is Swagbucks, where you get paid by doing things online which you might do anyway, such as searching the web, discover products, or take surveys. The company has an A+ rating with the Better Business Bureau. You can register for free HERE.
Government Grant Scam: How To Report

Make your family and friends aware of the Government Grant Scam by sharing it on social media using the buttons provided. You can also officially report the scammers to the Federal Trade Commission using the link below:
Report Scammers To The FTC Here
How to protect yourself more:

If you want to be the first to find out the most notorious scams every week, feel free to subscribe to the Scam Detector newsletter here. You'll receive periodical emails and we promise not to spam. Last but not least, use the Comments section below to expose other scammers.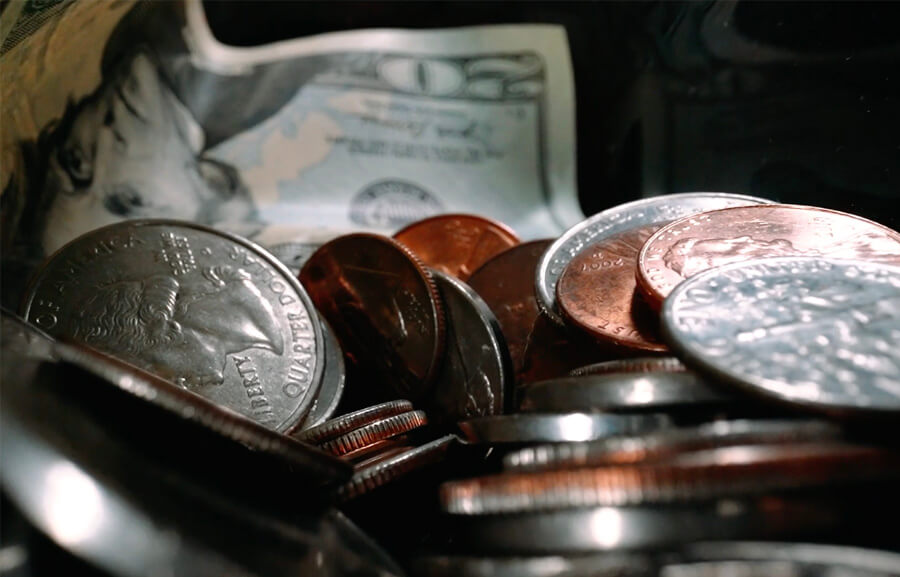 Veterans Pension And Benefits Scam

Home Equity Loans Approval Scam

Free Money From The Government Scam

---
Verify a website below
Are you just about to make a purchase online? See if the website is legit with our validator:
vldtr®
Searching:

Domain age, Alexa rank, HTTPS valid, Blacklisting, SSL certificates, Source code, Location, IP address, WOT Trustworthiness, Spam reports, Advanced technology, Privacy Policy, Terms of Use, Contact options

TOP 3 MUST-WATCH FRAUD PREVENTION VIDEOS
1. Top 5 Amazon Scams in 2023
2. Top 5 PayPal Scams in 2023
3. How To Spot a Scam Email in 2023
Selma Hrynchuk
Senior Editor at Scam Detector Media, Selma is a fraud prevention specialist with a wealth of experience in private investigations and collaborations with law enforcement. A captivating public speaker, Selma educates audiences about scams and personal safety. Through her insightful writing, she exposes criminals and shares essential tips for staying secure. Selma is a dedicated guardian against fraud, committed to unmasking deception and promoting integrity.