Airbnb Message Scam: How It Works
If you have an Airbnb account you probably know that every time another user sends you a message an email comes to your inbox as well (such as the one in the image) notifying you of the conversation. Well, if you receive a message today from someone called Sofia, do not log into your account.
Sofia apparently lives in Barcelona, Spain and joined the network in May 2016. The email from her – which also shows an attractive woman in the thumbnail image – looks exactly as it would come from the real Airbnb offices. It invites you to view the message by clicking on the button.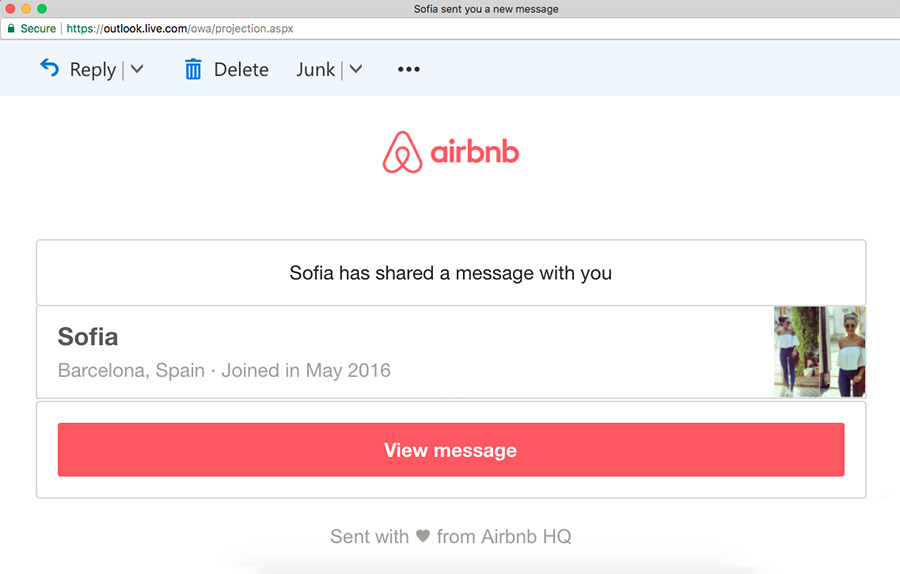 Once clicked, you are taken to a page which is a perfect replica of the Airbnb login portal. Showing the typical type-in boxes for your email address and password, the page also offers the optional Facebook and Google login buttons.
However, when you click on them it only refreshes the page, leaving you only with the option of providing your email and password.
Doing that leads to giving away your Airbnb account. Since you have a lot of personal information listed in there, including your credit card and physical address, it is safe to say that the experience is not going to be a good one.
This phishing scam comes after another fraudulent practice using the Airbnb brand made its rounds earlier this year: the Airbnb Coupon First Booking Scam.
Airbnb Message Scam: How To Avoid
The only thing that gives away the fraud is your browser box on the login page. If you look up there, you should see the domain name of the booking brand (http://www.airbnb.com). In this particular scam, the domain name is indocertes.com.
Delete the email, go ahead with your day.
How To Report Scammers To Airbnb
Make your family and friends aware of this scam by sharing it on social media using the buttons provided. You can also officially report this scam to Airbnb using the link below:
Report Scammers To Ai Here
How To Protect Yourself More

If you want to be the first to find out the most notorious scams every week, feel free to subscribe to the Scam Detector newsletter here. You'll receive periodical emails and we promise not to spam. Last but not least, use the Comments section below to expose other scammers.
---
Verify a website below
Are you just about to make a purchase online? See if the website is legit with our validator:
vldtr®
Searching:

Domain age, Alexa rank, HTTPS valid, Blacklisting, SSL certificates, Source code, Location, IP address, WOT Trustworthiness, Spam reports, Advanced technology, Privacy Policy, Terms of Use, Contact options

TOP 3 MUST-WATCH FRAUD PREVENTION VIDEOS
1. Top 5 Amazon Scams in 2023
2. Top 5 PayPal Scams in 2023
3. How To Spot a Scam Email in 2023
Selma Hrynchuk
Senior Editor at Scam Detector Media, Selma is a fraud prevention specialist with a wealth of experience in private investigations and collaborations with law enforcement. A captivating public speaker, Selma educates audiences about scams and personal safety. Through her insightful writing, she exposes criminals and shares essential tips for staying secure. Selma is a dedicated guardian against fraud, committed to unmasking deception and promoting integrity.