How The Scam Works:
Facebook is becoming more and more popular everyday, in parallel with other social media network champs like Instagram and Snapchat. However, the popularity of Mark Zuckerberg's platform is bringing along many criminals who take advantage of people's lack of diligence.
The latest scam is extremely sneaky, as it's very believable amongst the users. Hopefully you are not one of them. How does the scam work?
Watch How The Facebook Notification Scam Works:
You may receive an email informing that you have pending messages in your Facebook inbox, just like the images in this article, above and below.
The name of the sender and the verbiage used within the text could be different, but watch out for the ones used right now: Gerard Carter Advisor, using the email address: econ7@starnursery.com.
The subject title in this case is: "You now have all the data transferred". The email address, name, or subject title could be different, such as "Unread Messages Will Be Deleted".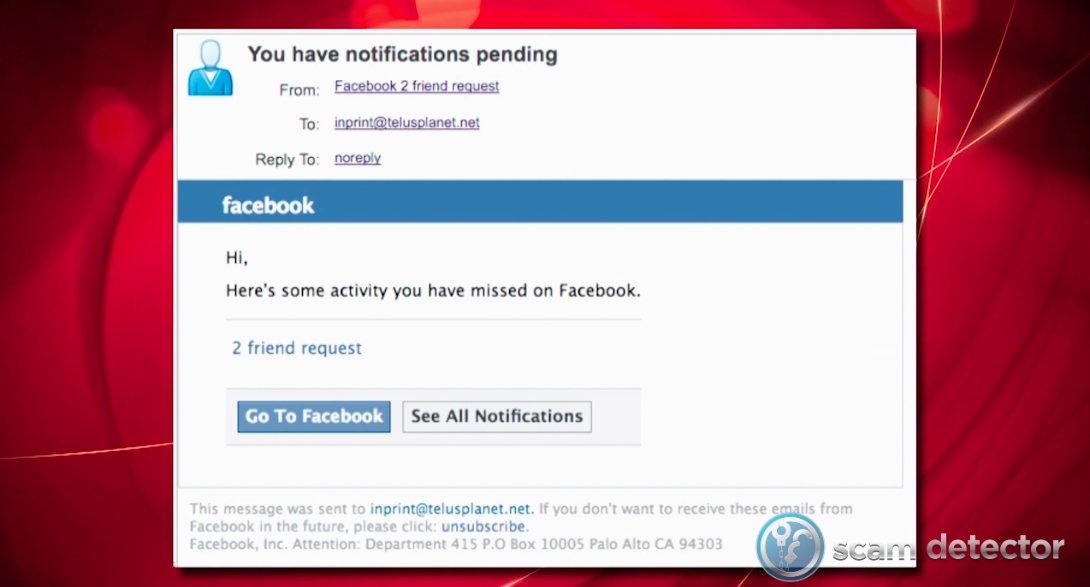 When you click the 'View Notifications' button, you are taken to a Russian website selling Viagra and Cialis.
What's more important, the text is geo-tagged according to your country, so the top corner would feature a logo in four variations, depending on your location: United States Health & Care Mall, Canadian Health & Care Mall', 'United Kingdom Health & Care Mall, or Australian Health & Care Mall. There is no more Facebook!
Even worst, the domain shown is: http://joystiqdeals.ru/. Needless to say, the domain name is changed every time the old one is reported online.
Once you give your credit card number, you can say good bye to a hefty sum.
How To Avoid The Facebook Notification Scam:
Delete the email instantly, you don't want your identity and credit card stolen by the Russians.
How To Report The Facebook Notification Scam:
Make your family and friends aware of this scam by sharing it on social media using the buttons provided. You can also officially report the scammers to the Federal Trade Commission using the link below:
How To Protect Yourself More:

If you want to be the first to find out the most notorious scams every week, feel free to subscribe to the Scam Detector newsletter here. You'll receive periodical emails and we promise not to spam. Last but not least, use the Comments section below to expose other scammers.
---
Verify a website below
Are you just about to make a purchase online? See if the website is legit with our validator:
vldtr®
Searching:

Domain age, Alexa rank, HTTPS valid, Blacklisting, SSL certificates, Source code, Location, IP address, WOT Trustworthiness, Spam reports, Advanced technology, Privacy Policy, Terms of Use, Contact options

TOP 3 MUST-WATCH FRAUD PREVENTION VIDEOS
1. Top 5 Amazon Scams in 2023
2. Top 5 PayPal Scams in 2023
3. How To Spot a Scam Email in 2023
Selma Hrynchuk
Selma is a fraud prevention specialist renowned for her expertise in private eye investigations and a remarkable partnership with law enforcement agencies. Beyond her investigative triumphs, her public speaking engagements and written works have empowered countless individuals to protect themselves and stay ahead of deceptive schemes. Selma's legacy shines as a tenacious agent of change, unyielding in her commitment to battling fraud and ensuring a safer world for all.