Do Not Download Any COVID-19 World Map: How The Scam Works
The COVID-19 pandemic has been hitting hard for the past little while not only with the virus itself but with a bunch of criminals taking advantage of desperate people. So far, we've exposed the Coronavirus Mask Scam, the Coronavirus Medical Coverage Scam and the Airline Cancellation Scam.
However, there is a new dangerous trap that is making victims worldwide, stealing credentials. It is known as the Coronavirus Map Download and takes over usernames, passwords, credit card numbers and other personal data.
As the name implies, Coronavirus Map Download comes as a 'helpful platform' trying to keep readers up to date with the newest stats regarding the COVID-19 outbreak: cases, deaths, recoveries, etc. When curious people try to install the map, their device is infected instantly.
Here is how the fake map looks like, below. But here is more.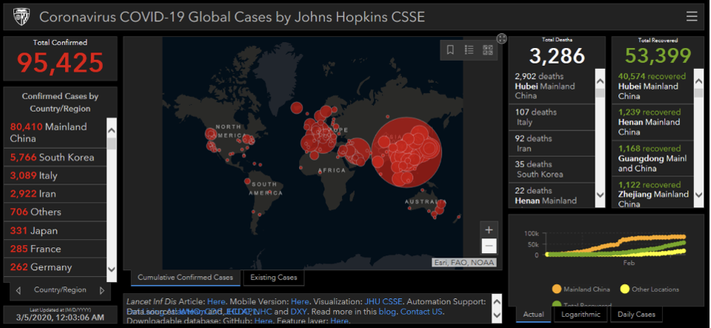 The scam is run by criminals implementing a particular malware named AZORult, stealing user information and acting as a "dropper for other malware strains", according to Forbes.
AZORult has all the bad things the malware is able to feature, from keylogging, bitcoin wallets hacks, chat platform attacks, and more.
According to Reason Labs, "when victims get infected, the malware extracts data and creates a unique ID of the victim's workstation—The C2 server responds with configuration data, which contains target web browser names, web browser path information, API names, sqlite3 queries, and legitimate DLLs."
The primary target for AZORult, in this case, is credential theft, which can be used for targeting other sites, contacts and financial platforms. "The password-stealing operation process is simple," Reason Labs says. For those who understand the terms, AZORult "steals the login data from the installed browser and moves it to 'C:WindowsTemp'."
Where Can You See the Coronavirus Stats?
The real website where you can follow the evolution of the Coronavirus stats is Worldometers. You can see a screenshot of the real website in the main picture of this article.
Do not trust unknown sources, although many media websites provide accurate numbers when it comes to the ordeal that we are going through these days.
More Coronavirus Hoaxes
The internet is full now of hoaxes and scams about the COVID-19 pandemic. Watch the video below to see the other variations of the Coronavirus Scam and stay alert:
Coronavirus Map Scams: How To Report
Warn your family and friends about the Coronavirus Map Download Scam by sharing it on social media using the buttons provided. You can also officially report the scammers or any other suspicious activity to the Federal Trade Commission using the link below:
How To Protect Yourself More

If you want to be the first to find out the most notorious scams every week, feel free to subscribe to the Scam Detector newsletter here. You'll receive periodic emails and we promise not to spam. Last but not least, use the Comments section below to expose other scammers.
---
Verify a website below
Are you just about to make a purchase online? See if the website is legit with our validator:
vldtr®
Searching:

Domain age, Alexa rank, HTTPS valid, Blacklisting, SSL certificates, Source code, Location, IP address, WOT Trustworthiness, Spam reports, Advanced technology, Privacy Policy, Terms of Use, Contact options

TOP 3 MUST-WATCH FRAUD PREVENTION VIDEOS
1. Top 5 Amazon Scams in 2023
2. Top 5 PayPal Scams in 2023
3. How To Spot a Scam Email in 2023
Selma Hrynchuk
Senior Editor at Scam Detector Media, Selma is a fraud prevention specialist with a wealth of experience in private investigations and collaborations with law enforcement. A captivating public speaker, Selma educates audiences about scams and personal safety. Through her insightful writing, she exposes criminals and shares essential tips for staying secure. Selma is a dedicated guardian against fraud, committed to unmasking deception and promoting integrity.