Halloween Scam: How It Works
Not everyone might know the origins of Halloween, but almost everyone loves this special day at the end of October, even during the pandemic. Halloween is the second most consumer-driven holiday, nipping on the heels of Christmas regarding how much money is spent each year.
However, real nightmare scams can occur if shoppers aren't careful. Let's dive in. We will also recommend you the most legitimate products this year so that you don't fall victim to scams.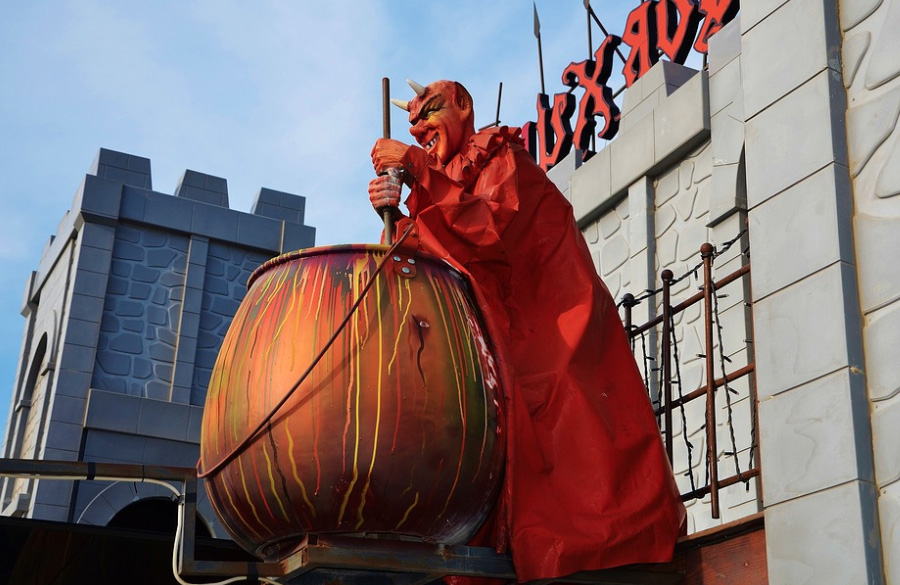 Whether you're looking for Halloween costume ideas for women, men, couples or kids, be aware of the fake shops popping up this week. Halloween decorations are also a lucrative bait for scammers. The most advertised items by the crooks are the Wonder women costumes, power rangers, Little Mermaid, knights, maids, nuns, Police officers or Star Wars costumes. How does the scam work?
Watch the video below to see in action the Halloween Store scam exposed:

Halloween Ideas Store Exposed Video
The focus of these scams are the pop-up Halloween online stores 'here today, gone tomorrow' that show up on the Internet each October.
Local authorities receive many complaints each year regarding these fly-by-night operations, committing to sending you your costume overnight. The majority of the complaints center on websites not delivering merchandise promptly, if at all.
The storefront operations most cited complaints were of the poor quality of merchandise and the difficulty of obtaining refunds.
Our team looked into the most legitimate deals on Amazon for products that are real and have the highest ranking. Check them out below:


Halloween Scam: How to Avoid
When trying a new or unfamiliar online store, find out the company's  physical address and telephone number then check the Better Business Bureau's website at www.bbb.org.
Find out their return and refund policies before any purchases are made. When shopping at a physical location ask about their intended closing date to ensure you have time to return any unused merchandise after Halloween. Many of these shops close up immediately after Halloween, so be aware of this.
Also, check the policy regarding shipping times; is there a money back guarantee if your purchases arrive late? Federal law mandates that any goods and services purchased online or from catalogs be shipped within 30 days of purchase unless the vendor specifically states differently.
Lastly, be vigilant about giving your credit card and other personal identifying information on secure sites only. If the web address's prefix doesn't begin with "https", do not purchase from that website.
Halloween Fake Shops: How to Report Them
Make your family and friends aware of the Halloween scam by sharing it on social media using the buttons provided. You can also officially report the scammers to the Federal Trade Commission using the link below:
How to protect yourself more:

If you want to be the first to find out the most notorious scams every week, feel free to subscribe to the Scam Detector newsletter here. You'll receive periodical emails and we promise not to spam. Last but not least, use the Comments section below to expose other scammers.
---
Verify a website below
Are you just about to make a purchase online? See if the website is legit with our validator:
vldtr®
Searching:

Domain age, Alexa rank, HTTPS valid, Blacklisting, SSL certificates, Source code, Location, IP address, WOT Trustworthiness, Spam reports, Advanced technology, Privacy Policy, Terms of Use, Contact options

TOP 3 MUST-WATCH FRAUD PREVENTION VIDEOS
1. Top 5 Amazon Scams in 2023
2. Top 5 PayPal Scams in 2023
3. How To Spot a Scam Email in 2023
Selma Hrynchuk
Selma is a fraud prevention specialist renowned for her expertise in private eye investigations and a remarkable partnership with law enforcement agencies. Beyond her investigative triumphs, her public speaking engagements and written works have empowered countless individuals to protect themselves and stay ahead of deceptive schemes. Selma's legacy shines as a tenacious agent of change, unyielding in her commitment to battling fraud and ensuring a safer world for all.