How the Free Airline Tickets Scam Works:
A new travel scam is going around on Facebook, promoting two fake tickets for Delta Air Lines, American Airlines, and Emirates flights, for "their 33rd anniversary". Other companies may also be mentioned, although all the airlines are older than that.
It is not the first time when free plane tickets are being offered on the most popular social media platform, but this one is a bit different than the last few that are still making their rounds in various circles, such as the Two Free Vouchers, Airline Ticket Credit, or the Employee Tickets scams.
Watch the video below to see the Free Airline Vouchers Scam exposed:
Airline Free Ticket Scam Video
The scam comes as a promotion in which all you have to do is fill out a survey, share the link on your Facebook wall with the hashtag "ThanksDeltaAirLines" (or Emirates/American Airlines) and like the page.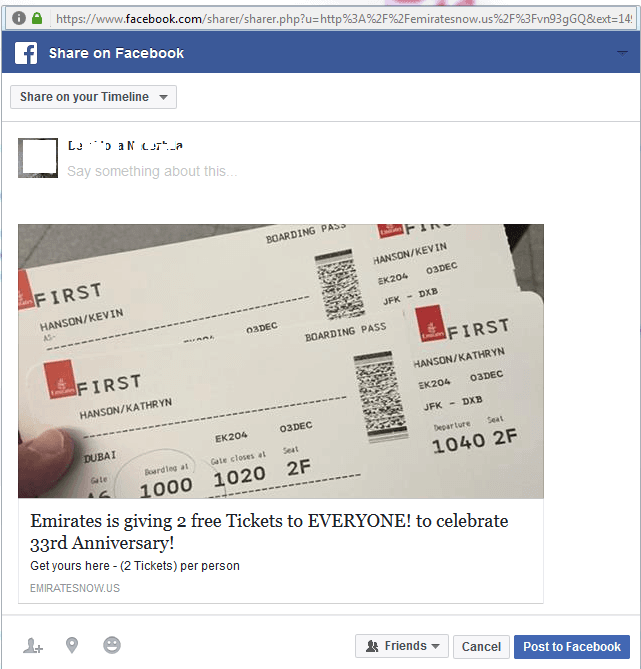 Assuming you click on the link, you are taken to a survey page, with straightforward and ridiculous questions about your travels outside the country or your happiness with the airline.
Once the bogus survey is done, you are invited to share the results along with the promotion on your Facebook page, meaning you are spamming your friends.
Plus, you have to 'like' their page, which features many Facebook fake comments.
In addition, the crook's website uses a geolocation feature to redirect you to other web pages with questionable content. Suspicious downloadable files, more surveys, and fake ads.
According to Kaspersky Labs, who first exposed this scam, one of these dubious pages hosts a browser extension capable of reading all data in a browser, including credit card information and passwords.
The extension is called TV Hero and looks like this: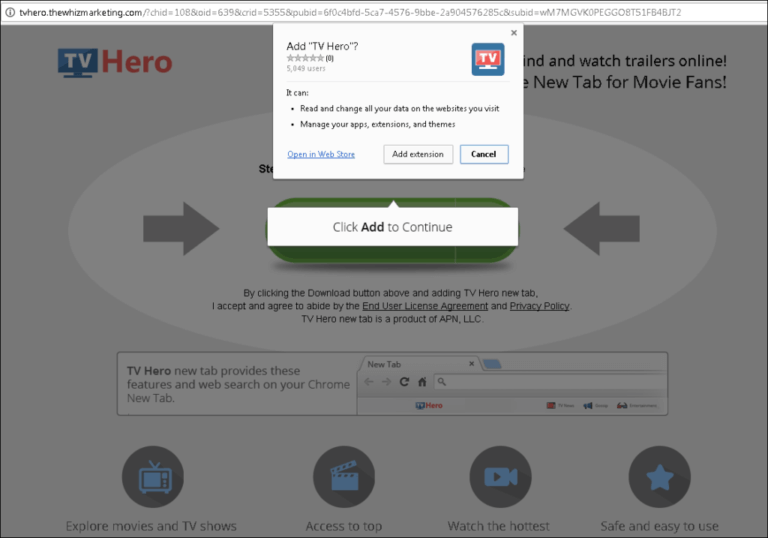 How To Avoid The Free Airline Tickets Scam:
Freebies on Facebook are rarely free. Especially the plane tickets – they never are. Not to mention that Delta Air Lines has been in business since 1924, American Airlines since 1930, and Emirates since 1985 (meaning they are only 32 years old).
Don't fall for this scam, just ignore it.
How To Report the Free Airline Tickets Scam:

Make your family and friends aware of this scam by sharing it on social media using the buttons provided. You can also officially report the scammers to BBB or to the Federal Trade Commission using the link below:
Report Scammers To The FTC Here
How To Protect Yourself More:
If you want to be the first to find out the most notorious scams every week, feel free to subscribe to the Scam Detector newsletter here. You'll receive periodical emails and we promise not to spam. Last but not least, use the Comments section below to expose other scammers.
Related Articles and Pages:
Cancelled Flight Compensation Scam
Las Vegas Deals and Promoter Pass Scam
Airbnb Coupon First Booking Scam
---
Verify a website below
Are you just about to make a purchase online? See if the website is legit with our validator:
vldtr®
Searching:

Domain age, Alexa rank, HTTPS valid, Blacklisting, SSL certificates, Source code, Location, IP address, WOT Trustworthiness, Spam reports, Advanced technology, Privacy Policy, Terms of Use, Contact options

TOP 3 MUST-WATCH FRAUD PREVENTION VIDEOS
1. Top 5 Amazon Scams in 2023
2. Top 5 PayPal Scams in 2023
3. How To Spot a Scam Email in 2023
Selma Hrynchuk
Selma is a fraud prevention specialist renowned for her expertise in private eye investigations and a remarkable partnership with law enforcement agencies. Beyond her investigative triumphs, her public speaking engagements and written works have empowered countless individuals to protect themselves and stay ahead of deceptive schemes. Selma's legacy shines as a tenacious agent of change, unyielding in her commitment to battling fraud and ensuring a safer world for all.