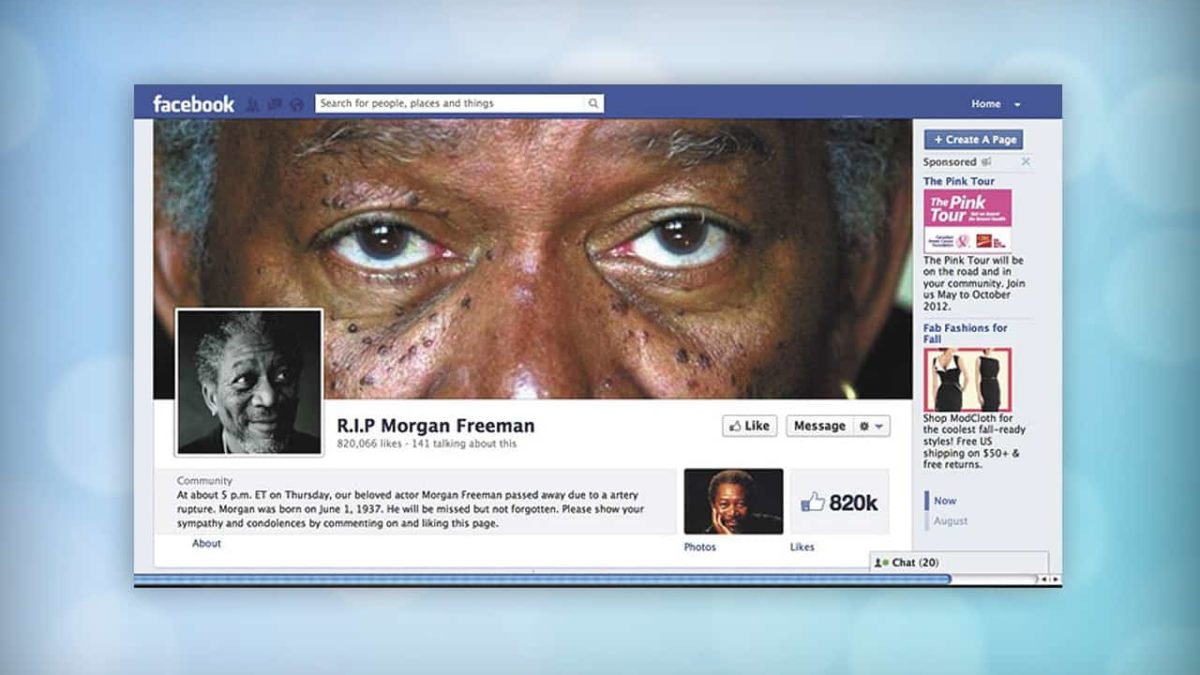 How the scam works:
You are on Facebook and a shocking title about a celebrity catches your eye: "Paul Walker's last seconds in the car", "Jackie Chan died after performing stunt", "Morgan Freeman is dead", or "Katy Perry sex tape leaked!" The thumbnail is very graphic and you might want to see the content. There might even be a fake RIP page set up, as it just happened with the latest "dead" celebrity, Morgan Freeman.
The latest is relating to Jackie Chan. A Facebook post is doing its rounds and looks like this:
Hollywood Breaking News – Jackie Chan died after perfecting a deadly stunt. Jackie Chan falls from a building of 12 floors. Police are currently investigating. Watch the original video of the deadly stunt and their effort to save Jackie Chan. (for 18 years and above)
Similar previous scams are:
New Pope Francis I Sued For Not Wearing Seat Belt In Popemobile
Taylor Swift sex tape released
Keanu Reeves dies in ski accident
Miley Cyrus or Nicki Minaj sex tape
Cameron Diaz hot and topless
Lady Gaga found dead in hotel room
Ramgen Revilla & Janelle Monahan
Selena Gomez caught on tape
Kim Kardashian exposed
Justin Bieber and Selena Gomez kissing
You will hate Rihanna after watching this video
Rock legend Jon Bon Jovi dead at 51
How do they work? Some of the pages don't ask you to click on anything, they are just hoaxes. However, there are some that require you to click a link. If you download or click the link provided, a couple of bad things could happen to you, just like in the "Shocking News Titles" and the "Video with Latest News" scams:
1. You could install a keystroke logger, software that records everything you type on your keyboard and is then read by the scammer, looking for your passwords and bank accounts. Of course, you can download not only the keystroke logger, but viruses as well.
2. Clicking the message link will take you to a page which looks exactly like Facebook, but is a fake. A fake video player is also displayed along with an "Update Require" notification. The site asks you to download a Flash Player update in order to watch the video. If you click on the "Install" button you will install a malware on your computer. This malware program will gather your information (passwords, account numbers), and email them back to the scammer.
How to avoid:
If you come across celebrity shocking news like the ones above, don't open any link which requires you to provide additional info, download software, or upgrade programs.
Make your friends and family aware of this scam by sharing it, using the buttons provided.
---
Verify a website below
Are you just about to make a purchase online? See if the website is legit with our validator:
vldtr®
Searching: Domain age, Alexa rank, HTTPS valid, Blacklisting, SSL certificates, Source code, Location, IP address, WOT Trustworthiness, Spam reports, Advanced technology, Privacy Policy, Terms of Use, Contact options

TOP 4 MUST-WATCH FRAUD PREVENTION VIDEOS
1. Top 5 Amazon Scams in 2021
2. Top 5 PayPal Scams in 2021
3. Top 6 Instagram Scams in 2021
4. Fake COVID-19 Vaccine