Twitter Private Messages: What Scammers Want
Twitter has 330 million active users every month, opportunity for scammers to also come in the game and take advantage of a plethora of naive people. In a similar way they operate on Instagram or Facebook, criminals approach victims who accepted their friendship and pretend to offer some sort of help.
This most recent scam takes advantage of one of our greatest vulnerabilities: the fear of being publicly humiliated.
This scam involves receiving a private message to your Twitter account. The body of the message will usually contain one of the following messages:
Did you see your pics with her?
Is it you in this picture?
Suspiciuos activity on your account
ROLF they were taping you
How did you not see them taping u
What are you doing in this fb vid?
What on earth are you doing in this movie?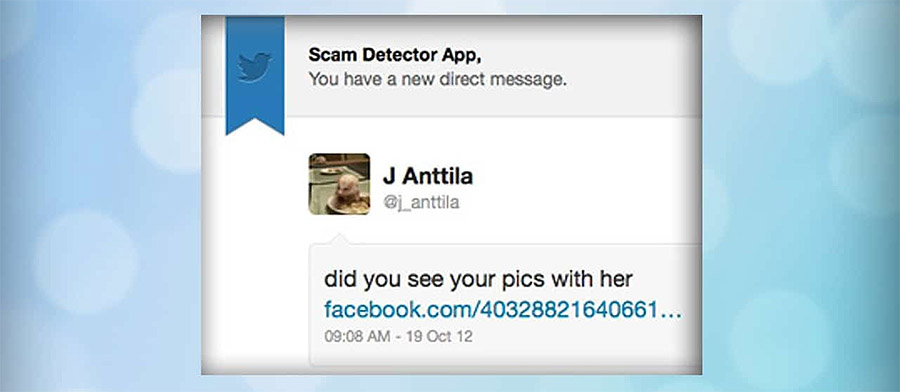 Once the victim clicks on the link, which appears to go to a legitimate Facebook page, they are greeted with a video player and a message indicating an update to YouTube needs to be done before the video can be viewed.
Once the download begins, the victim won't be receiving an updated version of Flash; they will be getting a virus instead.
Twitter Private Messages: How To Avoid
The first and most logical step is to block the sender from your Twitter account and then send Twitter a report about receiving malware or other spam.
If your account is being used to send these messages to others, your account has been hacked and you need to take immediate measures to reset your password and revoke connections to third-party applications.
Twitter also has some great information to avoid phishing scams as well as tips to help prevent your account from falling prey to a hacker on their Safe Tweeting page. Twitter is a fun way to stay connected; just be aware of suspicious messages and you can tweet happily and safely.
Unsolicited Private Messages Scam: How To Report

Make your family and friends aware of this scam by sharing it on social media. You can also officially report the questionable profiles to Twitter using the link below:
Report To Twitter Here
---
Verify a website below
Are you just about to make a purchase online? See if the website is legit with our validator:
vldtr®
Searching:

Domain age, Alexa rank, HTTPS valid, Blacklisting, SSL certificates, Source code, Location, IP address, WOT Trustworthiness, Spam reports, Advanced technology, Privacy Policy, Terms of Use, Contact options

TOP 3 MUST-WATCH FRAUD PREVENTION VIDEOS
1. Top 5 Amazon Scams in 2023
2. Top 5 PayPal Scams in 2023
3. How To Spot a Scam Email in 2023
Selma Hrynchuk
Selma is a fraud prevention specialist renowned for her expertise in private eye investigations and a remarkable partnership with law enforcement agencies. Beyond her investigative triumphs, her public speaking engagements and written works have empowered countless individuals to protect themselves and stay ahead of deceptive schemes. Selma's legacy shines as a tenacious agent of change, unyielding in her commitment to battling fraud and ensuring a safer world for all.