Bitcoin/Cryptocurrency Hardware Wallet Scam: How It Works
Bitcoin is one of the things that has created a phenomenal buzz around the world in the last couple of years. While many people are still in the self-educational stages regarding the cryptocurrency niche, many are already ahead when in regards to what is about to be the hottest financial fashion around. Let's take a look not only at the safest ways of storing your coins but also at a scary scam that's been going on in the last week.
When it comes to the investment in cryptocurrencies and where to store them, the bitcoin hardware wallets were the perfect, natural invention. They are tamper-proof electronic devices designed to store private keys of the coins in an offline setting.
The private keys and digital signatures required to spend bitcoins are generated through these wallets. In a similar way that one sets any wallet, you need to write down the seed word (recovery phrase) on a piece of paper and save it in a secure place. As the keys are offline, there is a very tiny chance of getting hacked.
However, here is what some scammers have been doing recently to bypass the security of these great products. They sell cryptocurrency hardware wallets online, on websites like eBay or Oodle, and then send them over to the buyer along with a piece of paper that makes it look like it's part of the manufacturer's instructions brochure – see image below, credit to a victim who posted it on Reddit.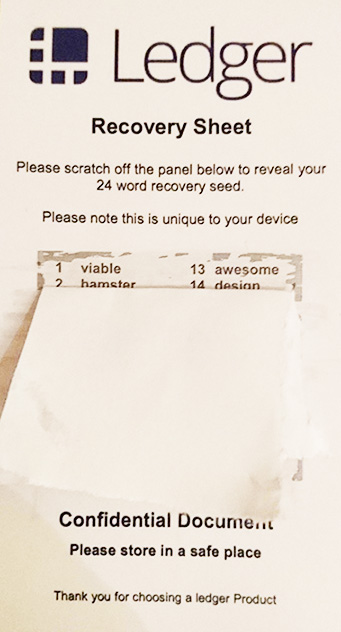 The piece of paper contains not only the logo of the company, but also a scratch-off portion covered with silver foil/paint where the user can find his 24-word recovery seed in case the wallet is lost or stolen.
Bitcoin hardware wallets activate these word recovery seeds automatically when the first user initializes the device – which means the scammers already activated the wallets, printed the recovery seeds and sent them along to the victim as a 'courtesy gesture from the manufacturing company'.
The silver foil/paint gives the buyer a sense of authenticity. Since the crypto wallet is a new product, and the user (victim) is not familiar with it, he will lose all his investments once he deposits them into the device – as the criminal can access the funds with the word recovery seeds.
Bitcoin Hardware Wallet Scam: How To Avoid
As mentioned above, the seeds are generated automatically by your cryptocurrency hardware wallet when you activated. If someone else sells you the device with the PIN included you can rest assured it is a scam. Ask for a refund and notify the selling platform/website (eBay, etc).
The downside of using these great wallets is that once you lose your seed, you can't access your coins. Make sure you save your PIN in two or three different safe places.
What Are The Best Cryptocurrency Hardware Wallets?
If you want to store you cryptocurrency secure for a long time, a hardware wallet is the best option. However, most of these devices have a waiting period of a month or two due to huge demand, so you should consider ordering one soon.
Let's take a look at the Top 3 Bitcoin hardware wallets out there: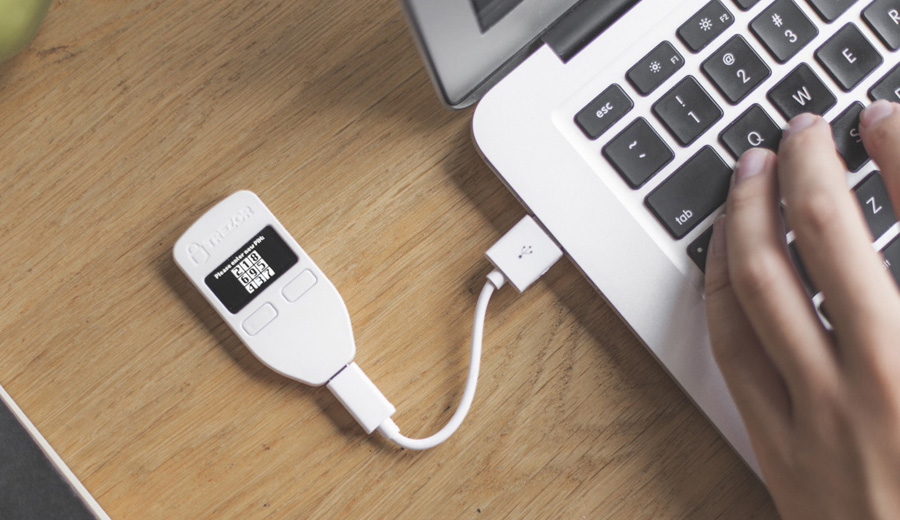 Trezor is one of the pioneers of the hardware wallet industry. The company sets the gold standard for crypto security and is highly recommended. According to specialists and online reviews, Trezor has a reputation for providing top-notch security, protecting against both virtual and physical theft.
The device looks like a tiny calculator with an OLED screen. You can use the Trezor wallet with Android devices and with apps such as TREZOR Wallet, Mycelium, and Multibit HD. It supports nine cryptocurrencies.
The good news is, even if your computer is full of viruses, your private keys will still be safe with Trezor, which makes it more of a vault than a wallet.
You can order it HERE.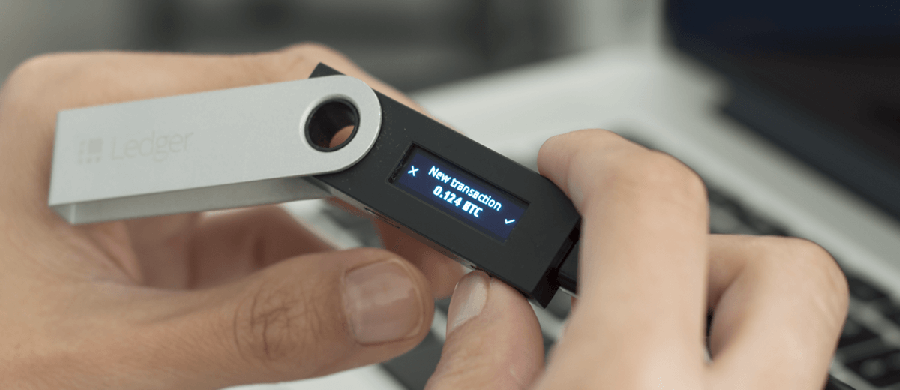 Ledger Nano is just as secure as Trezor. It is portable and easier to carry around. It is a hardware wallet that comes at a very competitive price.
It is a battery-less device and also supports nine cryptocurrencies. You can connect to a computer or mobile device via USB.
You can order it HERE.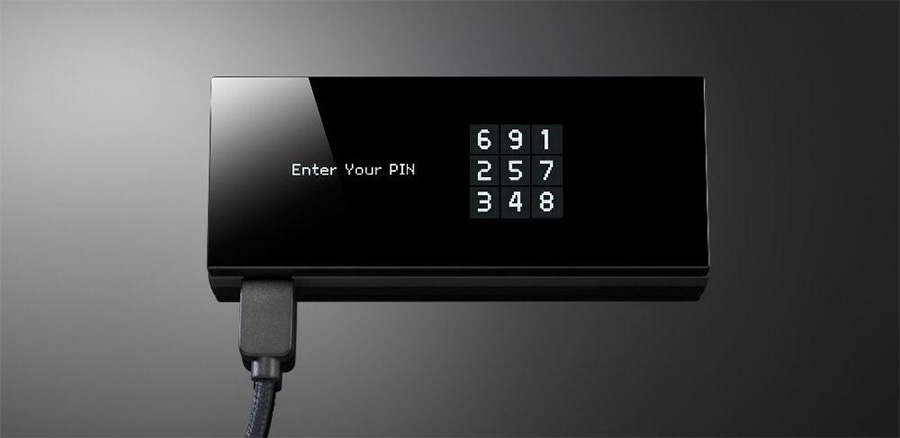 This hardware wallet has a great polished design. KeepKey seems like a premium wallet, but it is a bit heavier and hence more susceptible to drops.
It is more than two times in size than Ledger Nano S and Trezor, therefore is not so convenient to carry in your pocket. It has same backup seed key feature with pin code enabled, and it works like the other two above-mentioned wallets. KeepKey supports six cryptocurrencies (including Bitcoins).
You can order it HERE.
Technical Comparison
Now let's take a look at all three brands and have a little comparison when it comes to more technical stuff:
Ledger Nano S

Trezor

KeepKey

What's in the box?

Dimension & Weight

Height: 98 mm

Width: 18 mm

Depth: 9 mm

Weight:16.2g

Height: 60 mm

Width: 30 mm

Depth: 6 mm

Weight:12 g

Height: 38 mm

Width: 93.5 mm

Depth: 12.2 mm

Weight:54 g

OLED Display & Buttons

Yes
Yes
Yes

Compatibility

Windows (7+), Mac (10.8+), Linux
Windows, Linux, OS X (10.8 or higher).
Windows, Mac, and Linux

Cryptocurrencies

Buy Now

Buy Ledger Nano S

Buy Trezor

 

Buy Keepkey
Cryptocurrency Hardware Wallet Unscrupulous Activities: How To Report
Warn your family and friends know about the Bitcoin Hardware Wallet Scam by sharing it using the buttons provided. You can also officially report the questionable cryptocurrency and Bitcoin activities to the Federal Trade Commission using the link below:
---
Verify a website below
Are you just about to make a purchase online? See if the website is legit with our validator:
vldtr®
Searching:

Domain age, Alexa rank, HTTPS valid, Blacklisting, SSL certificates, Source code, Location, IP address, WOT Trustworthiness, Spam reports, Advanced technology, Privacy Policy, Terms of Use, Contact options

TOP 3 MUST-WATCH FRAUD PREVENTION VIDEOS
1. Top 5 Amazon Scams in 2023
2. Top 5 PayPal Scams in 2023
3. How To Spot a Scam Email in 2023
Selma Hrynchuk
Senior Editor at Scam Detector Media, Selma is a fraud prevention specialist with a wealth of experience in private investigations and collaborations with law enforcement. A captivating public speaker, Selma educates audiences about scams and personal safety. Through her insightful writing, she exposes criminals and shares essential tips for staying secure. Selma is a dedicated guardian against fraud, committed to unmasking deception and promoting integrity.