Port Out Scam: How It Works
Criminals are trying to get into your bank account these days by stealing your phone number through the Port Out Scam. The scheme takes advantage of the fact that many bank accounts have password-recovery options tied to mobile phone numbers.
What is a port out, in telecommunication verbiage? Port is nothing but changing your mobile network operator, but your number remains the same. So whether you are with T-Mobile, AT&T, Sky, Telus, Virgin, Rogers, Telstra, Vodaphone, ID, or any other popular network, scammers will get you to change it involuntarily to their choice. It happened recently with the T-Mobile clients, but you can definitely fall for it regardless of the name of your provider.
The scam is done easily through a porting request, which takes us to the next point:
Port Out Switch: How to Avoid
Add port security to your mobile account. By doing this, you enable the security feature to force any number porting request to be validated with a unique passcode. How can you do that?
Check out the link below provided by T-Mobile in regards to the Port Out scams:
Protect Yourself Against Port Out Scams
Port Out Scam: How To Report
Warn your family and friends about the Port Out scam by sharing it using the buttons provided. You can also officially report the scammers to the Federal Trade Commission using the link below:
How To Switch Phone Carriers and Keep Your Phone Number
In case you're looking at how to switch phone carriers and keep your phone number – voluntarily – let's teach how to do the transition quickly and successful. How do you do the Port Out?
First, DO NOT cancel your service with your current carrier before contacting your new provider. Why is that? Simple: you won't be able to port your number if a carrier has deactivated it.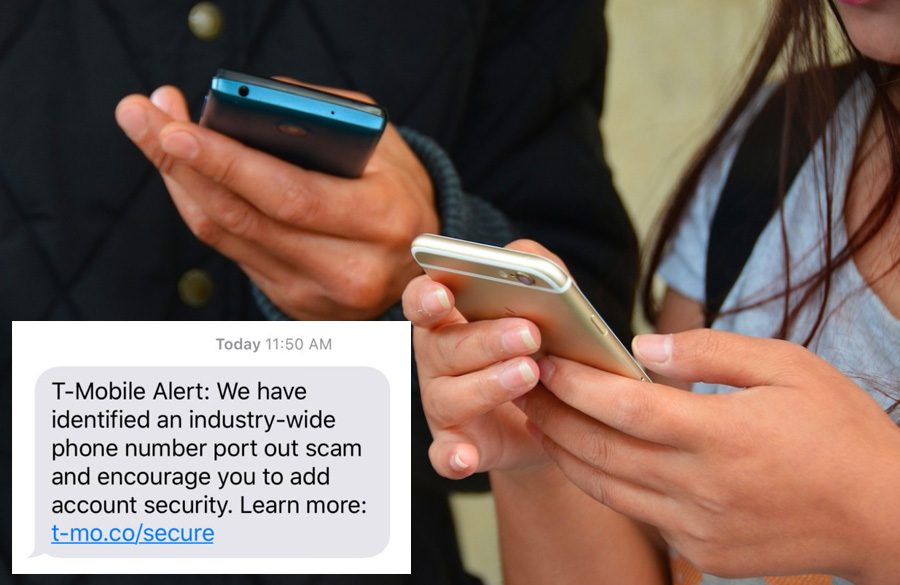 Say you decided on your new network carrier, cell phone, and plan. Contact your new provider. They will do a verification check – ask for name, address and customer account number as they appear on your bill. They may also ask for your account password if you have one, so do not freak out.
If you want to keep your present phone, you will need to provide its ESN/IMEI number. What's that and where can you find it? It is usually located on the back of your phone or under the battery. Once you give it to them, your new provider contacts your current company and start the porting process.
Once your new service is activated, the past service should be automatically cancelled. It is also a good idea to give the company a call to finalize the transfer and negotiate any termination fees or other charges. Just like in other cases, you will receive a bill for any outstanding debt within a month.
However, here are three rules you should also be aware of, according to WhistleOut:
"1. You can still port your number elsewhere even if you are in debt with your current provider. You will, however, be liable for any debts, and may have to pay an early termination fee if you are under contract. Some carriers will pro-rate this, so it may still be financially viable if you are some way into your agreement.
2. A carrier can't stop you from taking your number with you, but a new network is under no obligation to accept it. Most carriers accept a new customer, so this will not be a problem. There are cases where some smaller prepaid ones will not allow ported numbers.
3. Only the primary account holder can fill out a port request. If you are an authorized user on a family/share plan, you must establish a separate service with your current carrier before you can initiate a port request. If you have a company phone, you may not be able to port your number if the service is in your company's name.
You can port your cell phone number, wireline number or fax number. Prepaid account numbers can be ported, but must be active at the time you wish to transfer the service. You cannot port 800 or pager numbers. You cannot port a number to an existing account – porting only works when you are opening a new account with a carrier.
How much does it cost to change network carriers but keep the phone number?
Providers can charge a small amount to process porting, but that happens very seldom, due to competition between carriers. Negotiate when asking to port – you may be able to get your fees waived.
On the other hand, during the porting process, you can make outgoing calls on your old cell phone, but incoming calls will only go to your new phone.
Here are some final tips from WhistleOut:
"1. You can't transfer pre-pay airtime to your new network. Make sure you use up any credit before you move.
2. Verify if your current handset is compatible with the new network. Many are not, and you may need to get a new phone. You are still liable for any remaining debt and termination charges with your old provider – porting your number does not mean you can break your contract.
3. Voicemail messages won't transfer to your new phone, so make sure you listen to them before changing carriers. Same goes for other features, such as call forwarding and caller ID – you will need to set these up again with your new provider.
4. Check that the network you wish to use is licensed in your area. Look at the coverage provided by your chosen company – a great plan is rendered useless if you can't get reception when you need it.
5. Research which is the best plan for you, and (if you're planning on getting a new device) which phone you'd like to upgrade to."
How To Protect Yourself More

If you want to be the first to find out the most notorious scams every week, feel free to subscribe to the Scam Detector newsletter here. You'll receive periodical emails and we promise not to spam. Last but not least, use the Comments section below to expose other scammers.
---
Verify a website below
Are you just about to make a purchase online? See if the website is legit with our validator:
vldtr®
Searching:

Domain age, Alexa rank, HTTPS valid, Blacklisting, SSL certificates, Source code, Location, IP address, WOT Trustworthiness, Spam reports, Advanced technology, Privacy Policy, Terms of Use, Contact options

TOP 3 MUST-WATCH FRAUD PREVENTION VIDEOS
1. Top 5 Amazon Scams in 2023
2. Top 5 PayPal Scams in 2023
3. How To Spot a Scam Email in 2023
Selma Hrynchuk
Selma is a fraud prevention specialist renowned for her expertise in private eye investigations and a remarkable partnership with law enforcement agencies. Beyond her investigative triumphs, her public speaking engagements and written works have empowered countless individuals to protect themselves and stay ahead of deceptive schemes. Selma's legacy shines as a tenacious agent of change, unyielding in her commitment to battling fraud and ensuring a safer world for all.