Personal Assistant Job Scam: How It Works
(with video below) With the job market being slim these days, many people are willing to consider taking a work from home job – any job – to make ends meet. Be aware that scammers know this too and will go to any lengths to use this to their advantage. They contact you via email or websites you put your resume on. How does the scam work?
Watch the video below to see in action the sneaky Personal Assistant scam exposed:
Personal Assistant Scam Exposed Video
In the Personal Assistant Wanted scam, the victim will receive an email from a successful businessperson or some sort of a federal government employee who must travel frequently for their job. It could come as a recruiting on LinkedIn approach, too, so beware.
They claim to be seeking someone who can perform various tasks for them as they are usually out of the country. They state that they will pay well for the performance of these duties – which usually amount to only part-time hours, making the deal seem even sweeter. But here is more.
They will then proceed to ask you for your personal identifying information, in order to know where and how to pay you. Of course, there is no job. They are only looking to steal your identity and money.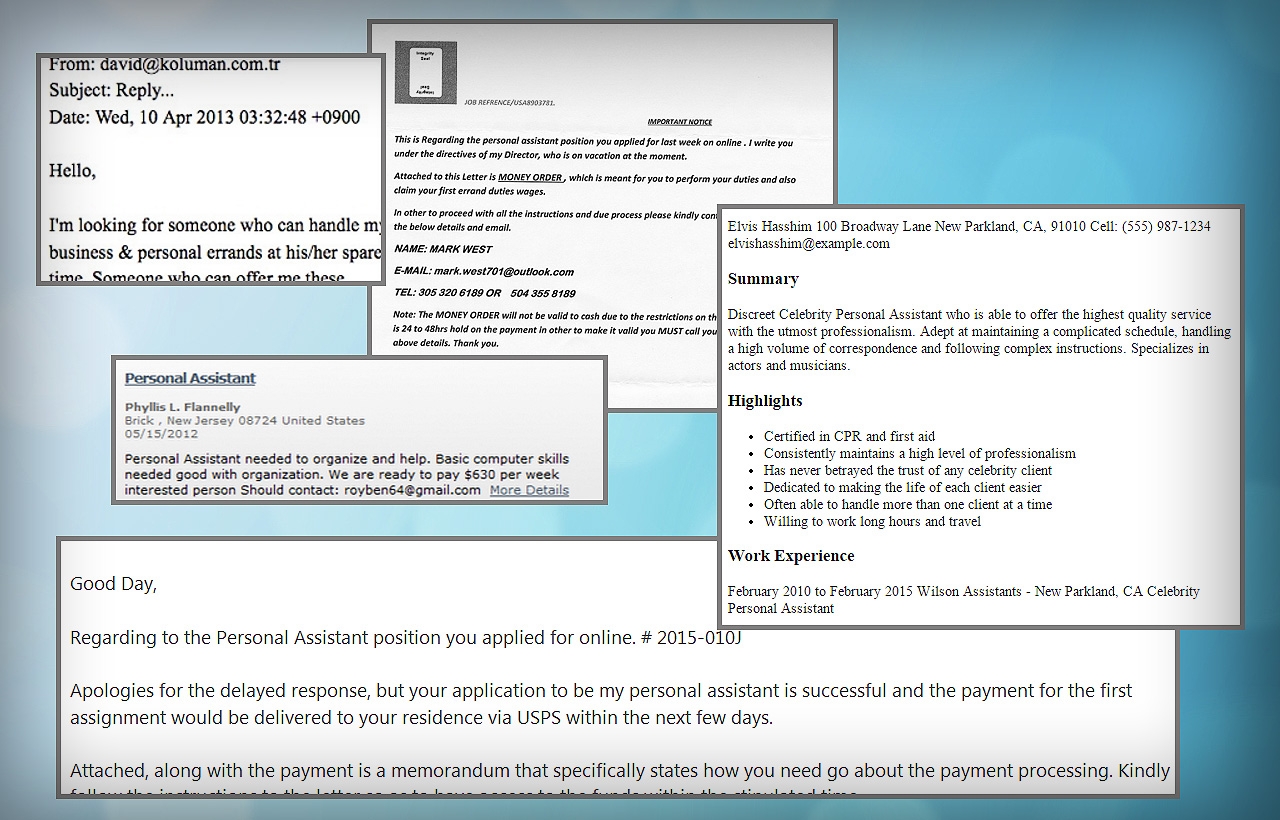 Essentially, the scam works like this:
Scammers buy goods with stolen credit cards, after getting personal information and account numbers from various victims. Then they send the the goods to the real owners of the cards as the mailing address has to match the one on the credit card.
Then they call the owners and claim to be representatives of the shipping company and inform them that an order was shipped in error to their address. Then they will ask for permission to send a courier (an innocent third party, you) that would pick up the item.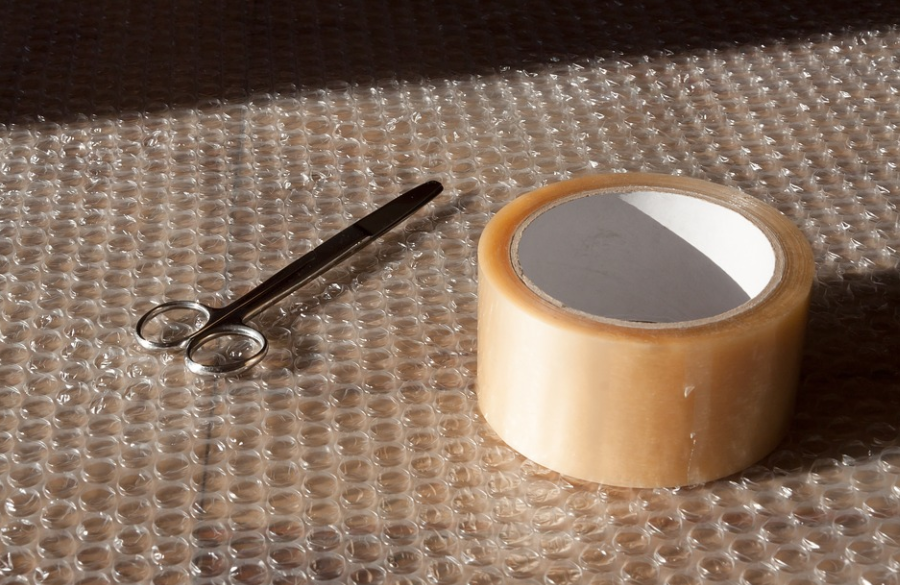 As the victims can't see the transaction on their credit card statement just yet and don't even assume that the package was purchased with their own credit card, they approve.
That's when the scammers hire you and send you to pick up the item as a correspondence manager and make you send the product forward.
Needless to say, when the Police tracks the trail of the packages and the credit card transactions, all the roads will lead to you.
Personal Assistant Job Scam: How To Avoid
Before giving any personal information to anyone, request a telephone interview as well as ask very pointed questions to help you verify the employer's identity as well as how they found you. Never give personal identifying information to anyone who simply offers a "one-time excellent opportunity for employment".
Good jobs don't just fall out of the sky. Always do your research and work only for legitimate employers or platforms when you're trying to make a dollar online. For example, Swagbucks.com, is the world's largest free online rewards program. You get paid by doing things online which you might do anyway, such as searching the web, discover products, take surveys, watch videos, or play games. You can also get free iTunes and Amazon cards. The company also has a A+ rating with the Better Business Bureau. You can register for free HERE.
Personal Assistant Job Scam: How To Report
Make your family and friends aware of this scam by sharing it on social media using the buttons provided. You can also officially report the scammers to the Federal Trade Commission using the link below:
How To Protect Yourself More:

If you want to be the first to find out the most notorious scams every week, feel free to subscribe to the Scam Detector newsletter here. You will receive periodical emails and we promise not to spam. Last but not least, use the Comments section below to expose other scammers.
Related Articles And Pages:

Get Paid To Write Reviews Scam
Mystery Shopper Jobs Scam
Cancelled Flight Compensation Scam
---
Verify a website below
Are you just about to make a purchase online? See if the website is legit with our validator:
vldtr®
Searching:

Domain age, Alexa rank, HTTPS valid, Blacklisting, SSL certificates, Source code, Location, IP address, WOT Trustworthiness, Spam reports, Advanced technology, Privacy Policy, Terms of Use, Contact options

TOP 3 MUST-WATCH FRAUD PREVENTION VIDEOS
1. Top 5 Amazon Scams in 2023
2. Top 5 PayPal Scams in 2023
3. How To Spot a Scam Email in 2023
Selma Hrynchuk
Selma is a fraud prevention specialist renowned for her expertise in private eye investigations and a remarkable partnership with law enforcement agencies. Beyond her investigative triumphs, her public speaking engagements and written works have empowered countless individuals to protect themselves and stay ahead of deceptive schemes. Selma's legacy shines as a tenacious agent of change, unyielding in her commitment to battling fraud and ensuring a safer world for all.