Online Dating Scam: How It Works
Below you have a lot of information about how online dating scams work. Feel free to share your experience in the comments section, expose names, and add to the Google Hangouts scammer list. Let's fight this together.
With the advancement of technology, crime is bigger than ever in this niche, whether we are talking about fraudulent activities that are related to face-to-face meetings, Google Hangouts scams, Valentine's Day, partner's background, or dates from a Tinder match.
Let's take a closer look. Whether you are a male or a female, you should read this as the scenario below could easily apply to either gender. Months of online dating don't seem to be paying off (by the way, if you need a trustworthy online dating platform, join Ashley Madison or Searching For Singles). You're flipping through hundreds of profiles a night, and everyone's either shallow or not that good-looking.
You finally think your luck is turning around when something magic happens:
– If you are a man, you hear from a lonely widow from Eastern Europe or East Africa (or, as of recently, she says she is on a cruise – the latest example is a girl named Lola Smith, see her fake story below). She is gorgeous in her pictures and seems really into you!
– If you are a woman, you just connected with a man working or being a soldier overseas. He says he's in the impossibility of talking on the phone.
This scam is different than the other online dating tricks, such as the Free Meal Scheme, New In Town, Sex Extortion, or Admirer Card. Let's keep reading.

Are You The Love Of His/Her Life? Think Again
After a few emails, you start to fall in love – and are thrilled to hear the person you met reciprocates, calling you (after four to five months) "the love of her life." When it comes time for you two to get together, she tells you she needs money. Perhaps she can't afford a plane ticket. Maybe she's sick and needs medicine. Maybe she lost her wallet in a foreign city or maybe she had a flood or a fire at her home.
Or, one of the latest reasons…she needs to take an AIDS test, which is required in her country before international travel.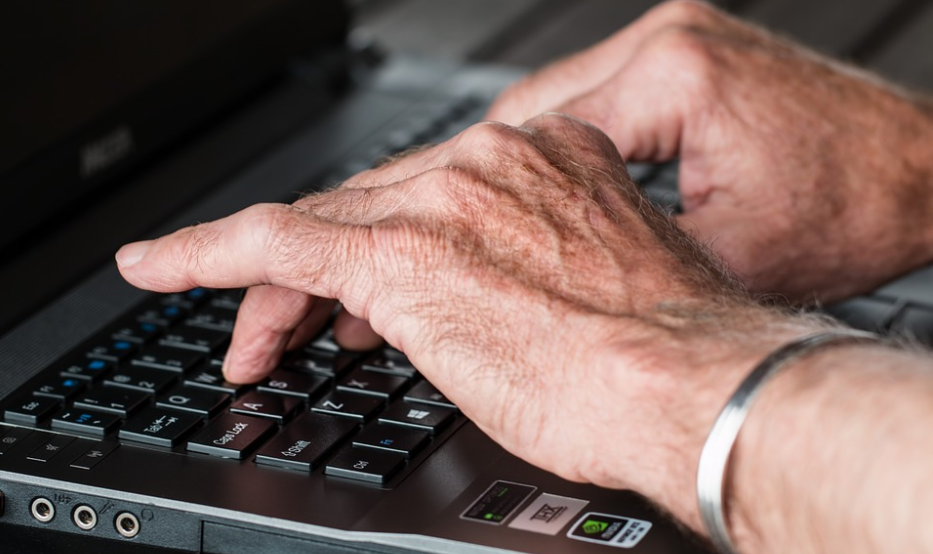 Whatever it is, it seems like a small price to pay for true love – and it would be if the love were "true." But this isn't who you thought it was – she may not even be a woman, but a guy in Nigeria. Don't feel bad: tens of thousands of men and women have fallen victim to this and tens of thousands more will (unless, of course, you spread the word about our website).
What makes the typical romance scams even worse is that most of the victims refuse to believe they have been scammed, even after they lost the first round of cash. They'll keep putting in money, truly believing they are helping a future life-mate and ignore all advice from friends.
Here are some screenshots of a scammer called Lola Smith (Lollipop), claiming to be a widow with a 5-year old son. She says she is on a cruise and can't talk nor take pictures. She asks the victims to connect with her mom, only to send money.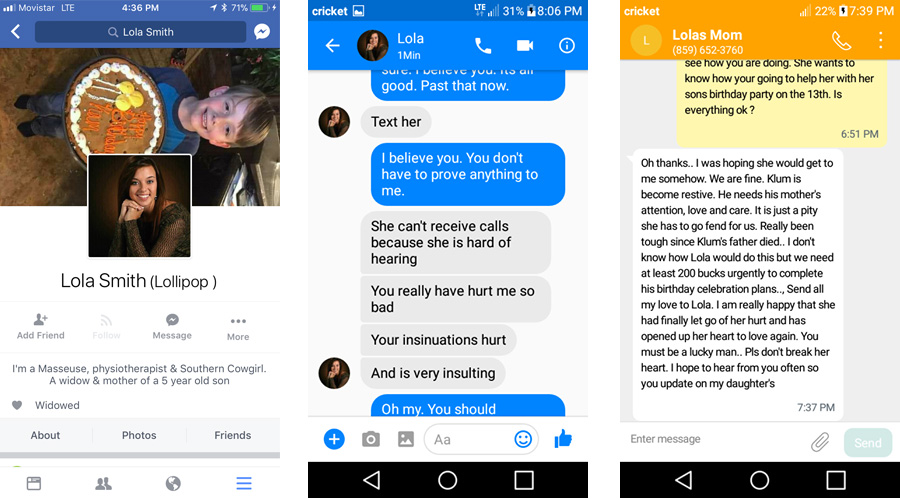 How To Avoid The Online Dating Scam
As a rule of thumb, you should never pay for somebody you have never met. If she insists on you paying for the plane ticket, buy it for her directly with no refund option. At least that way, he/she can't just take the money and run.
Another suggestion would be to run their name (even if they are fake) by professional companies that provide background checking of online dating users. There are just a few legitimate companies that provide this service.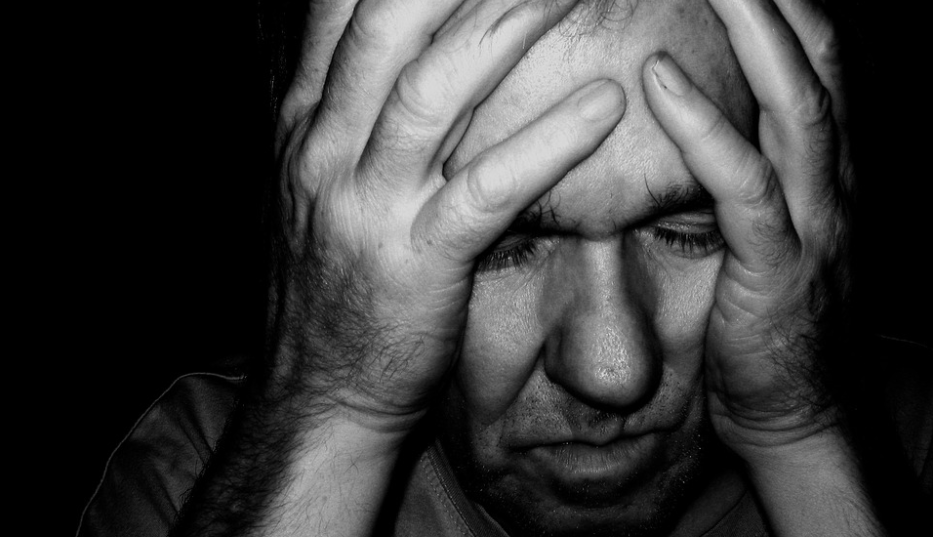 If you are still looking for a soulmate, join legitimate services where you could chat with real people. There are tons out there – this is our recommendation.
On the other hand, if you're really looking to meet some interesting people without risks, you can join exclusive life-changing experiences like The Spark Experience, which consists of once-in-a-lifetime trips featuring countless bucket list items to be checked off in many locations around the world: Thailand, Vietnam, Italy, Brazil, Maldives, Curacao, Argentina, Transylvania or Cartagena. Although is not a matchmaking-specific event, many participants vowed to be a life-changing endeavor. Here is how one experience looks like below (you can enter your name for the next The Spark Experience on their website):
Last but not least, educate yourself about the OnlyFans scams.
How To Report The Online Dating Scam:
Make your family and friends aware of this scam by sharing it on social media using the buttons provided. You can also officially report the scammers to the Federal Trade Commission using the link below:
Report Scammers To The FTC Here
How To Protect Yourself More:

If you want to be the first to find out the most notorious scams every week, feel free to subscribe to the Scam Detector newsletter here. You'll receive periodical emails and we promise not to spam. Last but not least, use the Comments section below to expose other scammers.
---
Verify a website below
Are you just about to make a purchase online? See if the website is legit with our validator:
vldtr®
Searching:

Domain age, Alexa rank, HTTPS valid, Blacklisting, SSL certificates, Source code, Location, IP address, WOT Trustworthiness, Spam reports, Advanced technology, Privacy Policy, Terms of Use, Contact options

TOP 3 MUST-WATCH FRAUD PREVENTION VIDEOS
1. Top 5 Amazon Scams in 2023
2. Top 5 PayPal Scams in 2023
3. How To Spot a Scam Email in 2023
Selma Hrynchuk
Selma is a fraud prevention specialist renowned for her expertise in private eye investigations and a remarkable partnership with law enforcement agencies. Beyond her investigative triumphs, her public speaking engagements and written works have empowered countless individuals to protect themselves and stay ahead of deceptive schemes. Selma's legacy shines as a tenacious agent of change, unyielding in her commitment to battling fraud and ensuring a safer world for all.