Bank Account Verficiation Scam: How It Works
Unlike the Account Upgrade scam, where fraudsters impersonate bank reps asking you to get your account to a new level, this one lures the email recipients into believing that they need to be verified by the bank to avoid suspicious activity on their account.
However, the call to action and the result is the same: you'll need to click on a provided link.
If you click the link, you will be taken to a website with your bank's logo and ask you to login by entering your account number and password.
Here is the latest type of scam e-mail you might receive (replace the name of the bank with your own):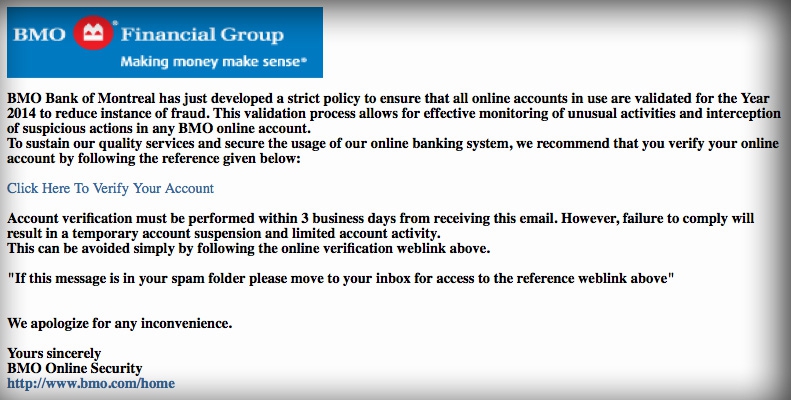 BMO Bank of Montreal [insert the name of your bank] has just developed a strict policy to ensure that all online accounts in use are validated for the Year 2014 to reduce instance of fraud. This validation process allows for effective monitoring of unusual activities and interception of suspicious actions in any BMO online account.
To sustain our quality services and secure the usage of our online banking system, we recommend that you verify your online account by following the reference given below:
Click Here To Verify Your Account [compromised link]
Account verification must be performed within 3 business days from receiving this email. However, failure to comply will result in a temporary account suspension and limited account activity.
This can be avoided simply by following the online verification weblink above.
"If this message is in your spam folder please move to your inbox for access to the reference weblink above"
We apologize for any inconvenience.
Yours sincerely
BMO Online Security
How To Avoid The Bank Account Verification Scam:
These type of emails became so common nowadays that it should be easier to figure out that they're not from your actual bank. However, there are still a lot of people who click on the links without giving a second thought.
Ignore these messages, especially if they refer to you as "Dear Customer", instead of addressing you by your full name. Banks never email clients about any sensitive information unless the client has signed up for it. Delete, you'll get another one next week!
How To Report The Bank Acount Verification Scam:
Make your family and friends aware of this scam by sharing it on social media using the buttons provided. You can also officially report the scammers' email addresses to the Federal Trade Commission using the link below:
How To Protect Yourself More:

If you want to be the first to find out the most notorious scams every week, feel free to subscribe to the Scam Detector newsletter here. You'll receive periodical emails and we promise not to spam. Last but not least, use the Comments section below to expose other scammers.
---
Verify a website below
Are you just about to make a purchase online? See if the website is legit with our validator:
vldtr®
Searching:

Domain age, Alexa rank, HTTPS valid, Blacklisting, SSL certificates, Source code, Location, IP address, WOT Trustworthiness, Spam reports, Advanced technology, Privacy Policy, Terms of Use, Contact options

TOP 3 MUST-WATCH FRAUD PREVENTION VIDEOS
1. Top 5 Amazon Scams in 2023
2. Top 5 PayPal Scams in 2023
3. How To Spot a Scam Email in 2023
Selma Hrynchuk
Senior Editor at Scam Detector Media, Selma is a fraud prevention specialist with a wealth of experience in private investigations and collaborations with law enforcement. A captivating public speaker, Selma educates audiences about scams and personal safety. Through her insightful writing, she exposes criminals and shares essential tips for staying secure. Selma is a dedicated guardian against fraud, committed to unmasking deception and promoting integrity.